Culture
// October 12, 2020 ■ 5 min read
3D escape rooms, 1980's-themed murder mysteries: Companies invest in virtual retreats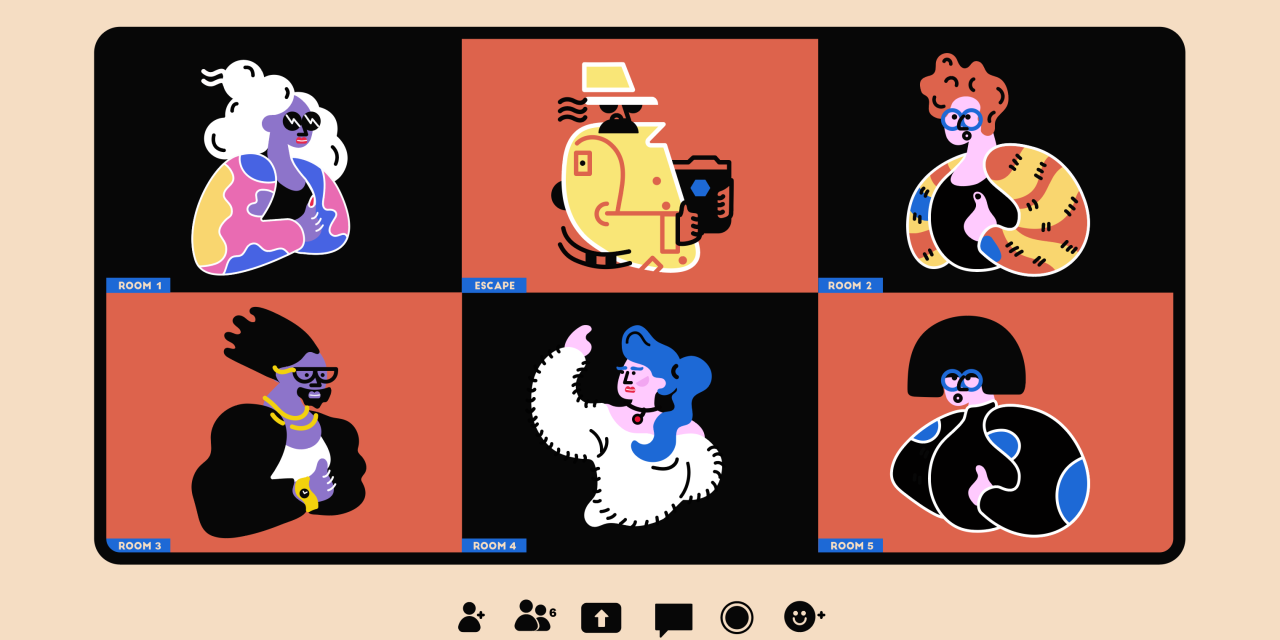 This article is part of the Future of Work briefing, a weekly email with stories, interviews, trends and links about how work, workplaces and workforces are changing. Sign up here.
Shortly after Jesse Walsh marries Samantha, the love of his life, he toasts his new bride and takes a sip of whiskey, dropping dead. The year is 1987 and this is a wedding like no other. Eight suspects, one body, one virtual mansion, and you — along with your coworkers — have to figure out who the murderer is.
You've heard the story before, you may have even played the game. If it's a little hammy or hackneyed, it's because it's a pretty reliable formula that works. Against the backdrop of 2020's wild twists, it's reassuringly familiar.
Moniker, the company behind the 1980's style murder mystery — called Love in the First Degree — has built five different virtual experiences over the last five months. The designs range from classic problem solving and collaborative tasks — like space-survival mission Project Artemis — to pure fun escapism. Being virtual also adds a new dimension. Over three months it generated over $330,000 and booked 126 virtual experiences for companies like Unilever, PwC and McKinsey.
As the realization that remote working is not a short-term fix, more companies are cottoning on and investing in virtual team building to foster culture, goodwill and motivation before the long-term effects of being dislocated from coworkers start to show.
September brought a surge in interest, said Moniker, when companies realized offices will be closed long term. It's most recently-released experience, a three-dimensional virtual escape room, The Omega Protocol, released last month, has been its fastest-growing. This could be because alternative virtual escape rooms opt for a top-down two-dimensional view of a room or strap a Go-Pro to someone who is at the physical space. Companies need a minimum of 30 people to take part in Moniker's experiences, some of them are rated per person (between $25 and $35). Love in the First Degree, which lasts two hours, costs a flat fee of £5,00 to cover actor fees and scriptwriting.
"As a pivot, it's been incredibly successful," said Moniker's managing partner Sean Hoff, who said the company, which used to sell high-end corporate retreats, was hesitant, mostly because there's a lot of dross out there. "[Before coronavirus] we would pride ourselves on quality, creativity and our knowledge in the field, we didn't think we would be able to have the same impact in the virtual world."
For a successful virtual experience, Moniker came up with three criteria after spending three weeks researching the market, playing up to three games daily in March. The experience has to be a unique concept, outside the pub trivia and at-home scavenger games; It has to be interactive, rather than watching someone deliver a talk, Moniker uses actors and runs the games live so participants can ask questions. Finally, it has to look polished.
For example, the team hires graphic designers, engineers and game developers. Experiences take place on Zoom, complete with audio and video cues, and attendees collaborate on shared Google Slides. When NASA heard about The Omega Protocol, it loaned Moniker an engineer to customize the language of the survival experience. Now, NASA's incoming recruits take part in the space-themed escape room.
Since September, companies are starting to see the difference between being able to work from home and having a good remote work experience. According to GitLab's head of remote, Darren Murph, most people expect 90% of companies to adopt hybrid remote working set-ups over the next five years. In order to make sure that experience doesn't bifurcate into two separate groups, where remote workers are second-rate, miss out on key decision making or culture building, remote-work first thinking —especially on the social side where staffers can bond —will rise up the priority list. Hybrid remote offices will take the most work.
That said, the cracks in that plan are already appearing. Publisher sources say that while they have been even more regularly in touch with their team members, they are less aware of what's going on at the wider organization. One U.K. newspaper exec noted a dearth of the serendipitous cross-departmental projects that fire up when two people talk about similar areas they focus on. Another U.K.-based magazine publisher noted projects going off-course as some team members started going into the office and having conversations in person without updating the rest of the team that remained remote.
Since lockdown, many media and marketing leaders have crowed at how adroitly they adapted to out of office functioning — 'productivity is up' was an often-heard, but now threadbare refrain, from managers. Indeed, evidence is growing of the disconnect between senior leadership and their employees. Global Web Index found that while 44% of high-level execs are completely confident that their companies can maintain employee engagement during coronavirus conditions, only 25% of employees feel the same. Also, 48% of high-level execs are completely confident that they can maintain good communication between themselves and employees during the crisis. Only 28% of employees agree.
The fear is employee lack of engagement leads to low morale, performance and retention. "There's a real danger [with remote work] for the disengaged to become even more so," said Joe Lennon, co-founder of employee communication Workvivo.
The main challenge with virtual experiences — as companies caught onto early on in the pandemic with their own external virtual events — is how you keep peoples' attention, but not burn them out.
To counter that, Moniker positions its experiences like a night at the theatre and is working out how to deliver gift boxes with items like scented candles ahead of its upcoming holiday-themed experience. Attendees of Love in the First Degree are urged to dress up and make their own themed cocktails. Thirty minutes before it starts, people get in the mood listening to the best music videos from the decade. It all adds ups to try and keep people engaged when they spend all day in front of a screen.
"People are just a ping away from being distracted," said Lennon, "keeping that attention will always be the problem for virtual events."