Culture
// May 25, 2023 ■ 5 min read
Why employee relocation budgets are set to rise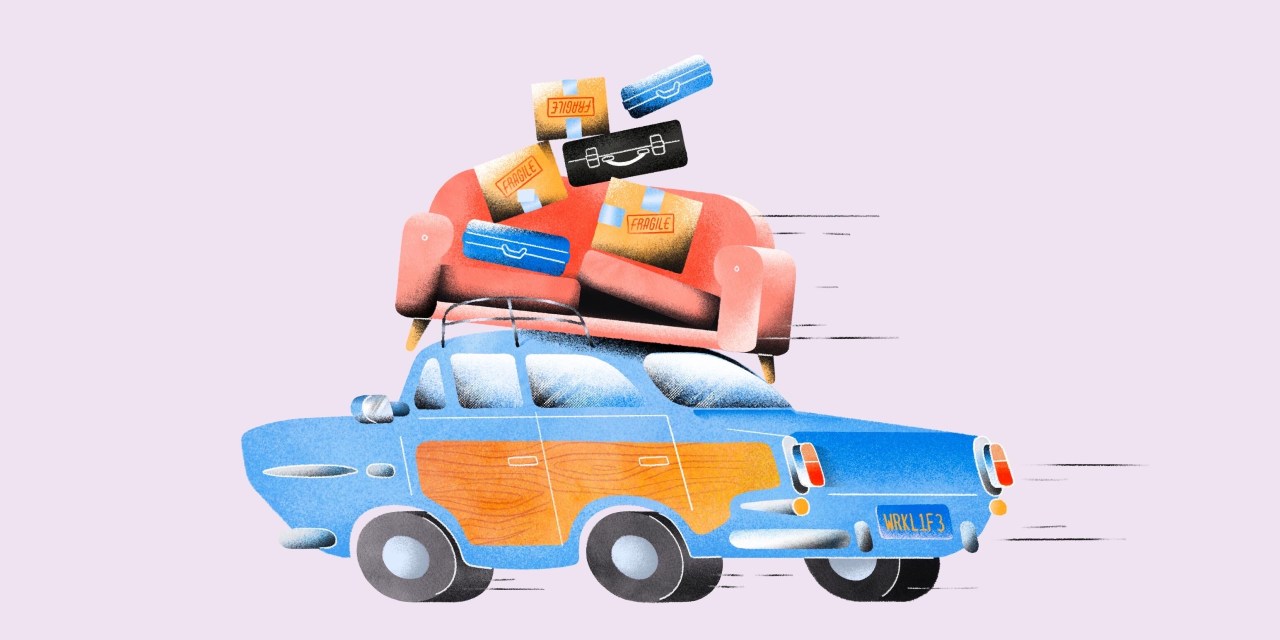 Company budgets for relocating employees, as well as the number of relocations, are expected to rise this year as the thick of the pandemic becomes a distant memory, even as worries about the economy could put the brakes on corporate moves.
In an annual study by global moving company Atlas Van Lines, which surveyed nearly 600 business decision makers on their plans for relocating their people, nearly 7 in 10 companies reported an uptick in the number of workers relocated in 2022 vs. 2021, while nearly an equal number saw increases in funding for relocations. Half of those surveyed said international moves were on the rise, reflecting a rebound in the job market from the lows of the pandemic.
"While pressures from the pandemic have eased and companies reported better financial performance in 2022, employers remain concerned about the future of the global economy, including inflation, the real estate market and cost of living, in addition to a shortage of qualified talent impacting corporate relocations," said Ryan McConnell, president and COO of Atlas.
Driving the trend, in part, are workplace policies mandating a return to the office and a decline in remote work preferences among employees as they embrace a more hybrid setup, McConnell explained.
Payroll service ADP, in its recent survey of more than 32,000 workers, revealed that nearly half of workers said they had relocated or were considering relocating overseas while continuing to work for their present employer. That is possible in most cases because employers' flexible working policies allow for such moves, and jobs do not require the employee to be in a specific location, the study said.
Workers in the Asia Pacific region were most confident they could relocate internationally, compared with around one-third in other regions, while men (52%) were more confident than women (42%) that they could make the move. Nearly 3 in 10 workers think that within five years, it will be the norm in their industry to have the ability to work anywhere in the world.
"It is a delicate dance of costs and benefits, people and places, risks and rewards."
Not everyone is on board with relocation. Though the market for remote jobs is shrinking, U.S. workers are more unwilling than ever to move for a new position, creating a significant gap between open roles and the talent pool available to fill them, stressed Laurie Chamberlin, head of recruitment solutions for North America at LHH, an integrated talent solutions provider and part of Adecco Group.
"The change that comes with relocation is daunting, but by embracing it, job seekers can open themselves up to potentially life-changing opportunities and cut down the time it takes to find a well-suited role," she said.
Chamberlin advised candidates considering roles that may require relocation to carefully weigh their costs and benefits, including earning potential, before coming to a conclusion.
Meanwhile, employers must ensure they're making competitive offers that take into account the financial toll of relocation if they're to coax candidates to new cities. "Does the role require candidates to live close to the office? If so, does the salary reflect the cost of living in the area? How does it compare to other firms in the city? Putting forward the best possible offer makes it much more likely that candidates will relocate if required — opening up roles to a larger pool of job seekers and streamlining recruitment processes," she added.
The number of Americans seeking to relocate fell to the lowest level on record between January and March this year, according to outplacement and business and executive coaching firm Challenger, Gray & Christmas' survey of more than 3,000 job seekers in the U.S.
In the three-month period, 1.6% of job seekers relocated for new positions, according to the survey, down from 3.7% between October and December 2022, and 4.6% in the same period last year. It is much lower than the 7.5% of job seekers who moved for positions between April and June 2020, the highest since October to December 2018, when 7.7% of job seekers relocated.
"In the 1980s and '90s, nearly a third of job seekers would move for new positions," said Andrew Challenger, senior vp of Challenger, Gray & Christmas. "That has fallen steadily since, as housing costs have risen and companies have moved to where talent pools are located. Now, remote and hybrid positions are keeping workers at home."
Goran Luledzija, CEO of software-as-a-service translation platform Localizely, noted the tremendous expense and logistical challenge of relocating employees, accommodating for everything from temporary housing to travel costs. The expense is also hard to budget for because costs are not set in stone and can swing according to factors like the employee's job, their family situation and how far away they're relocating.
"The concerns are vast and multifaceted, stretching from providing a seamless transition for the employee to managing the logistical challenges of the move," said Luledzija. "On top of that, there's a constant balance between sticking to a budget while ensuring high-quality relocation services. And let's not overlook the potential regulatory and tax implications. It's a delicate balancing act."
"The change that comes with relocation is daunting, but by embracing it, job seekers can open themselves up to potentially life-changing opportunities and cut down the time it takes to find a well-suited role."
Huzaifa Ahsan, a consultant at e-learning platform KodeKloud, said he sees corporate relocation as less a physical move than a strategic shift. "It is a delicate dance of costs and benefits, people and places, risks and rewards," he said.
The logistics alone, including moving expenses and new facility leases or purchases, can put a strain on a company's budget. Yet, they are just the tip of the iceberg, Ahsan stressed. Indirect costs like potential productivity loss during transition and employee retraining or rehiring if some choose not to move can often surpass the direct expenses, he said. "From a financial perspective, it's akin to investing in a new venture: There are upfront costs, risks and uncertainties but potential long-term rewards," as he put it.
Ahsan called overseeing relocations a complex balancing act of ensuring business continuity, maintaining employee morale, negotiating contracts and navigating different legal jurisdictions. But they are a fact of businesses aiming to remain nimble.
"As the world of work continues to evolve, corporate relocations reflect companies' adaptability in the face of change," he said.