Culture
// March 8, 2021 ■ 9 min read
Cannabis and the workplace: The pandemic has bosses and employees craving its benefits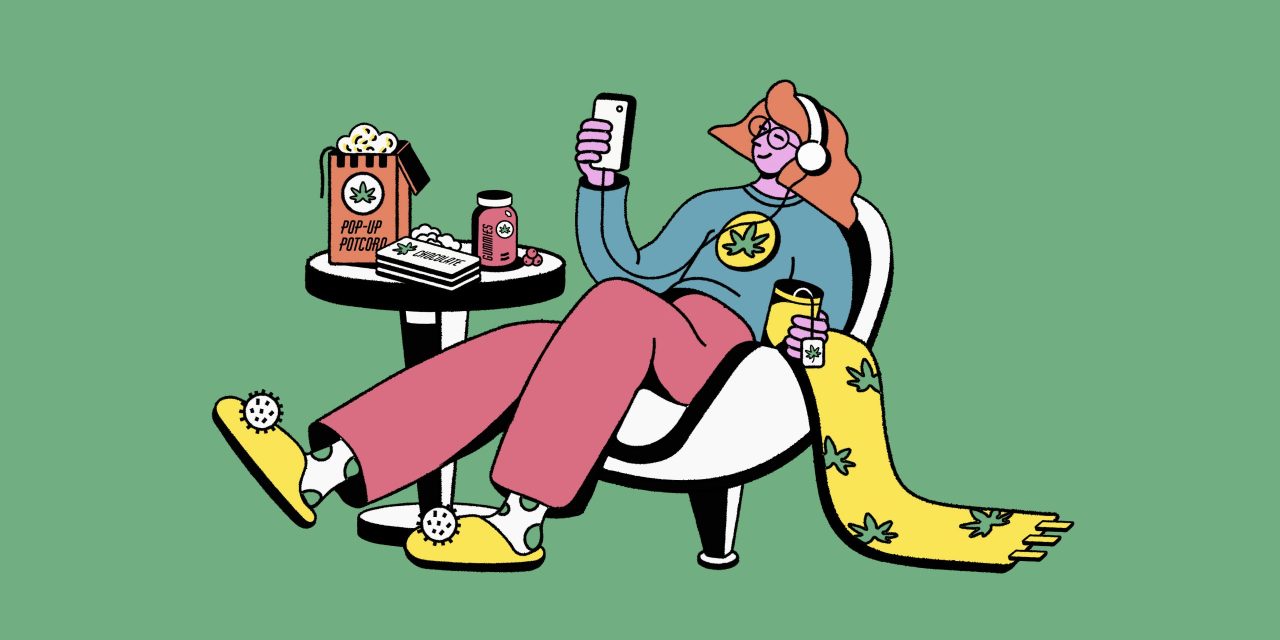 The use of cannabis has blossomed during the pandemic — including among many professionals who, while working from home, have made the consumption of products like cannabis-infused beverages and edibles, as well as marijuana, a bigger part of their routines.
The Los Angeles-based marketing firm Material, whose clients include Amazon and Coca-Cola, sought to determine whether the habits of cannabis-consuming professionals during the pandemic mirrored those of cannabis users overall. In a survey of 450 individuals in corporate management positions, 46% said they increased their consumption since working from home became the norm amid the pandemic. Of those, 61% said they didn't consider it a permanent change and intended to return to their normal usage levels post-pandemic.
And the firm found that a large majority are open about their cannabis consumption: 73% said they were comfortable talking about it with coworkers, while 58% said they wouldn't mind talking about it to their bosses or clients.
Cannabis had already achieved wider acceptance even before the pandemic. But over the past year, to cope with life in these challenging times, more consumers have turned to it for its wellness benefits.
As before Covid, people are embracing cannabis for reasons that vary from improving their mental health, stoking productivity and creativity, and enhancing the quality of their sleep to simply alleviating boredom.
Even an icon of domesticity and propriety, Martha Stewart, an outspoken proponent of cannabis, got in the game, partnering with Canopy Growth to lend her brand name to a line of CBD products (for humans and for pets) that launched during the pandemic.
As such products have gone mainstream, one of Stewart's main constituencies — working mothers — are among the groups embracing cannabis. San Francisco-based research firm Lucky Analytics, whose clients include L'Oréal and Hewlett-Packard, found in a survey of 1,000 women in the U.S. that two in five now use cannabis-based products. The trend is especially prevalent with working moms, "who have been put in the spotlight over the past year with tremendous, increased pressures, both in their careers and home lives," said Dorren Bloch, the company's founder and CEO.
The growing popularity of cannabis during Covid doesn't come as a surprise to people like Roy Lipski, a biotech entrepreneur and cofounder and CEO of San Diego-based Creo, which, with its partner Genomatica, develops fermentation-based cannabinoid production technologies. "Modern life has thrown our systems off balance, leading to allergies, anxiety, depression, sleeplessness," said Lipski. "In the pandemic, those situations have been exacerbated, and cannabinoids have the potential to affect many health benefits."
If Lipski's company has its way, cannabis-infused products will become more accessible. The company is working to reform the cannabinoid supply chain to meet the rigorous standards of major CPG marketers, which has the potential to take these products to the aisles of every supermarket where legal.
Whether that includes the workplace remains to be seen.
While cannabis has largely moved out of the shadows, it is not without controversy in the working world. After all, this is a substance that, even though legalization has grown, is still banned in many places, and forbidden by many employers.
"What employees do in their own time is their business, but intoxicants have no place in the workplace," said Matt Erhard, managing partner of the Canadian recruitment firm Summit Search Group. "Recruiters interact with lots of candidates and need to have a clear head, good memory and strong focus to do their job correctly. All of these are impaired by cannabis."
Erhard draws a distinction between THC, the mind-altering ingredient in cannabis, and CBD, the non-psychoactive element that's used in everything from face creams and lattes to those Martha Stewart gummies. Erhard said his company has a strict policy forbidding the use of alcohol and other drugs during the workday — something that was put in place pre-pandemic and will continue after the return to the office.
Cannabis usage by employees during the pandemic has been of minimal concern to Eric Fischgrund, founder and CEO of the New York PR firm FischTank. If one of his people uses it "to foster creativity, sharpen focus or is just looking to maintain a certain mind-state, then bravo for them for finding a solution that works," he said. But once the office opens back up, the use of cannabis may well become an issue if it happens in front of other employees or becomes a distraction to the business, he added.
Even cannabis-related businesses have strict rules about partaking in the office.
Despite the personal freedoms the pandemic and remote working have ushered in, "we all need to be mindful of how our actions may affect others on the team," said Seth Richtsmeier, associate director of SEO at Cannabis Creative Group, a Boston-based marketing firm, which bars drug use during the workday. "Let's save consumption for when we're clocked out, so to speak."
3 Questions with Rebecca Rowntree, freelance creative director and host of 'This Way Up' podcast
Several reports have highlighted that the pandemic has stunted the progress women had made in the workplace and widened the gender pay gap, what's your view on that?
I'm so angry and fed up that we keep seeing the same headlines about the gender pay gap. Some of the findings show that the pandemic has made things 10 times worse [for] us in terms of the gender pay gap. One study said it would take 141 years to close it. That women in their 30s will never see equal pay in their lifetime. That's really shocked me. I want to try and elevate women's career stories on my platform which is why I started "This Way Up."
How much harder will it be for women coming back to roles after the pandemic?
Even if things go back to normal, there is a damaging effect on confidence, or people may not take up the same role again. Or they may not go for a role that they actually could do. I have seen that time and again: women just settling for less because it is easier. It's really about institutions, and sometimes men, not doing enough to recognize the problem — to acknowledge the different needs women have in order to have a proper career. A lot of men subconsciously think they would rather have a man in a certain position because then they know they won't be taken away by childcare issues. But that is extremely damaging for them in [the] future as they are not getting that diversity of minds in the workplace.
You've written a manifesto "We Are Not A Stereotype" featuring prominent women from the design and creative industry. What's its message?
Our stories are very specific to us so it's very hard for women to group together under one umbrella apart from the word "pay gap." Throughout my career [at agencies] I never had a female creative director above me. The micro aggressions and continuous put-downs — you don't realize what they are, you think it's normal. But it's been detrimental to my confidence and creativity. It took a lot of personal work to rebuild that, as well as having to fight for equal pay. The manifesto is a rallying cry for women to open up about the struggles they've faced in their careers to create awareness that each person's challenge is unique and to show other women at all stages of their career that others have come through the same challenges. There is much more understanding about the importance of flexibility at work as a result of the pandemic too, so it's not all doom and gloom.
Numbers don't lie
Since the pandemic, women now spend 7.7 more hours a week on childcare than men. This adds up to 31.5 hours a week — the equivalent of some full-time jobs [Source of data: PricewaterhouseCoopers' Women in Work Index.]

To undo the damage caused by the pandemic to the Women In Work Index by 2030, progress toward gender equality needs to be twice as fast as it was between 2011 and 2019 [Source of data: PricewaterhouseCoopers' Women in Work Index.]
What else we've covered
FoW managing editor Jessica Davies reports that families have been under acute pressure to meet work and financial commitments while also homeschooling their kids through various rolling lockdowns over the last year. Meanwhile, kids have suffered their own anxieties and mental health issues as a result of the pandemic. To address this, agencies have invested extensively in mental health and wellbeing support programs.
Pitch theater has long been a fundamental part of how agencies woo prospective clients. But as regular contributor Tony Case reports, the pandemic soon put an end to that as all travel was suspended and in-person meetings blocked. Nevertheless, agencies have come up with interesting new ways to be as effective with their pitches in a virtual environment. We took a look at what agencies expect pitches to look like through 2021 and beyond.

Some agencies have begun to experiment with their promotion and career path development structures to cultivate and retain talent — a move they see important if they're to attract and retain the best talent in a more distributed working world. Others have gone a step further and removed all line managers so they can shift away from legacy hierarchal structures.

As regular contributor Steve Hemsley reports the move to remote working has made it more difficult to promote company culture. It is harder to remind long-term workers what the organization stands for and why there are certain ways of doing things. We take a look at how companies like L'Oréal are tackling it.
Senior news editor Seb Joseph spoke with one Black senior marketer who lamented that their company always seems to have money in the budget to provide fodder for company holidays, such as flags, but not a specific budget for Black History month.
A good read
As marketing reporter Kimeko McCoy found, a year into the pandemic lockdown, the lines in housework and gender roles have become glaring and women in the advertising and marketing industries are struggling to strike a balance. Since the beginning of the pandemic, diversity and inclusion has taken on a new meaning as Black and brown employees, women and other marginalized communities continue to ask for not just equality, but equity. But are those calls going unanswered?
This newsletter is edited by Jessica Davies, managing editor, Future of Work.