Culture
// July 21, 2022 ■ 6 min read
How four college grads are navigating the challenges of remote, hybrid workforces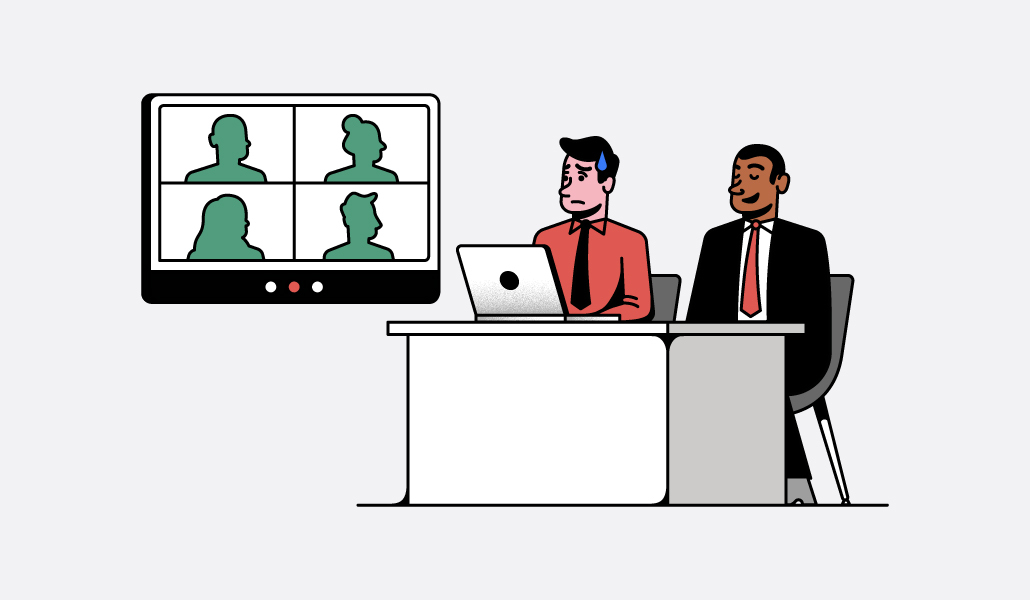 For today's college grads, working through a screen is all many of them know. Thanks to the pandemic, most grads entering the workforce don't have their own personal in-person work experiences to compare to the remote or hybrid work environments most of them are entering. They have likely heard their parents' stories about work friends, happy hours and what it's like to commute every day, but the rest is up to their imaginations.
We spoke with four recent college graduates to learn more about their experiences in the workforce so far and what they wish was different. It turns out the common denominator among them is they want an environment that will foster work friends.
A recent JobSage study found that fully remote workers report 33% fewer friends at work. Millennials and Gen Z are the generations most likely to have no friends at work, at 39% and 21%, respectively, the study found. Yet 95% of survey respondents said that having a friend at work makes them feel happier, 76% indicated work friends make them more creative and 74% said they help with productivity.
First in the office full-time, then remote
Michael Gattuso, a spring 2021 graduate from the State University of New York at New Paltz, had the opportunity to experience both in-person and remote work life since graduating. His first job was as a marketing administrator for a small environmental organization, where he worked five days a week in the office.
"I didn't like that I had to be in the office every day," said Gattuso. "It wasn't an enjoyable experience in the office."
The Long Island, N.Y.-based company Gattuso worked for would promote company culture by doing team lunches and, on special occasions like birthdays, giving employees a card. However, it wasn't enough to really encourage employees to connect with each other, despite being in-person. With no real benefit of commuting to work every day for the gig, Gattuso found himself more interested in finding a remote job. Earlier this month, he started a new position at a New York City advertising services company.
"I kind of am a little bit in the dark."
However, it's not quite smooth sailing there either, especially with the tricky nature of remote onboarding.
"I kind of am a little bit in the dark," said Gattuso, who finds himself only being given a few tasks a day that can be completed quickly, leaving him without work to do. "If I was in the office, they might force me to do things that might not even be necessary. Because I'm working remotely, if they genuinely need me to do something, or they actually want me to learn something, they will have me do it."
When it comes to finding work friends, Gattuso said that has been nearly impossible. His coworkers on his four-person team are based as far away as California and Colombia.
While Gattuso said he does feel connected with his remote team, he hasn't been able to understand how the entire business process of the company flows or meet people on other teams. The company is aiming to mandate a hybrid schedule soon, which Gattuso is looking forward to.
When hybrid is the happy medium
Audrey Ellis, who graduated from the University of California Santa Cruz, was in the office for her first job, like Gattuso. She was working as a paralegal. The paralegals were the only ones in the office, which made it hard to connect with the larger team. Ellis said she wanted to take advantage of remote work, so she asked her team if she could transition to a fully remote employee. She received permission, in part because of the worker shortage at the time, and she left California and worked for the same company out of a New York City studio.
"I was very fortunate my job let me take the work with me," said Ellis. "I think it was partially because Covid showed us we could work remotely, they just didn't really want us to."
As much as Ellis wanted to work remotely, she quickly realized the flip side of the situation: It can be isolating. For instance, there were weeks when she didn't leave her house.
More recently, Ellis switched jobs to be a curriculum writer for a nonprofit educational organization, which is a hybrid role. She works from home on Mondays and Fridays and goes to the office the other three days of the week.
"For me, when I was working fully remotely, I felt like the work I was doing didn't have an impact necessarily because it was just kind of being sent out into the void and no one was really checking on it, no one knew really what was going on," said Ellis. "I didn't want to be micromanaged, but I wanted to feel like I was accomplishing something productive and being able to come into the office lends to that feeling."
Positive culture helps build employee connections
For Cate Turner, a spring 2021 graduate from Johns Hopkins University, she said she has had the opportunity to stay connected with other teams at the advertising services company she works for, 1000heads, because she is a hybrid worker.
"Because there are lots of different teams, there would have been a lot of people I would have never met if there was no office space," said Turner. "We switch clients, so I would work a lot with one person, and then we change, so if we didn't have the in-person experience, I would never see them again."
Although there is no mandatory hybrid schedule at 1000heads, Turner said company events have drawn people to the office. For example, a few weeks ago she and her coworkers attended a comedy night, and there are frequent happy hours.
"It's definitely harder to make connections online," said Turner. "I will say it's easier than I thought it might be just because of the nature of my company because everyone is young and we know how to use technology very well…but it's 10 times better when you go in."
Joining a team with pre-pandemic bonds
When Spring 2021 Loyola University Maryland graduate Cecilia Wall started her first job as a development coordinator for the Office of Annual Giving at Johns Hopkins University, the first four months were remote. Then the team returned to the office two days a week.
"I've been working here for a year, and I feel like everyone is still close and I'm the young, new person."
"I was just sitting at my computer like 'what should I be doing right now?'" said Wall. "It was weird to figure out how to do things."
Wall said her manager would use tools like video sharing when she was working remotely, but it couldn't compare to in-person learning. What made it even harder for Wall to integrate into her new job was the fact that she was the only new hire since the start of the pandemic. This meant the rest of her team had previously worked together in person before Covid-19 and had already established connections.
"I just joined and everyone was friends, and I was this random new person," said Wall. "It's hard to make friends when you're not speaking with everyone every day."
However, Wall did notice a shift when her company switched to a hybrid model, and she was able to foster connections with her coworkers a little more. But it still wasn't an ideal situation since the team is now only in the office two days a week.
"I've been working here for a year, and I feel like everyone is still close and I'm the young, new person," said Wall. "It was hard to start all virtual and everyone already knew each other…it got better as time went on, but it's still an awkward divide."
In the year that Wall has been in her position, there was only one happy hour with her team, and overall she said there isn't a large effort to build connections outside of the workplace. As a result, Wall recently put in her two-week notice and is moving to work at an organization with a younger workforce and better company culture.