Culture
// February 4, 2022 ■ 5 min read
Covid-sniffing beagles and doggy day spas: An oral history of how the pandemic changed attitudes toward pets in the workplace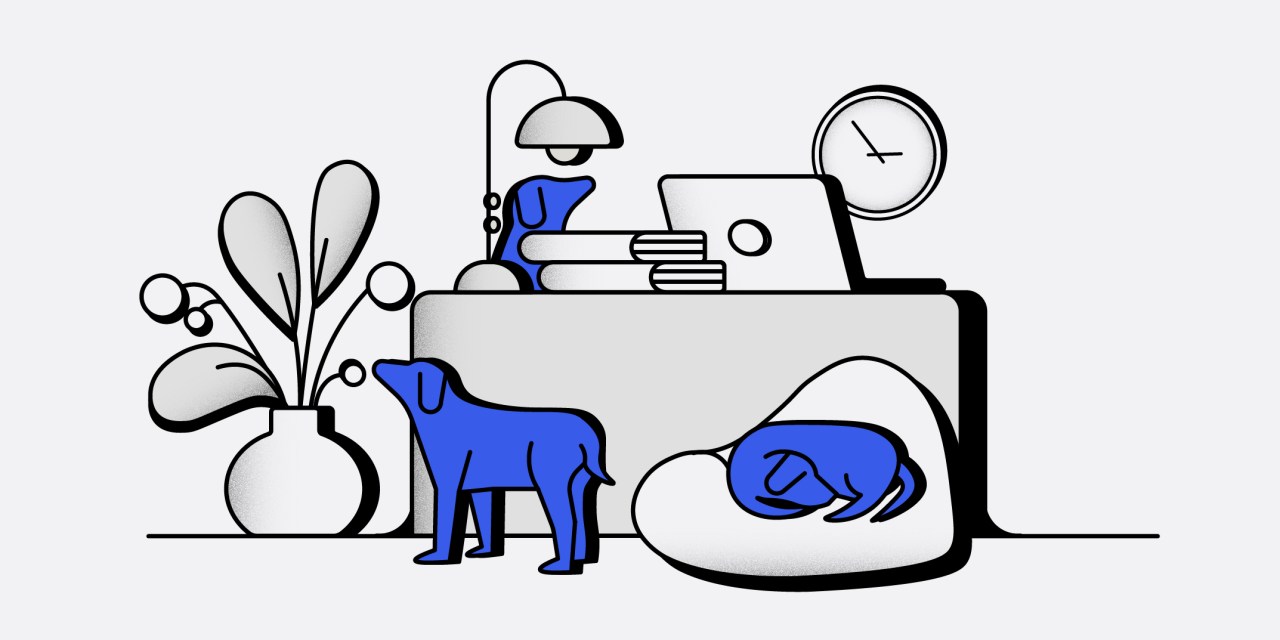 Anybody who's ever been a fur daddy or mama knows that pets are not like family — they are family. And just like other members of the household, they've been our ardent workday companions and mental health support over the past two years as remote work has become the norm.
With the Omicron variant projected to peak and (fingers crossed) less stressful times ahead, we have once again allowed ourselves to entertain the idea of returning to the office, at least part-time. But what happens to Butch and Goldie once that happens?
For many animal owners, the thought of leaving their companions home alone all day after they (and we) have become accustomed to constant togetherness is concerning to say the least. The pet care site Rover reported that nearly half of Americans welcomed a pet into their homes since the pandemic struck, and 80% of pet owners are worried about their animals' anxiety once we return to a more normalized work routine.
More employers have allowed pets in the workplace in recent years, and while many companies tout the success of such policies, others point out the pitfalls (some of them quite messy) of giving our four-legged friends run of the office.
Still, as the University of Southern California's applied psychology program reported on its blog, employers and employees alike benefit from a happier, less stressful workplace when pets are part of the mix. "Pets can create camaraderie within the workplace and trigger interactions that may have not happened without them," it noted. "Better communication leads to more trust, a key component in a successful work environment," it added, promoting productivity, boosting morale, and reducing absenteeism and other costs related to mental health.
Here, employers, veterinarians and other experts on pets and the workplace share their expertise and experiences pre- and post-pandemic, as companies weigh what's best for little Rocky as well as for the rank and file:
"Being a dog-friendly workplace has been part of Huge's DNA for the last 23 years. While our offices are currently remote, we look forward to welcoming back our four-legged coworkers, including the many 'pandemic puppies,' when we reopen and are committed to ensuring that returning to the office — even in a hybrid capacity — is comfortable, safe and seamless for everyone."
— Kali Beyah, global chief talent officer at Huge, the Brooklyn-based agency, which has been named one of Rover's "Best Dog-Friendly Companies" along with employers like Amazon and TripAdvisor.
"The first of two retired racing greyhounds we got was Roxy. I wasn't sure what to do with her during the day, so I took her to the office [of an agency where I used to work]. I felt fortunate that I had an office where my dog could hang out, but in reality, she didn't like it there. She was nervous, she whined all the time, and one day she peed on the floor of the reception area — in front of the facilities person who had just lectured everybody about their pets. While it can be great to take dogs to the office, I don't think all dogs are meant for the office. The reality is, it's not necessarily a comfortable and natural place for them."
— Jeff Sweat, founder of Sweat + Co., a Los Angeles public relations firm whose clients include the L.A. agency Observatory.
"After our own experience, limiting dogs [in the office] on a certain day is key, as well ensuring owners understand they're responsible for keeping tabs on their pets. We looked like a doggy day spa at one point."
— Diana Brooks, founder and chief vision officer of the Miami agency The Third Eye (formerly VS/Brooks), which allowed its employees to bring their dogs to the office when it reopened last fall — only to have one poop in front of the COO's office, among other unfortunate incidents.
"With Covid-sniffing beagles screening employees at the office, I definitely felt more comfortable being around my coworkers unmasked. Even though we require our employees to be fully vaccinated to come into the office, having that extra level of security made me feel safer being around groups of people."
— Dana Rosenkranz, senior manager, Real Estate + Workplace at New York-based pet care company Bark, which last fall brought in trained pooches, which can sniff out a Covid-positive person with 98% accuracy, as part of a pilot program to encourage employees to gather under one roof again.
"Unfortunately, Covid is sticking around longer than anyone wanted to imagine. These canines are an effective way to scan large areas and crowds for an added layer of protection against the spread of the virus. We've seen a steady interest in the service as people are learning to live with this disease for the time being."
— Kenneth G. Furton, provost and professor of chemistry and biochemistry at Florida International University in Miami, which trains the Covid-detecting dogs used by Bark and others, including Miami International Airport and the South Beach Wine and Food Festival.
"I believe as employees start to return to the office, there will be a period of adjustment for pet parents and their animal companions. It will be important for pet parents to try and transition their pets gradually to changes in activity and changes in the day-to-day schedules of life. I suspect that companies will be more open to this [pets being in the office]. Given the challenges of hiring and retaining good employees, it seems likely that employers will find ways for pets to be part of the office environment. That will present some new challenges, but these can be easily overcome with proper assessments and strict guidelines to ensure it is a safe experience for pets at work."
— George Melillo, co-founder and chief veterinary officer of pet care provider Heart + Paw, based in the Philadelphia area.
"We are seeing, in quite dramatic fashion, employees rethinking their employment and work expectations. They are in the driver's seat with the asks and demands of their employers. Pet parents are no exception. Nearly half of GenZers and a third of millennials say they would rather quit their jobs than be forced to leave their pets at home alone full-time. Many are seeking workplaces that are not just dog-friendly but [that also offer] pet benefits as part of the employee benefits package — things like bringing dogs to the office, doggy daycare, pet insurance and more."
— Paul Guyardo, CEO of New York-based pet insurance company Fetch by The Dodo.