Culture
// March 14, 2022 ■ 7 min read
'My role changed drastically overnight': Ukraine HR execs share what they're doing on the front line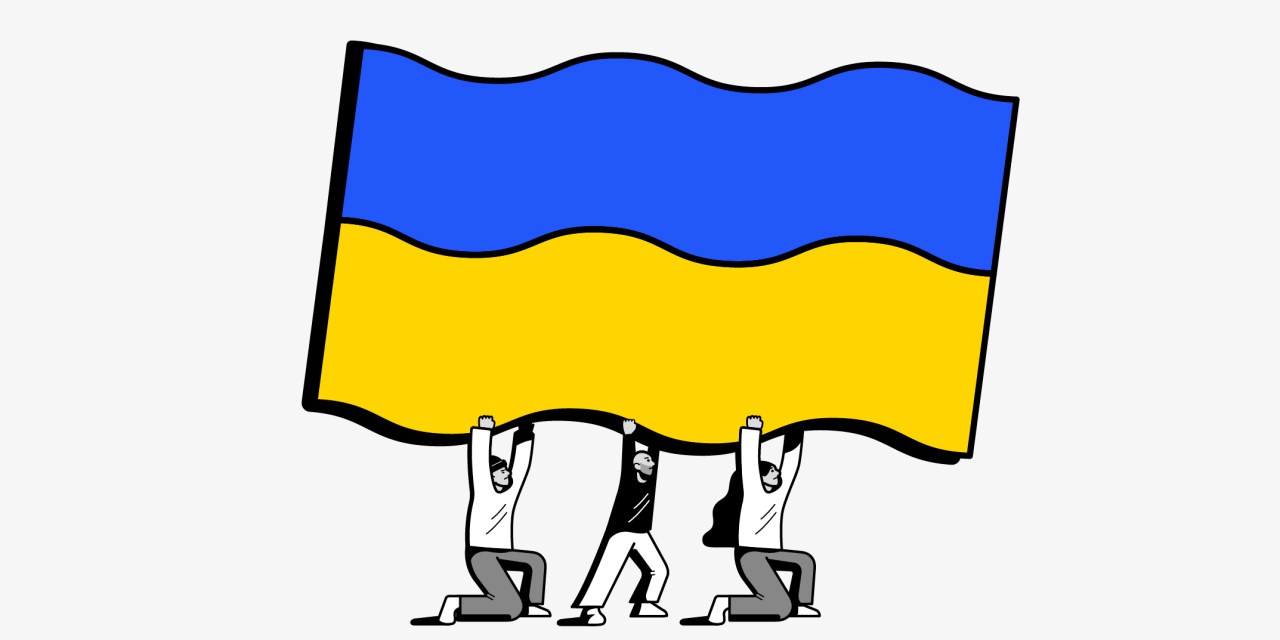 Ivy Liu
Human resources teams across the globe are working tirelessly, encouraging employers to take a firm stance on the Ukraine invasion, ensuring deeds match words and internal and external communication is pitch-perfect, supporting staff well-being, and more. And all on top of their typical duties. Granted, it's incredibly stressful right now — but for HR professionals on the front line, it's far worse.
Consider the experiences of Ksenia Prozhogina, vice president of people at 3DLOOK, a retail tech company headquartered in San Mateo, California, with a research-and-development arm in Ukraine. She grew up in Nizhny Novgorod, western Russia, and has many friends still there, but her focus has been relocating 3DLOOK's 74 Ukraine-based employees and their families away from danger.
Prozhogina worked in Ukraine's capital Kyiv when Russia invaded on February 24. She quickly scrambled to activate emergency relocation plans, drawn up months before the violence began, which she'd hoped wouldn't be needed.
"My role changed drastically overnight, with the business strategy put aside to focus on getting our Ukraine-based teams and their families to safer regions in western Ukraine in a matter of days," she said. Her time is still spent finding safe passage for her colleagues and organizing work from unfamiliar locations, all while continuing to serve customers. Prozhogina finally left Kyiv herself last week. She and her colleagues may now be forced to flee Ukraine entirely, to Poland.
Despite having plans in place, things have been far from smooth, given the colossal disruption triggered by Vladimir Putin's "special operation." As an exhausted Prozhogina explained: "War is relentless and doesn't pause outside of working hours. Some days, including weekends, I have to work 24/7."
Supporting employee mental health
There are also the practical and mental challenges of coping with war. Two years of coronavirus is nothing compared to this situation, argued Prozhogina. "For those in Ukraine, the pandemic is already a distant memory. A virus is little to be feared as rockets explode outside the window."
"For those in Ukraine, the pandemic is already a distant memory. A virus is little to be feared as rockets explode outside the window." 
Logistics aren't straightforward in a war-torn land, either. A 350 km drive from Kyiv to safety in Lviv took her 16 hours. "I soon discovered part of the newly built motorway is no longer there, now decimated by shelling," said Prozhogina. Drivers were forced to improvise and use alternative routes to escape. "On the way, I saw faces of those who cannot leave and understand what awaits them. In small towns, there were huge lines of people uncertain of how long they will have access to even the most basic of necessities," she said.
Whatever obstacles appear, though, she is committed to doing "everything in my power to support the 3DLOOK family." Support is taking various forms. The organization has funded the entire relocation process for all staff — including travel, accommodation, equipment, internet access, and more — and March's wages were paid in advance so Prozhogina's team has access to cash for emergencies.
This financial generosity seems typical across the country. Lisa Zaythik, chief people officer at mobile analytics firm AppsFlyer, which has an office in Kyiv, said: "Before the war, we offered financial and logistical support to those who wanted to relocate from Ukraine temporarily. And, once the war started, we continued assisting in ensuring the safety of our people and their families."
Tech and PR army
Additionally, 3DLOOK's HR department organizes one-on-one meetings with employees to determine how best to help support each individual's mental and physical needs. "We remain in constant contact, so we can continue to monitor and respond accordingly," Prozhogina said. She has also established a Slack channel for the team to provide updates, discuss challenges, and share positive news about fundraising efforts and photographs to lift spirits.
And for those who want to fight for their country, 3DLOOK has committed to paying their salaries and providing any other support requested for their families.
Those 3DLOOK employees that opt not to take up arms are fighting in other ways, using their spare time and expertise. For instance, members of the marketing team have launched public relations and online advertising campaigns to spotlight the situation outside the country while maintaining access to accurate information within Ukraine.
BetterMe, a Ukrainian healthcare company with 100 million users worldwide, has joined what Yuliya Pupysheva, the company's HR business partner, labels the "tech and PR army."
Since cyberattacks and propaganda are "a distinctive feature" of the war and used as "weapons against our people," BetterMe is fighting back, she said. "Tech specialists are protecting vital services for Ukrainians, such as honest news about the attacks, and PR and marketing teams are supplying the international community with trustworthy information on the situation inside our state."
There may be no end in sight for the bloody chaos, but the HR execs in Ukraine WorkLife interviewed remain upbeat — partly because they have to be for their teams. "We will continue strengthening our team with amazing talent while offering jobs to those that have fallen on hard times due to the conflict," said Prozhogina.
Reflecting on the last month, she added: "In the beginning, every sound caused fear. Now, I'm numb to Ukraine's defenses flying overhead and, in a way, it is calming. It offers reassurance that the resistance is holding strong and freedom remains intact."
3 Questions with Ed Manfre, partner at executive search firm Heidrick & Struggles
How will the CDC's decision to loosen mask guidance affect CEOs' intentions and plans when it comes to encouraging people back to the office?
This transition period doesn't lend itself to a one-size-fits-all strategy. While the CDC guidance is one significant step, I'm experiencing CEOs and senior leaders who are laser-focused on managing their transitions based on local data and policies to ensure plans are safe and in line with the municipalities in which they operate.
Is this something CEOs you speak with are concerned or preoccupied with currently? If so, why and what's your advice to them?
I hear them focused heavily on the future. Top of mind is how to leverage improving circumstances to shape workplace cultures that ensure safety, retain and attract talent, and inspire collaboration and optimism. The most forward-thinking leaders are exploring how to mark this moment to inspire a fresh start.
What are the biggest challenges for CEOs currently regarding the RTO, and will it involve becoming more comfortable with iteration?
The biggest challenge is personal. I'm hearing leaders wrestle with their own beliefs and desires about what RTO should look like, which sometimes is in direct contrast with their employees and even customers. I was just with a leader who made returning optional for now but was privately surprised that more people weren't back already. Seeing data on the shifting sentiment toward virtual and hybrid is one thing, but experiencing what it means in your organization is quite another. Since last summer, I've strongly advised leaders to prepare to test, learn and iterate. Your beliefs are just one data point. Integrate that with your specific industry, customer and employee needs. — Jessica Davies.
By the numbers
74% of 3,000 U.S. and Canadian adults surveyed feel anxious when entering spaces with poor indoor air quality.
[Source of data: Ambius Officer Workers survey.]

52% of 2,200 U.S adults who plan to travel by plane, train or bus in the next three months want employees to wear masks, and 43% of them want other travelers to.
[Source of data: Morning Consult's The state of Travel and Hospitality report.]

96% of 1,481 employees surveyed in the U.S. and U.K rank flexibility in working arrangements as a key factor when finding a new employer.
[Source of data: Topia's Adapt to Work Everywhere report.]
What else we've covered