Culture
// June 29, 2023 ■ 4 min read
RTO anxiety is back – how to handle it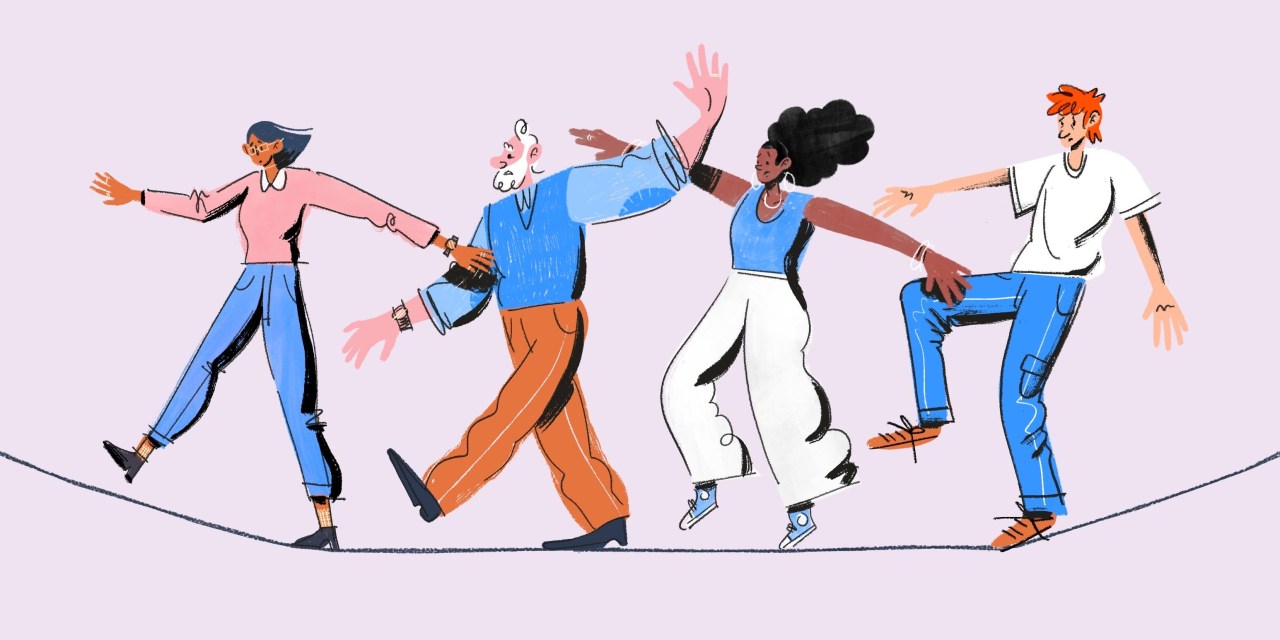 As more companies roll out return-to-office policies, pivot from their initial plans, or wait to call workers back, employees are experiencing heightened anxiety around going back to work in person, therapists say.
They're nervous about new routines and socializing more frequently and in professional settings after rarely doing so for the past few years. Many are also going to new workplaces for the first time after they switched jobs during the great resignation and started roles remotely. 
"I've been having this conversation for almost three years now, but it's been a different conversation at every turning point," said Cathleen Swody, an organizational psychologist and executive coach.
Ultimately two fears are driving heightened RTO anxiety currently. Workers are scared of losing their routines, and losing control, experts say.
What are workers anxious about?
Many workers have established routines working from home that they fear losing when returning to the office, along with control over much of what their work day looks like.
Working from home allows employees more authority over their schedules, what tasks they're working on and when to take a break and step away, Swody said. And water cooler conversations and quick chats at someone's desk don't have firm stops like Zoom meetings.
Another factor at play is whether RTO policies are mandatory or optional.
"Having any kind of mandate I think is what's probably creating most of the anxiety there, the kind of force of hand," said Erin Eatough, a senior insights manager at coaching platform BetterUp.
"Having any kind of mandate I think is what's probably creating most of the anxiety there, the kind of force of hand."
Working parents in particular are a key population that struggles with anxiety around mandated RTO policies, according to BetterUp's research, she said.
Parents returning to the office after working remotely had a spike in coaching sessions around well-being, she said.
What employees can do about it
RTO policies could be another catalyst for employees to consider how satisfied they are with their roles and if they're able to achieve their desired level of work-life balance, experts said.
"With any given job it's important to evaluate, is this how I want to be spending my time?" said Cassandra Fallon, a licensed marriage and family therapist at mental health services provider Thriveworks.
Some employees may find they are simply unable to return to the office due to caretaking responsibilities or other barriers, and they might be able to ask their managers if working remotely permanently is possible.
"If you have a good relationship with your supervisor and believe it's negotiable, give it a shot, " Fallon said.
If returning to the office in-person is mandatory, you can try to shift your mindset and view it as an opportunity for growth. It's also important to recognize you're not alone in feeling this way.
"Be patient and be self aware," Swody said. "Recognize I'm feeling some discomfort here and that's normal."
Transitioning back to in-person work as slowly as you can, if possible, is also key, she said.
What employers can do
Employers need to be patient too.
"Understand that it's not just going to be OK, everyone's back in the office, now the magic is happening," Swody said.
"Understand that it's not just going to be OK, everyone's back in the office, now the magic is happening."
"It's a transition that is going to take some time, just like working from home certainly took some time, except it might take more because when we suddenly were sent home we didn't have a choice," she said.
Another factor still driving RTO anxiety among employees is uncertainty, with some employers changing plans or switching in-office days throughout these transitions. Employers should do their best to answer important questions workers may have as soon as they can.
"The more proactively an organization can provide that transparency, I think that is super helpful," Eatough said.
Another step employers can take to make the return to in-person work smoother for everyone, especially those feeling anxious, is to designate in-office days as days for collaboration, meetings and other activities that can't be replicated virtually. That way employees can better prepare themselves mentally to socialize heavily on those days and complete more focused tasks on other days with less distractions.
Swody hears clients say they need at least a day to recover at home working remotely after spending a day back in the office "with all the distractions, multiple people talking, small talk," she said.
RTO plans should be "less about the rules and regulations of who's here what days and more about why you want to be here," she said, and "encouraging those things that we know drive engagement, growth, development, connection, feeling part of a team, culture," she said, adding, "If you're going to go into the office, make it count."