Culture
// December 3, 2021 ■ 4 min read
To combat the 'great resignation' employers are boosting how they help staff with financial wellness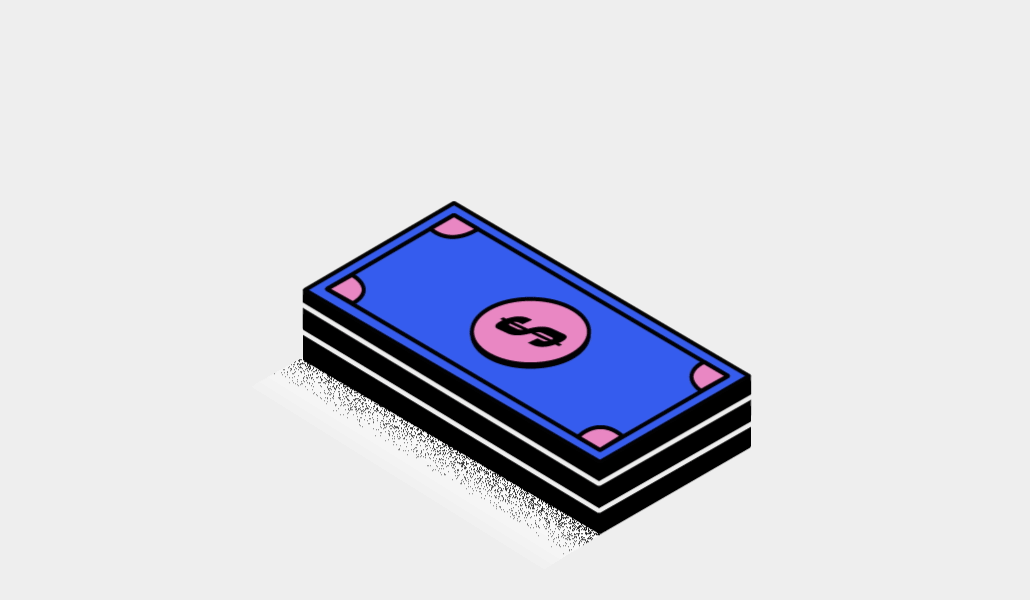 Illustrated by Ivy Liu
Having clocked up $45,000 in student loans, 31-year-old health tech software engineer Elijah (a pseudonym WorkLife agreed to) thinks about his debt constantly. Plans to marry his fiancé next year feel bittersweet with such a financial cloud hanging over their heads.
"I wish I wasn't bringing this burden to this next chapter with my partner," said Elijah. "There are a ton of financial decisions to make around the wedding. It's going to be a long time before I'm debt-free."
Elijah isn't alone. A total 92% of 1,012 U.S. employees surveyed by financial advice platform LearnLux report feeling financially stressed. A further 56% in MetLife's Employee Benefits Trends study say finance has been their biggest concern during the COVID-19 pandemic, ahead of social, physical and mental health.
And that's taking its toll on work. In MetLife's study, 26% of 2,651 employees say they're less productive at work due to financial worries, up 23% from April 2020. Financially stressed employees are nearly 2.5 times more likely to look for a new job, according to money management platform Origin. Meanwhile, LearnLux insights reveal that employees who are stressed by financial concerns miss an average of 15.5 days of work per year.
In the U.K., around 90% of large businesses say they have been impacted by poor employee financial well-being, through reduced productivity, loss of talent and absences, according to St. James's Place Wealth Management, with 11.5 million U.K. adults having saved less than £100 ($133).
Retention-conscious employers are responding: 95% of employers now feel a sense of responsibility for the financial wellness of their employees, up from 81% in 2015, as Bank of America's recent Workplace Benefits Report shows. More employers are offering financial wellness programs, the report found — 46%, up from 40% in 2020 — and 47% now offer access to financial advisors, also up from 40% in 2020.
Michael Alexis, CEO of Seattle-based team building events company, Teambuilding.com, is among them. This year it introduced a finance program for its 200 employees, comprising a personal finance book, workshop, and bonus payment for opening a retirement account. About half the staff have used it, including one of its client success managers, who had been confused about retirement and investment.
"Throughout the pandemic, employees have reevaluated their priorities and are looking for companies more aligned with their values. If we can help reduce financial stress and promote long-term financial wellbeing, we know our employees will be happier and more productive."
"I now feel like I have so much more control over my situation. I know more about budgeting, investing, saving and more. It doesn't feel foreign or elusive, and building true wealth feels completely achievable and attainable," said the manager, who agreed to speak on condition of anonymity.
Alexis believes supporting employees' financial wellbeing is a win-win. "In most cases, you're an employee's largest or only source of income, so your company is already tightly integrated with their financial life. If your employees have stressed financial lives, then you will see the impact in performance, productivity and the long-term health of your organization," he said.
While Alexis has taken a relatively low-touch approach, a growing number of companies are choosing to partner with full-scale finance platforms they can embed into their employee benefits programs. LearnLux, for example, counts a number of Fortune 500 companies in its expanding client mix, including Elijah's employer, and Pressed, a juice brand that has made LearnLux's personalized financial planning service available to its 750 employees.
Pressed CEO Pawan Kalra sees financial services as a top recruitment and retention tool.
"Throughout the pandemic, employees have reevaluated their priorities and are looking for companies more aligned with their values. If we can help reduce financial stress and promote long-term financial wellbeing, we know our employees will be happier and more productive," said Kalra.
"Financial wellness programs should be a core part of any corporate efforts to help employees reach their full potential," he added.
For LearnLux founder Rebecca Liebman, the idea was born after witnessing firsthand the lack of financial understanding of the everyday person and feeling frustrated at how one-dimensional the finance industry appeared.
Companies deploying financial platforms like LearnLux to their workforces also have a chance to address financial inequalities across genders, as the Bank of America report also revealed that women tend to be more financially stressed and less financially prepared than men.
"I was working at a lab at MIT with 10 Ph.D. candidates, and no one could figure out how to open a retirement account. I saw that it doesn't matter what level of education you have, it doesn't mean you have the 'right' financial behaviors," said Liebman.
"I started the company as a 20-year-old woman in finance. I didn't feel like the industry was talking to me in any way. It seemed like it was made for one type of person that wasn't representative of what the world looks like. It felt like it was time to give access to people who were never given the language to talk about money. It's life-changing for people who never thought they would be able to make a financial plan," added Liebman.
For people like Elijah, employer financial advice programs are even starting to replace visiting an external financial advisor.
"I feel like this is a service people would pay thousands of dollars for. I'm so lucky it's offered by my company at no cost to me," he said.