WTF
// May 31, 2022 ■ 4 min read
WTF is a mental health first aider?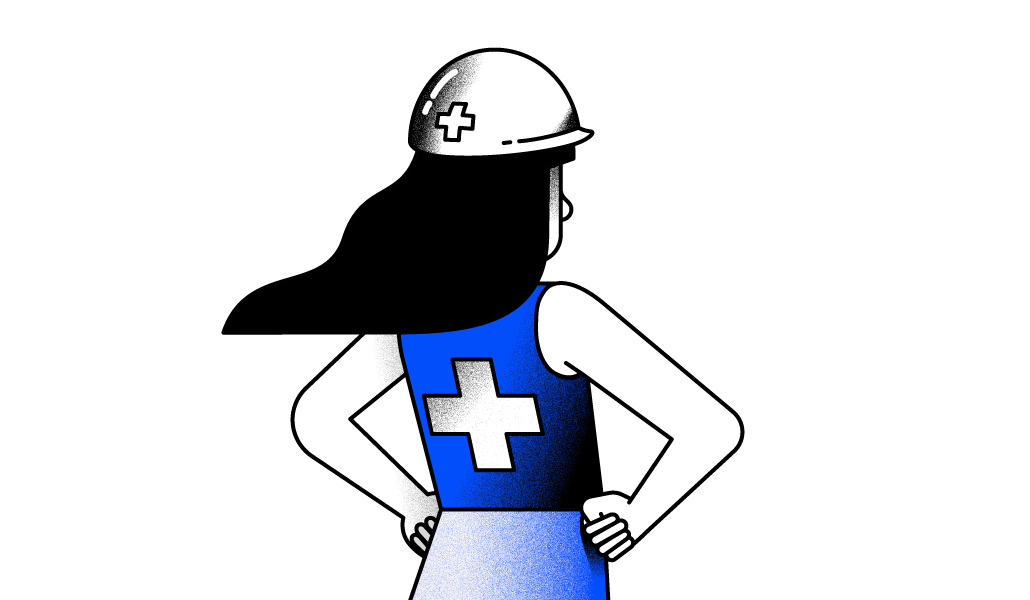 The mental health of employees has remained a front-burner issue throughout the pandemic. As May is Mental Health Awareness Month, we've been hearing more about the role of the mental health first aider — a designated individual within a company to whom those struggling can reach out.
Covid may have brought mental health issues into sharper focus, but first aid for those struggling with mental health matters is nothing new. The concept dates back at least 20 years, and has been employed by such companies as Delta Air Lines, Bank of America and Starbucks.
Here, we spoke to some mental health experts and company leaders to learn more about this increasingly important role.
Who is a mental health first aider?
Brigitte Weaver, senior associate at the U.K. law firm Katten Muchin Rosenman, noted that her employer as well as its clients have confronted employee mental health issues in some creative ways, all of which center around an open dialogue between employee and employer.
For example, some HR teams have weekly one-on-one catchups with employees who are struggling. In her office, 14 mental health first aiders, from all parts of the business, have been designated "so people can hopefully find someone to reach out to on a more informal basis rather than having to go through more formal channels if they don't feel comfortable."
She noted that other businesses have instituted solutions like mobile apps, giving staffers access to anonymous and independent counseling.
How does the process work?
C.T. Prince, CEO of Life Grows Green, a line of hemp-based products, employs a mental health first aider available to chat with employees anytime through Signal, a secure app enabling her to keep all staffers' information private, just as a therapist would.
As it happens, the first aider, who works remotely, is also a licensed therapist. "We thought it was best to have a licensed professional involved," Prince said. "All employees have to do is send her a chat message and she will set up a face-to-face with them."
Chaye McIntosh, clinical director at ChoicePoint Health, an addiction treatment facility, said that given the nature of its work, it has therapists and counselors available 24/7 — and that includes mental health first aiders. She explained the role as "the go-to person any employee goes to when they are facing any distress at work. It could either be something that is causing them trouble in their personal life or something at work. Our mental health first aider is there to make them feel heard."
What are the credentials required?
According to McIntosh, anyone can be a mental health first aider. In the U.S., she advises they earn a Certificate of Accreditation in Mental Health First Aid by the National Council for Mental Wellbeing.
As the organization itself explains, "Mental health first aiders are teachers, first responders and veterans. They're neighbors, parents and friends. They're people in recovery, and those supporting a loved one. They're first ladies and mayors. Mental health first aiders are anyone who wants to make their community healthier, happier and safer for all."
Chad Price, a San Francisco-based lifestyle entrepreneur, also stressed completion of the MHFA training, which his own in-house first aider has. The program "teaches them how to recognize signs of mental illness and how to react appropriately when dealing with someone who is in distress." The first aider is also required to have gone through crisis management training, he added.
Why do you need a mental health first aider?
"Just as your employer is responsible for protecting your physical safety at work, we feel it is equally important to protect our employees' mental and emotional well-being," said Marc Stitt, CMO at FMX, a provider of facilities and maintenance management solutions. Stitt led a campaign to establish a mental health first aid team at FMX, of which he is a member.
"Our MFHAs are committed to ensuring that our coworkers are supported by offering advice, providing someone who will listen without passing judgement, and guiding individuals to appropriate resources," he said. "We provide this service not only as a crisis assistance, but also to promote mental health awareness in the workplace, since we feel that preventing mental illness should be a top priority."
How can a company initiate a MHFA plan?
Veronica Miller, digital marketing and growth director at the VPN research platform VPNoverview, advises that companies looking to employ a mental health first aider or first aid team check out Mental Health First Aid Connect, a platform enabling the user to find courses, purchase and access resources, and connect with trainers and first aiders throughout the U.S.
But the training goes beyond just the four walls of a corporation.
Miller sees MHFA Connect as a resource for ensuring that "every parent, teacher, and school bus driver has the resources to help a child or adolescent in need, and where every first responder, colleague, and neighbor can support a friend."
Miller said the platform envisions a time when every household is equipped with MHFA tools — not unlike a first aid kit.