DE&I
// July 29, 2022 ■ 4 min read
Should ERG leaders be paid for their extra work?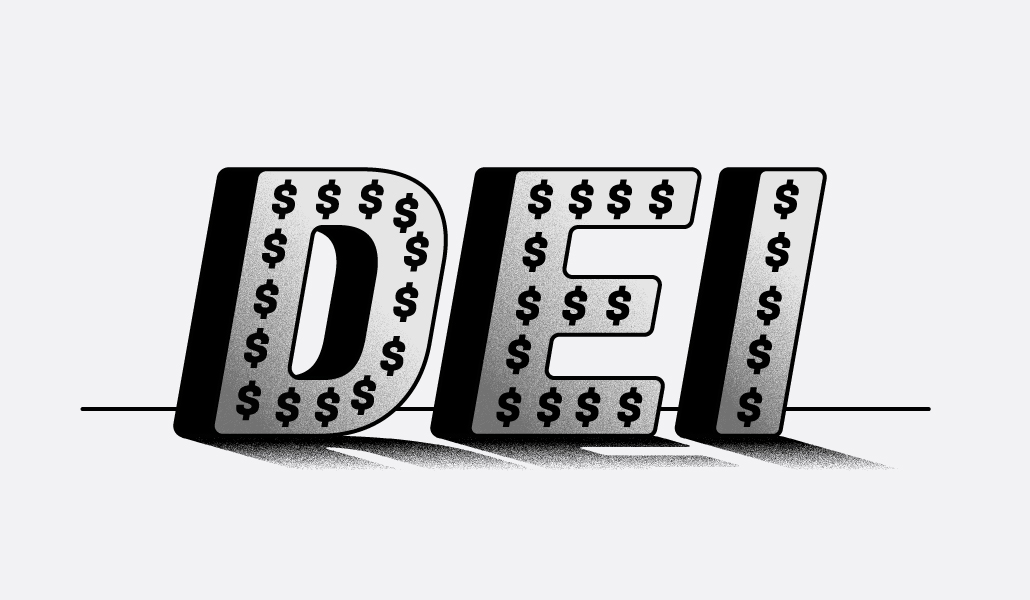 Employee resource groups — the organizations within companies that work to elevate underrepresented employee voices — have become an integral way for businesses to improve their diversity, equity and inclusion efforts.
What started as a way to connect like-minded communities like veterans, LGBTQ+, working parents, women and African Americans in the workplace has evolved. Many ERGs are sophisticated operations with dedicated budgets, strategies that impact bottom lines and work that has far-reaching outcomes when it comes to hiring and retention. 
Despite all of this, most ERG leaders aren't compensated financially for the work they do outside of their regular job responsibilities. They do gain exposure to top leaders with whom they typically wouldn't interact and, in many cases, their ERG leadership work is noted in performance reviews that lay the groundwork for promotions. But the lack of compensation has become a hot topic with many ERG leaders who say this shouldn't be volunteer work.
This line of thinking is a growing movement, especially since some employers are starting to pay ERG leaders. For example, LinkedIn gives ERG leaders a $10,000 annual stipend.
"Successful ERGs are not possible without dedicated leadership," Lynn Cowart, chief operating officer of Talent Dimensions, an HR consultancy that runs the Global ERG Network, told WorkLife. "Leaders spend inordinate amounts of time working on their ERGs' mission and vision. It is a truly evolving form of personal and professional development as well as the ability for a forward-thinking company to fulfill its corporate objectives."
A strategic partnership
When Nicole Simpson founded Omnicom Health Group's ERG for Black employees, The Black Collective, two years ago, one of its first priorities was creating a presentation showing the number of "promising Black talent" who left the company along with quotes from a survey of Black employees asking: Do you feel included? Would you recommend this as a place to work for your friends and family? Do you feel like you have a fair path to advancement?
That presentation led to the creation of a formal sponsorship program, in which Black employees are paired with company leaders. The goal is that the leaders will become the employees' advocates when relevant managerial positions open. The ERG also created a curriculum to teach members how to network and advocate for themselves.
The ERG's impact is measurable. Simpson directly connects the promotion of 15 black employees to the first group of sponsorships. She said all of that effort was a "second full-time" job, for which she wasn't financially compensated. 
But her work did have a direct impact on her career. Simpson was recently promoted to director of DE&I at marketing agency RAPP, a division of Omnicom Precision Marketing Group.
"I am a product of the work I did and the hours and the energy and the time that I put in," Simpson said. "It created a new career for me."
Still, Simpson said she strongly believes ERG leaders should be compensated in some form, whether it's through additional days off, educational opportunities and training, or through performance reviews, which are directly tied to raises and promotions. 
"I absolutely, unequivocally believe that ERGs leaders should be compensated," Simpson said.
ERG work is therapeutic
In some cases, ERG work can be less strategic and more therapeutic. At many workplaces, ERGs design programs that deal with the most pressing social and political issues of our time, such as the aftermath of racially charged violence, the Supreme Court's recent decision to overturn Roe vs. Wade and mass shootings. 
For example, at collaboration platform Mural, the women's ERG hosted a virtual guided discussion session for employees to share what was on their minds following the overturning of Roe vs. Wade.
There was a similar scenario at sales execution platform Outreach, which has 10 ERGs. After the shooting in Buffalo, N.Y., in May, the company's ERG Outreach Black Connection held a discussion session, as did Outreach Women's Network after the Roe decision was overturned. 
At Outreach, executive sponsors have access to DE&I numbers and the company's goals for representation in its workforce. These leaders work to promote talent up the ranks. Meanwhile, Outreach ERG software engineers have taken on the task of monitoring for inclusive language in Slack channels. To address usage of terms that may be considered offensive to certain groups, such as "you guys" when referring to a group of people, the engineers created an automatic pop-up from Slackbot that playfully encourages employees to use a different phrase.
These employees are not paid for their work as ERG leaders. 
"I'm not at all against paying them in the future, but until these leaders are elected, we don't feel it's equitable to reimburse them," said Pamela Mattsson, senior vp of people and organizational development at Outreach. 
She pointed to the visibility these leaders get to the C-suite and recognition in performance reviews as her reasoning.
Still, that may not be enough to recruit the best candidates for these leadership roles. "Like any other strategic initiative, in order to get your best talent to participate, you need to recognize this talent in some way, shape or form," Cowart said.