Bosses share burdens of leadership during a pandemic and its effect on their mental health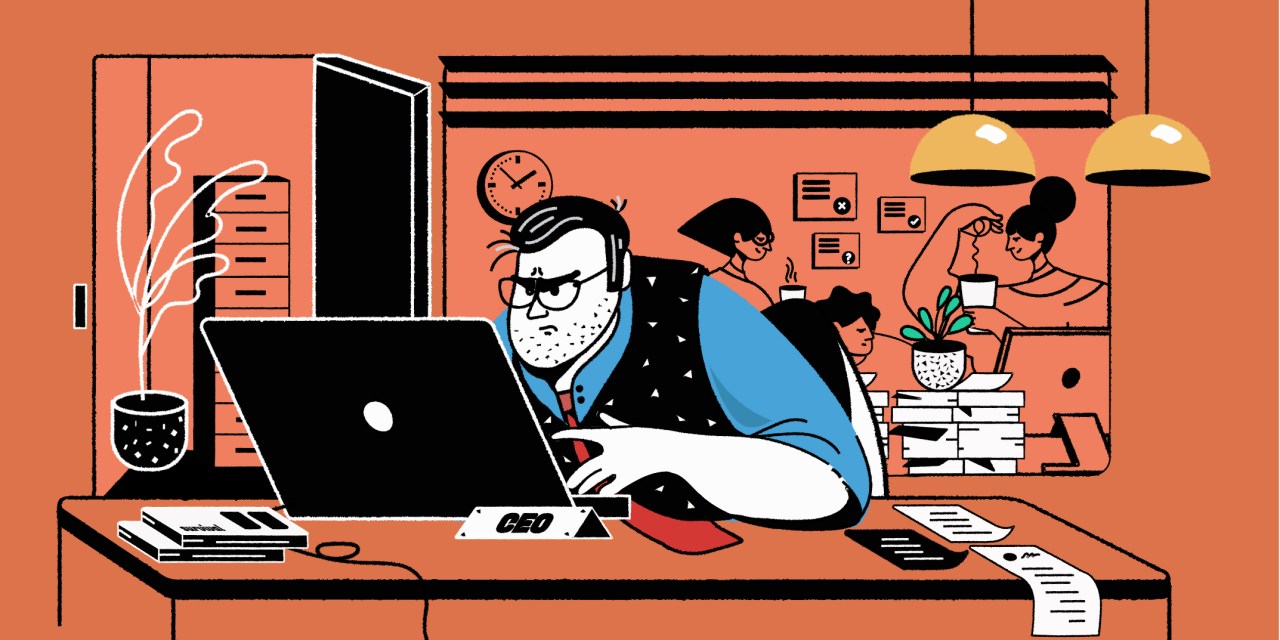 This article is part of the Future of Work briefing, a weekly email with stories, interviews, trends and links about how work, workplaces and workforces are changing. Sign up here.
After the pandemic first hit, Devin Johnson remembers standing in the middle of his empty office in Indianapolis on the brink of a nervous breakdown. Nobody else, it seemed, understood what was happening in his world or the challenges he faced.
It was at that moment, said Johnson, cofounder and CEO of the lead generation firm Kennected, that he experienced clarity and made the decision to channel his energies into confronting those struggles, pushing harder and coming out even better on the other side of this crisis, for himself and his company.
"What was very important was that I and the c-suite of the company remained positive and focused," said Johnson, whose clients include Walmart and Merrill Lynch. "That's what being a leader is all about — you need to set the mood and clear the path for the rest to follow with confidence."
Last year, c-suite executives dealt with some intense additional burdens: debating payroll reductions, layoffs, furloughs. CEOs were expected to have the answers on when offices would reopen, whether staff would need to be vaccinated before they return and have a ready answer on what would be different once they do.
"The answers to these questions are so uncertain for many leaders, it leaves them feeling unable to address their teams' needs," said Drew Train, cofounder and president, Oberland, New York creative agency whose clients include Uber and Blue Man Group.
And yet, management, in the eyes of employees, is somehow supposed to be inoculated against stress and mental health concerns. "Leaders have to make it seem like things are always great — they aren't, and there is a stigma and a real cost to that kind of honesty in business. So keeping that bottled up inside can also have a negative impact," added Train.
A recent survey of 12,000 people from 11 countries by Oracle and Workplace Intelligence found that c-suite executives have experienced mental health issues more than their employees. Management has also had the hardest time collaborating with teams virtually, managing increased stress and anxiety, and being removed from the workplace culture.
"Executives are perhaps even more susceptible to burnout culture than their employees," said Dan Schawbel, managing partner of Workplace Intelligence. "The kind of drive and dedication that helped them get to the top in the first place is also part of what is driving them to work longer hours and neglect work-life balance."
CEOs are meeting the challenge head-on, finding solutions and leading their teams not only through this global crisis but in spite of their own difficulties. The Oracle study found, for example, that management was most open to using AI for help with mental health, with 73% preferring to communicate with chatbots and digital assistants to get better versus 61% of employees. The c-suite was also more likely to see the benefits of AI, with 80% saying it had helped their mental health at work.
Mike Popowski, CEO of the Atlanta-based creative agency Dagger, whose clients include Coca-Cola and Delta Air Lines, said, "When you get down to brass tacks, a company can only be as healthy as the people in it."
"As CEOs, we have had to think about everyone else without forgetting to also take care of ourselves," said Cathy Butler, CEO of the New York-based digital agency Organic, whose clients include National Instruments and American Family Insurance.
She said that in the beginning of the pandemic, her focus was on making sure everybody else in the organization was doing OK, reminding employees to take breaks and take advantage of the agency's medical benefits. Those solutions proved beneficial not only to staffers but to management as well.
Kashif Naqshbandi, CMO of Tenth Revolution Group, a London-based global tech recruitment firm, said his company established a work tool it has dubbed Buddy Up With the Board, wherein employees can book video calls with members of the c-suite. No agenda, just an informal chat about whatever employees want, be it career advice or talking about their worries in this challenging time.
As with Organic's outreach, the idea turned out to benefit executives every bit as much as employees. Naqshbandi explains, "We're a big company. We don't always get to know all our people as well as we'd like, and these one-on-one chats have brought a sense of closeness that many of us have been missing out on the last few months."
Craig Zevin, COO of the Boston-based healthcare tech company Uberdoc, said the biggest positive he has made during the pandemic has been leveraging WFH to reclaim time in his day. He has permanently scheduled two 15-minute breaks each workday. He also uses what would be his typical commuting hours for mental wellness, as well as physical health and personal development.
"Being vulnerable is important, but you have an obligation to present confidence and stability to your employees and investors," he said. "You need to find ways outside of your company to connect and share your experiences if you want to stay healthy mentally."
3 Questions with Creature CEO Dan Cullen-Shute
What prompted Creature to move to a 3:2 return-to-work model last September?
We were adamant that we couldn't go back to how we worked before the pandemic. So we settled on a model where people are in the office on Wednesday and Thursday, then can work from wherever they want on the other three days. We think those two days are really important to building a coherent, cohesive culture that people want to be part of. Those will be the days where we'll have breakout sessions and creative meetings to get the buzz from working with each other in one space. At the same time, we know that people either don't like to, or can't always, work from home so the office is open throughout the week. The flexibility is there.
What impact could the 3:2 model have on employees?
If you only have to come into the office twice a week then all of a sudden you don't have to live in London, which is an expensive place to live and not getting any cheaper. We'll potentially look at renting out blocks of rooms at a hotel near the agency so that people can stay in for a night.
What have you learned from going through this process?
The first was around internal organization. We spend a lot of time pretending to clients that we're not powered by chaos but actually we are and I was worried about how we would be able to control that remotely. It turned out that it could be because we just focused on ensuring people knew what was expected of them and then let them get on with it. The other issue was around creative because there was a weird belief that if we're not a small room presenting an idea to a client then it would all fall by the wayside. Sure, there's a bit of that because selling anything is as much about having a good narrative as it is having a good thing at the heart of what you're trying to sell. However, when we were forced into a situation where we had to adapt then it was great to see what could be done remotely. — Seb Joseph, senior news editor, Digiday.
Numbers don't lie
71% of 500 c-suite executives interviewed say it will take until 2022 for the U.S. economy to return to its pre-pandemic state, while 90% are forecasting revenue and earnings increases over the next two years [Source of data: Forbes' 2021 CxO Growth survey.]

56% of 2,004 U.S. women aged between 18 and 69 years old who have been working from home during the pandemic, said they enjoyed it and didn't want to go back to the office, while 3% said they hated it and couldn't wait to return [Source of data: New Meredith Corporation Study.]

55% of 1,500 marketers said they're not willing to travel by air for business or personal reasons yet, while 70% said broad vaccination distribution would make them comfortable enough to travel [Source of data: Association of National Advertisers' 2021 Travel Survey.]
What else we've covered
Marketing executives are busy preparing for the new, hybrid world of in-person and remote collaboration post-pandemic. But the return of in-person business doesn't mean the end of technology as a collaboration tool, especially as companies continue to expand their offerings in this space, such as Microsoft Hub Room and Cisco Collaboration Room.
This newsletter briefing is edited by Jessica Davies, managing editor of Digiday's Future of Work.