The next C-suite role: Chief trust officer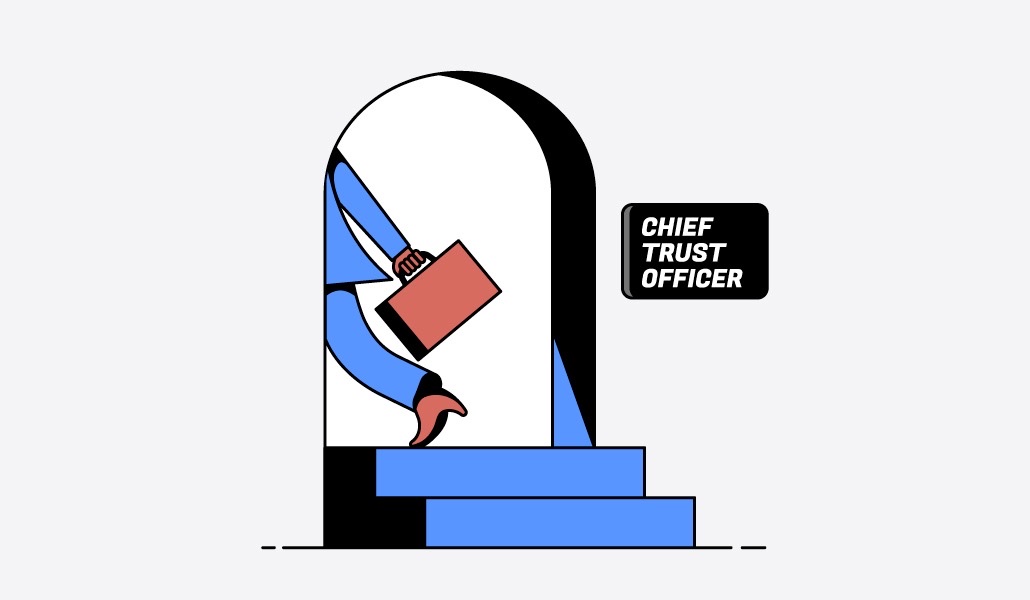 Ivy Liu
Who at an organization is in charge of reviewing, redefining and reconstructing trust? Other C-suite roles, like a chief information security officer or chief equality officer, might dip a toe into these buckets every so often, but now a new position is being carved out to devote more time and resources to them.
Similar to the rise of chief information security, digital and equality officers, the corporate world's evolution is creating need for the chief trust officer role. While the job doesn't yet exist at most companies, it is quickly becoming a real-world requisite.
So far in practice, the chief trust officer's job is to ensure company integrity and make sure companies have ethical intent behind decisions. Chief trust officers would pay close attention to customers' needs regarding data and trust, advocate for trust-centric decisions on the executive level and create company-wide initiatives. They would help deepen bonds with customers, employees and partners, which would in turn create significant value for businesses.
By the end of next year, the International Data Corporation  predicts that half of Global 2000 companies will fill this role. According to the 2021 Edelman Trust Barometer, 40 percent of customers stop doing businesses with brands they love if something happens to damage their trust in them.
Major companies are taking this seriously: Salesforce, WeWork and Airbnb have hired chief trust officers, as did cybersecurity and IT companies SAP, Cerby, NinjaOne and Red Canary, to name a few.
"Over time, we began to be able to solve more complex problems, and those problems began to require us to work with different personas besides the privacy team."
How companies are building trust
Trust intelligence firm OneTrust built a technology platform that connects privacy, governance, risk and compliance, ethics, environmental, social, and governance teams, data, and processes so companies can collaborate seamlessly and put trust at the center of their operations and culture. They also have their own chief trust officer, Andrew Clearwater.
"What people don't tolerate and what is harder to build, is when you have broader trust problems and inside your company unethical things happening, when you monetize and use data in a way that is not in line with the expectation set and you didn't have the transparency," said Blake Brannon, chief strategy officer at OneTrust. "It takes a lot longer to rebuild that trust, and to regain those customers, then it would survive a data breach."
Clearwater said that having to solve more complex problems around newer technology is what is causing people to implement the chief trust officer role.
"The internet economy is based upon customer data, or getting to know your customer so you can optimize ads, delivery and that sort of stuff," said Salvatore Stolfo, professor at Columbia University and founder of brand protection company Allure Security. "Customer data is at the core of this economy operating effectively. But there have been so many breaches because cybersecurity is always an afterthought."
In the European Union, the General Data Protection Regulation (GDPR) went into effect in May 2018 to protect personal data. It became a requirement that companies operating in Europe had a chief officer who ensured compliance with the regulation. Although it was specifically a European measure, it was only natural that companies began to look into this across the globe — which is one reason more companies considered having a chief trust officer.
"It's not just regulation, it's also just good business because when you see large scale breaches, which were happening so frequently, customers were obviously naturally outraged that their data is being stolen and used against them for scams and identity theft," said Stolfo. "A company's will with their customers gets eroded."
OneTrust's Clearwater said while his position began with making sure companies were complying with GDPR, it has grown from there.
"Over time, we began to be able to solve more complex problems, and those problems began to require us to work with different personas besides the privacy team," said Clearwater. "We're bringing in people from security, ethics, sustainability. What my role does is it helps to move together the different objectives of these groups and the different skills so that we can bring them forward for the company and get the result that we want."
Who is the right chief trust officer?
The question for companies has changed from what they have to do, to what should they do? Using an intersectional approach and looking across all departments is key for companies looking to remain trustworthy to its customers, said Clearwater.
"If the companies proactively get somebody in the seat and protect the communities, that will be the key reason why the businesses will grow in the new web."
Some of the questions OneTrust's Brannon asks to help determine if a company is trustworthy include: Are people empowered culturally to speak up? Do they have mechanisms where people can do that? Is there due diligence on the other companies you are working with? What is a company doing to impact people on the planet? What is a company doing to work toward fair wages and gender equality?
"It's not these corporate statements and branding anymore," said Brannon. "It's an operational program."
Stolfo said another facet of the chief trust officer role could be to ensure customers don't become a victim of phishing.
"One thing that's still not broadly understood by companies is they may protect their customers' data that they have under their control with their own IT infrastructure, but their customers are also subject to being scammed with phishing attacks for example," said Stolfo. "They don't look at it as I have to protect my own brand, but I also have to protect my customers who are being duped using my brand."
Tiffany Xingyu Wang, chief strategy and marketing officer at Spectrum Labs and co-founder of the OASIS Consortium, a think tank made up of trust and safety experts, explained how trust was diminished in Web2 because of disinformation, unconscious bias built into the programming and other issues creating what she called a moment of "trust deficiency." A chief trust officer could be especially important for Web3 and the metaverse, especially because trust can be rebuilt by considering privacy, safety and representation.
"If the companies proactively get somebody in the seat and protect the communities, that will be the key reason why the businesses will grow in the new web," said Wang. "[If they don't,] you might not hear about this company anymore in 20 years in a very similar way to those who failed to go through digital transformation."
Because the chief trust officer is a new role, some might be wondering what kind of leaders best fill it. In Wang's eyes, someone with a background in safety and privacy technology, or someone with a background as a chief communications officer would be a good fit — with the best case being someone who combines the two. Either way, according to Wang, the person should have a track record of showing resilience and being able to address crises, either internally or externally.
"If you look around, harassment, data breaches and lack of inclusion is really just lurking around every corner to just ruin the experience," said Wang.