Tech troubles, urgency bias, bad communication: Hybrid working's biggest hurdles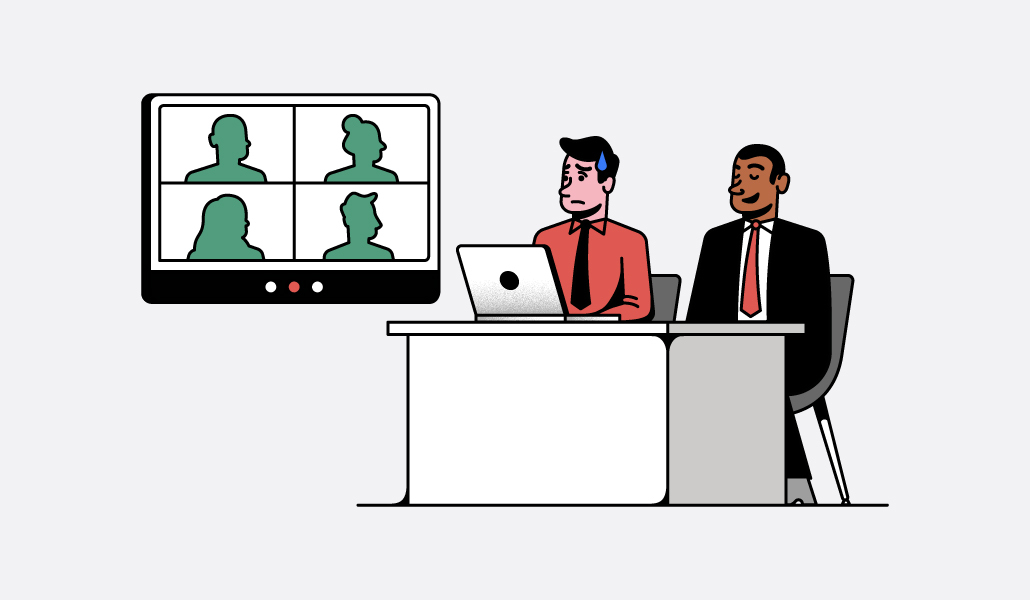 New data confirms what most already suspected: hybrid working is not working for a large majority of companies.
The XpertHR research, gathered from 292 U.K. organizations with a combined workforce of over 350,000 employees, revealed that 95% of companies have struggled to implement a hybrid-working strategy. Reluctant returners – staff who don't want to head back to the office – are the primary reason for failure. However, there are plenty of other causes besides.
"Now that we can do desk-based work from anywhere, it's imperative to give employees something to commute in for," said Sheila Attwood, XpertHR's pay and benefits editor. "It's also important to highlight the benefits of in-person interactions, both for connection and innovation between colleagues."
Indeed, the data indicated that 59% of organizations' staff spend two or three days in the office, but 37% of employers are unhappy and would rather spend less time there. This finding echoed results from Slack's Q2 global Future Forum study, which questioned 10,000 knowledge workers in the U.S., U.K., Australia, France, Germany and Japan on how they feel about their work environments and employers.
When asked to predict which companies will have improved if not solved their hybrid-working challenges in 12 months, Attwood said: "Those that make the most of in-person time vs. remote working will thrive. At the moment, 100% workplace or 100% remote seems to be divisive, so the key is to show the benefits of both options to all parties."
Generational differences
Is age a factor? According to LinkedIn's 2022 Global Talent Trends report, which analyzed workers in the U.K., U.S., France and Germany, specific generations are less reluctant to head into the office. For instance, 20 to 24-year-olds are the age group least likely to submit job applications for remote roles, presumably because they desire in-person supervision and early career development. And 70% of Gen Z workers – born between 1997 and 2012 – want access to an office all or some of the time.
Similarly, internal data from the U.K.-based Flexa Careers' platform, which vets and verifies flexible companies, showed that only 36% of under-25s preferred completely remote positions, compared with 51% of those over that age.
Considering that an estimated 30% of the global workforce will be made up of Gen Z employees by 2030, these stats arguably further confuse matters for business leaders seeking to perfect their hybrid-working strategies, suggested Allen Blue, co-founder and vp of product management at LinkedIn. "Employers must keep their newest recruits front of mind and create working environments where they can thrive," he said.
Clearly, a diktat that everyone must be in the office a certain number of days a week is too rigid. But while catering for individual needs is excellent in theory, it can be an operational nightmare in practice, what with trying to coordinate teams.
Nevertheless, providing flexibility isn't just vital in attracting and retaining Gen Z talent; it also represents a huge opportunity to make workplaces fairer, more inclusive and equitable, Blue added. "That means recognizing the realities of people's personal situations, including that they may not have an ideal set-up to work from home full-time."
Let's talk about flex
Another recent survey spotlighted what other generations think about hybrid working. Flexible workspace provider IWG quizzed over 1,000 Americans over 18 years-old who work in a flexible, hybrid environment. The research discovered that Millennials (1981–1996) are the generation most likely to look for another job if their employer stopped allowing hybrid working and expected full-time office attendance (53%), compared to only 33% of Baby Boomers (1946–1964) who said the same.
"The study highlights that there are important generational differences, and one size doesn't fit all," said Mark Dixon, founder and CEO of IWG. "The needs of employees will differ according to where they are in their careers and personal lives."
It's obvious that flexibility is essential to make hybrid strategies work. Could it be, though, that many organizations are focusing on offering the wrong kind of flexibility? Magnus Falk, CIO advisor at Zoom, pointed to a Slack survey from October 2021 that showed 76% of respondents wanted flexibility in where they worked, but 93% demanded flexibility when they worked.
"Zoom's recent research has highlighted how important it is to deliver what employees want, with 45% of respondents saying they would look for a new job if they cannot work where and when they want," Falk said.
A new report by digital work hub Qatalog in partnership with GitLab found that 81% of workers reckon they are more productive when they can choose when they work. The study also hinted at other reasons hybrid working is not working. For instance, digital presenteeism is rife: knowledge workers waste 67 minutes every day just making sure they are visible online, so bosses don't think they are slacking.
Also, asynchronous privilege is an issue, with three-quarters of C-suite executives being able to work when they want compared with just one-quarter of junior team members.
Communication challenges
This disconnect is concerning and erodes good company culture. But dig a bit deeper, and a lack of communication is the root cause. "One often overlooked reason that hybrid work isn't working for many businesses comes down to poor workplace communication," said Erica Galos Alioto, global head of people at Grammarly. "Communication is simultaneously more critical and difficult than ever to achieve in a hybrid environment."
With work happening across more channels, systems and contexts, it's increasingly challenging for teams to know how to best connect and collaborate with colleagues, she added. Getting this wrong is costly. A recent study by Grammarly and The Harris Poll showed U.S. businesses lose up to $1.2 trillion annually due to poor communication – or over $12,500 per employee.
What should organizations do to improve this situation? An important step is to set clear guidelines around communication, said Galos Alioto. "Whether it's aligning teams around a similar style and tone or establishing boundaries around when to send pings, clarifying these expectations will help put teams' minds at ease and address top hybrid-work communication challenges, such as misunderstandings, urgency bias, and general fatigue and overload," she added.
Technology troubles
For Michael Lirtzman, head of agency leasing for real estate firm Colliers in the U.S., "technology is the biggest challenge" to solve for a successful hybrid-working strategy. "It isn't easy to have a productive meeting with six people in one room and another six heads on a screen," he said. "Collaboration invariably suffers."
This insight chimed with Martin Bodley, director and global head of audio equipment maker Bose Work, who raised the idea of "meeting equity." He explained: "This means that every meeting attendee – regardless of whether they join in-person or virtually – has the same opportunity to participate and contribute in a meaningful way."
Granted, meeting equity is easier to achieve in a traditional in-person setting. But, as Bodley added: "Technology available now provides companies a greater opportunity to enable meeting equity as part of their formula for success: expanding their customer base and continuing to build a diverse team with the right people to foster innovation and ideas."
While technology is often a solution for many hybrid-working woes, inappropriate tech is corrosive. Research from Ivanti, provider of an automation platform for IT services, published in late June found that 49% of global employees are frustrated by their work-provided tech, while 26% of employees are considering quitting their jobs because they lack suitable tech.
Nigel Seddon, Ivanti's vp in EMEA, summed up what is required to change to make hybrid-work strategies work. "For employees to reach their full potential while working in a hybrid environment, they need some extra input from those at the top who decide on the company policy and what is needed to make it a reality," he concluded.