Spaces
// August 18, 2021 ■ 3 min read
Bosses without offices: CEOs ditch private spaces for their return to the workplace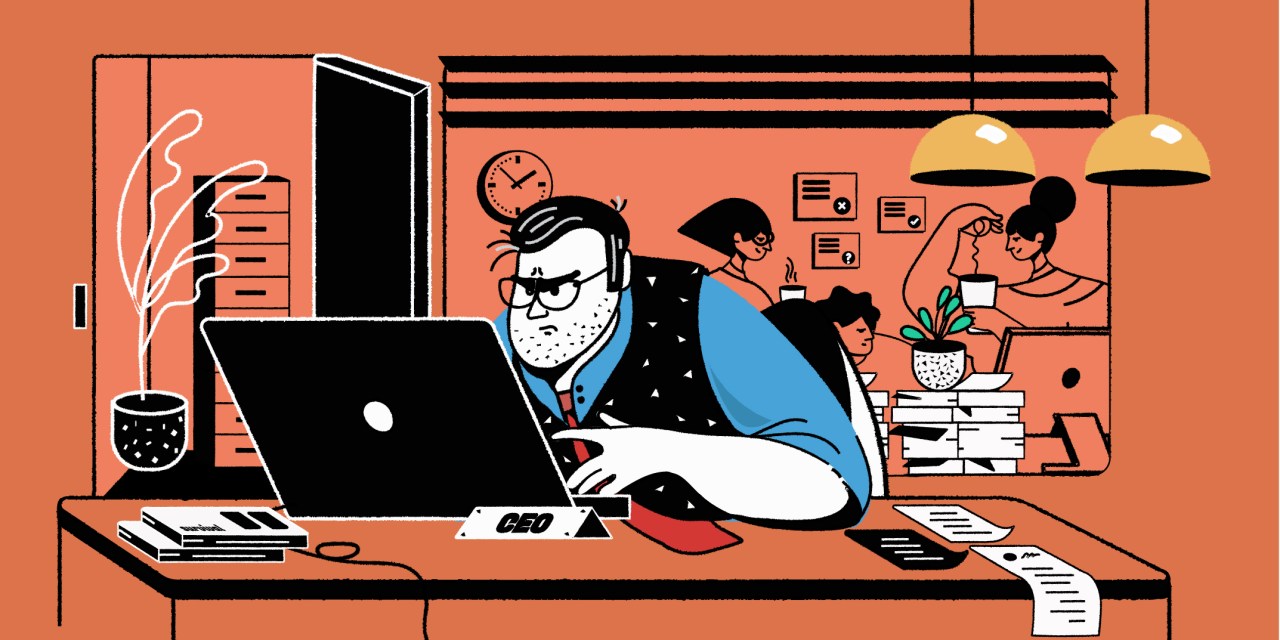 Planning for the return to the office, Angi, the parent company of home-improvement brands Angi, HomeAdvisor and Handy, reduced the footprint of two of its three offices in the U.S. In doing so, it did away with all executive offices — including that of CEO Oisin Hanrahan — opting for an open plan, more space for collaboration and additional conference rooms.
As Hanrahan explained, the plan "lends itself to a flatter organization — it feels more approachable and breaks down barriers between the leadership and the folks who run the business."
Even before the pandemic, many bosses were eliminating private office spaces, opting to work among employees as if to signal that the CEO role was approachable and collaborative. Among the notable examples was Michael Bloomberg who occupied a cubicle in an open-office arrangement both as head of his own corporation and as mayor of New York City. At many agencies and other companies, long gone are the days of the cushy corner office — a trend under new examination with the continued evolution of the modern workplace.
For many, particularly those in creative fields, the idea of "owned space" has evolved, said Conrad Edwards, CEO of the Indianapolis agency The Basement, which has done work for Verizon, Gillette and the NCAA. "Home offices, shared desks and private offices all serve their purpose, but collaborative space is vital," he said.
Working remotely over the past year-plus has proven that The Basement staff can be productive even from a distance, but many of its team members still crave personal interaction, said Edwards. "That need for integration is what's driving what our work environment will look like going forward. Opening up a new space with a bunch of private offices defeats the purpose and kills that synergy."
Edwards noted that The Basement, like other companies, is still determining precisely when it will be safe to return to the office, calling such plans "a moving target" what with the delta variant rearing its head. But Edwards envisions a space with a defining feature of "maximum flexibility."
Another agency, McKinney, homed in on a new location for its LA outpost right before the pandemic hit: a former artist's studio in the West Adams neighborhood that necessitated a total overhaul, which the agency did smack in the middle of the lockdown. During that process, space for collaboration, once again, was top of mind — as was doing away with private offices for executives. The policy also extended to the agency's home base in Durham, North Carolina, where the office of CEO Joe Maglio was turned into a combination collaboration space and game room.
As with The Basement, designing a space that could be easily adapted was key. "With new hybrid models being discussed and developed, we've found that flexibility is taking precedent over dedicated offices that may only be used a few days a week," explained Sylvain Tron, managing director at McKinney, whose clients include ESPN, Samsung and Sherwin Williams. In addition to more collab spaces, the shop installed tech-forward conference rooms and call booths so its three offices (the other is in New York) could stay connected.
For many, the boss's office has become as quaint an agency artifact as the three-martini lunch. "Offices physically represent a hierarchy that is completely counter to who we are, which is a place where any opinion matters," said Michele P. Sileo, partner and managing director at San Francisco-based agency Eleven, whose accounts include Apple, Google and GM. Eleven did away with its private offices years ago, with the exception of those of the controller and HR director. "For a decade, our exec team has sat next to interns, writers, strategists and producers," she said.
Sileo stressed that as many agencies debate what the office structure will look like upon their return — and how the workplace of the future will continue to evolve — her shop's flat organizational structure, along with an office setup that reflects it, is at the heart of what got its team members through the pandemic so far.
It has been, as she put it, "the glue to our culture."