Spaces
// April 7, 2022 ■ 5 min read
Diary of a Chief People Officer: 'We don't have the answer yet' on what a return to the office looks like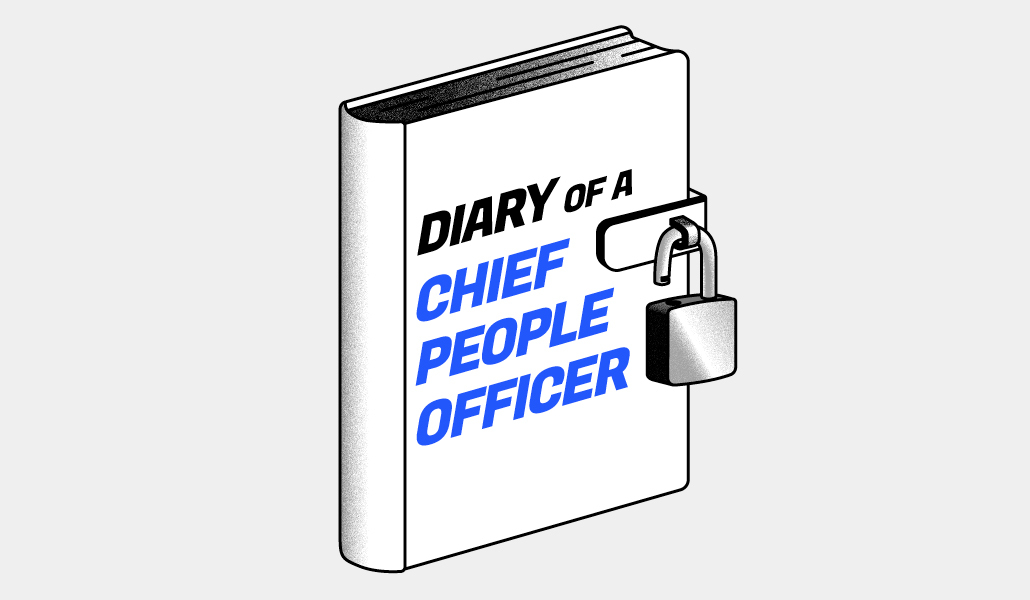 When it comes to whether RoadRunner Recycling's 500 employees will return to their Pittsburgh headquarters, HR chief Sue Wingert admits that they're "still in a holding pattern."
Like many businesses that have planned a return to the office, RoadRunner has had several false starts. Now the company — a technology platform that analyzes how much waste a company produces, provides the right containers to recycle and pairs it with a local trucking business for pick up — is taking a more methodical approach, asking if returning to a physical office is even necessary.
Wingert and RoadRunner's leadership team are asking the question: If we didn't lose anything working remotely, what's the point of returning to the office?
We spoke to Wingert, who is vp of HR at the company, as part of WorkLife's Diary of a Chief People Officer series, where we ask the professionals tasked with managing workforces and the return to the office, to speak candidly about all their challenges and priorities.
This interview has been edited for length and clarity.
Where does RoadRunner Recycling stand with return to work?
We originally thought we'd go back fall of 2021, but that didn't happen. Then we said February 2022, but when February was approaching there was a Covid surge and we basically said, 'We will announce when we make a decision.'
We're still in a holding pattern. We're deciding, can we be a fully remote company? If not, why? If we can, what are the things that we need to change to be fully remote? I know it's been two years, but I think we're still thinking of it as temporary. Graham [Rihn], our CEO, is challenging each leader to say, 'Can you complete your objective remotely?' And if not, what does that office look like? Or what type of in-person environment works for you to complete that?
We don't have the answer yet.
It doesn't sound like going back to the office full-time is in RoadRunner's future. Why?
I don't anticipate that we at RoadRunner will go back to a pre-pandemic environment where everybody has a cubicle and there is office space for every single person. I think we'll have a big mixture of folks that want to be in the office, and then a mixture of folks that only want to be in the office for strategy sessions, brainstorming sessions or social events.
We do still have an office space in Pittsburgh, where we're based, but it's closed. If you need to go to the office, we have a process in place where you can reserve your hoteling space, mainly because we still have a lot of safety protocols to protect our employees. We did not take a stance on the vaccine mandate.
We were going to have a grand opening of our second office in Pittsburgh a couple of weeks after the pandemic started, and never actually opened that office. It's just empty space. It's still ours, because it's leased, but it literally looks like we left it and just never finished it.
How is leadership making that decision?
We're going through that dialogue now. We're looking at it from a business down perspective, versus, 'I have a lease and I want to put people in an office.' Part of that process is going back and doing a postmortem of the last two years. Where did we miss? And if we missed, was it because we were fully remote or because of something else?
I can tell you people don't want to have to do that commute just to sit behind a screen eight hours a day since we've gotten pretty good at collaborating via Slack and other methods. Going back to the office has to look different than what it did before.
What have been the challenges and the lessons learned from working completely remote?
We have had so many new people join us during the pandemic—we went from 200 to 500 employees in the past two years—and we kept hearing from managers and employees that there was a gap in our onboarding. So last year we created a full-time job dedicated to onboarding. Her responsibility is to ensure that our new hires have the tools, resources and training they need, and that they're connected with each other, like a class cohort. We will be launching RoadRunner University, incorporating all these elements so new hires can hit the ground running.
Has remote work been a success at RoadRunner?
I do believe that it is working because we've been quite successful. In the two years, we've grown significantly. We launched in six cities last year, and we're on target to launch in eight cities this year and eight cities the following year. What I've learned is we still have to keep a pulse on the organization and do a better job of connecting with folks because there's no water cooler.
How do you create company culture with so many people who have never met in person?
We created a cultural ambassador committee that is responsible for creating events and opportunities to reinforce our culture. We do happy hours, at least once a month, schedule team building meetings, and I do morning coffees where I ask everyone to grab their breakfast and we chit chat the first 30 minutes of the day.
We've had a DJ come in virtually and everyone is still working but managers are checking in with folks. We also have been very successful with what we call Airbnb experiences. We offer a few different experiences such as a circus or a safari in Africa. There's a narrator and facilitator who takes you through a video. I recently attended one about the circus with a live circus performer. He walked us through the process of how he prepares and trains. I learned more about the circus than I ever knew before.
Research shows that one reason people stay at a job is because they have a best friend. We've been very prescriptive about those types of events to make sure there's that social connection.