Spaces
// March 12, 2021 ■ 4 min read
Get back to work: More collaboration spaces considered for post-pandemic offices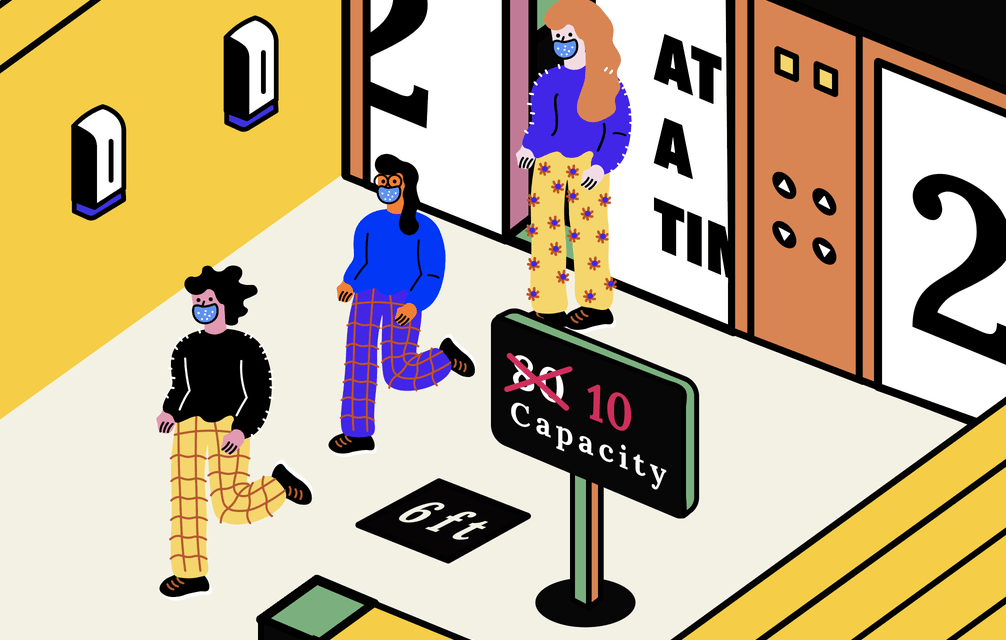 A year after the pandemic hit and remote working became the norm, employers like Twitter and J.P. Morgan are beginning to lay out plans for the return to a more predictable work arrangement. But what about those companies that are still trying to sort out which configuration will work best for them and the timing around that?
The New York-based flexible workplace provider Industrious on Monday will release a report called "The 30% Rule: Planning Your Team's Return to the Office" that aims to guide employers and the real estate industry as companies plot returning toward some sense of normalcy.
Part of an in-house research program called Workstat that Industrious launched last summer, the report generally advises companies that once 30% of employees are vaccinated, the workplace would become a hybrid model, with 30% of workers located on-site and 70% working remote, or vice versa. The headquarters would be reconfigured by dialing up social, collaboration and amenity spaces by some 30% and reducing individual workspace by the same factor. Industrious calls for arrangements to be reassessed every 30 days to determine how well they're working.
"There will be a number of different work styles in an organization, from the employee perspective and the team perspective: Who are the remote folks? Who are in the in-office-first folks? Where do people naturally settle?" said vp of product Eivind Karlsen at Industrious, which works with all levels of firms – from two-person teams to large companies like Verizon and Pfizer. "There's a lot of uncertainty about how to navigate this and companies need a framework."
As companies consider how to remake their workspaces for a post-pandemic future, they are moving away from the open-floor office plan that became so common about a decade ago – and that has come to be so despised. The open plan "is not great for collaboration, not great for focus work," Karlsen added.
More companies are considering a combination of private offices and spaces for groups to work together. Traditional conference rooms will shift to lounge spaces with fixtures like sofas and whiteboards to maximize collaboration, Karlsen suggested, noting that the single greatest challenge of the return to the office will be how to infuse team culture and collaboration in the workplace after employees have been apart for so long.
As it prepares to make its headquarters more accessible for employees who will return, the marketing firm McKinney is one of the companies refashioning the workspace with in-person collaboration top of mind, according to CEO Joe Maglio. In its warehouse-like space in Durham, North Carolina, McKinney has established individual meeting spaces throughout, furnished with seating, TVs and whiteboards. It's also transformed two outdoor decks into meeting spaces featuring TVs and conferencing technology.
Meanwhile, in L.A., it is in the process of relocating from West Hollywood to West Adams, an up-and-coming neighborhood where it is renovating a large space that, like Durham, will allow for more collaboration spaces outside traditional conference rooms. The L.A. digs are located on West Adams Boulevard, providing a "retail storefront," according to Maglio, enabling McKinney to host events as soon as it's safe to do so.
As McKinney prepared its new base on the West Coast, L.A.-based Barking Owl, which creates music and sound design for the marketing campaigns of brands like Apple and Audi, was busy planning its expansion to New York. It signed a lease on a space there just before Covid struck and was forced to move ahead with opening the studio – "and I'm so glad we were," said Kelly Bayett, co-founder and creative director.
"Having this time during the shutdown has allowed us to build a beautiful facility, without rushing, doing everything in proper time and moving forward so when things open again, we are ready," she said. "We can have clients in and connect in a meaningful way once people are comfortable coming back."
The space affords human connection and collaboration that are invaluable, Bayett said – and that we are all craving.
"Hearing everyone discuss working from home and restructuring businesses to keep more employees home works really well for certain types of businesses," said Bayett. "We all have adapted. But it doesn't mean we are better for it."