Spaces
// June 3, 2022 ■ 4 min read
How new ergonomic features are reshaping hybrid workspaces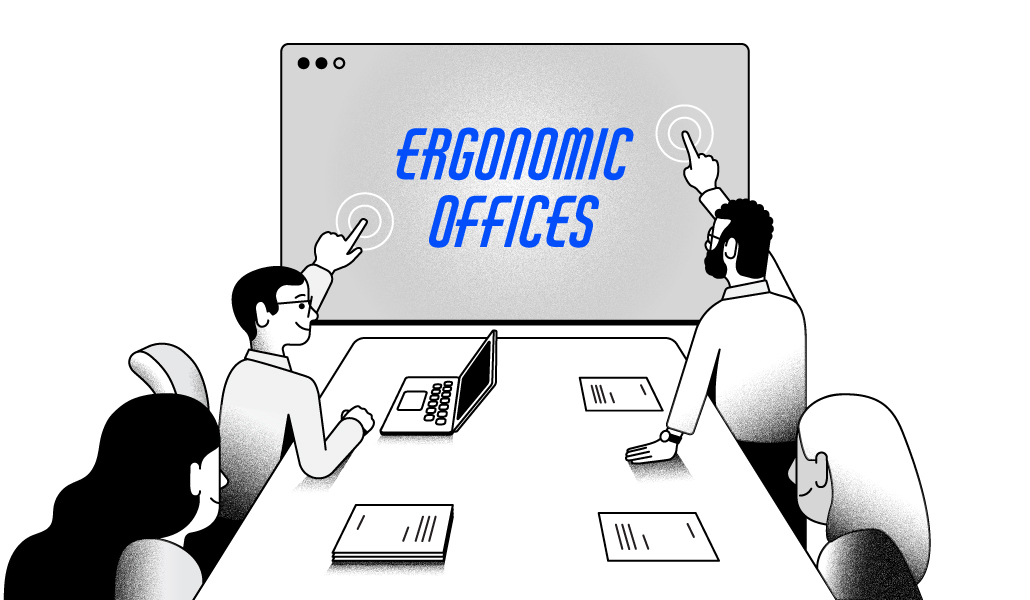 Ergonomic design isn't just a solution for improving employees' comfort and health and streamlining productivity — it could also be a remedy for the Great Resignation.
In a recent study, Poly, a maker of audio and video products, underscored the lack of support employees are feeling from their employers to address challenges tied to hybrid work. A majority (72%) of those polled said employers could be doing more to alleviate stress and create a sense of parity between distributed employees. And even though technology plays a key role in employee satisfaction, tech-related factors are increasingly causing employees frustration. Workers are now citing things like lack of technology support (21%), out-of-date video conferencing technology (17%), and faulty headsets/poor audio (16%) as new workplace "stress triggers."
Meanwhile, in another survey, the ergonomic office supply company Ergotron found that 73% of employees are ready to choose their next employer based on the support of their physical well-being and provisions for flexible technology. And yet, about half (56%) of employers regularly check in with all employees to enquire about their health and well-being.
"We're now in the third year of a new workstyle for most organizations, and business leaders should by now have assessed their workspaces and at least be in planning to deliver for workers' needs — their organization's biggest asset," said Richard Guy, Ergotron's sales lead in the U.K. and Ireland. "The need for adaptable workstyles has grown hugely to build safe, healthy, productive and collaborative working environments — and workers' needs sit well above what their employers are currently providing."
Ergotron uses movement to improve how people work, be it adjustable furniture or digital display mounts that support a healthier, more productive working environment. It has secured more than 200 patents for products ranging from a portfolio wall, ceiling and desk mounts, desk stands, office and tech furniture, and sit-stand workstations to device-charging stations, carts and vertical lifts.
Recently, Stela Lupushor, co-author of Humans at Work, noted the role ergonomics are playing in creating the workspace of the future. "Organizations are sending employees high-quality webcams and microphones and retrofitting their conference rooms with trapezoid tables to make the hybrid meetings more inclusive," she said. The goal is for those working remotely to feel on equal footing to those in the office; everyone has a webcam and appears the same size.
Todd Lower, operations director at the agency Grow, said the company continually strives to find new and better ways to reduce the barrier between remote and in-person meeting participants. Its approach is to optimize meeting rooms for in-person collaboration, then make the remote experience as close to the in-person experience as possible.
For example, all meeting rooms have portable dry erase boards on the walls, and a two-camera system optimizes the experience for remote participants. A primary camera is placed so that remote participants feel like they are right at the table with everyone else, while a secondary camera allows them to follow along with the action on the boards. It has also outfitted meeting rooms with touchscreens so participants on both sides of the screen can draw or create diagrams in Figjam or Jamboard, in real time.
Tom Denari, CEO of agency Y&L, noted that its IT team quickly transitioned to Microsoft Teams within a week of the shutdown in March 2020 and has continued to keep employees communicating seamlessly with clients and each other. Now that employees have returned to the office three days a week, all its conference rooms have been outfitted as plug-and-play Teams Rooms featuring video cameras and mics.
He noted that because Y&L has an open concept office, it's sometimes difficult for people to have video calls at their desks. But the IT team (some of whom work as carpenters in their spare time) have constructed individual video phone booths where employees can take individual video or phone meetings. The first two have been so productive that the agency is now creating another series of booths.
"At Periscope, our focus on hybrid meeting best practices is just as much about modifying behavior as it is about tech tools," said Cari Bucci-Hulings, president of the agency.
Periscope has made investments like turning conference rooms into Microsoft Teams Rooms and adding a mobile, Teams-enabled Surface Hub 2, allowing real-time collaboration among in-office and remote meeting attendees with digital-enabled whiteboards and people-tracking cameras that, as in the case of Y&L, follow participants around the room.

That said, the primary emphasis of Periscope's future of work plan is reducing meetings while making the necessary ones more effective and meaningful, the exec said. "Periscopians are turning more meetings that should have been emails into actual emails, chats and other asynchronous communications," she said. "We intend to continue to lead in modernizing how we work to get to the best work. We will be our own pioneers and learn what works well for us and what needs to be adjusted along the way."