Spaces
// October 18, 2021 ■ 8 min read
How WFH is taking its toll on our physical wellness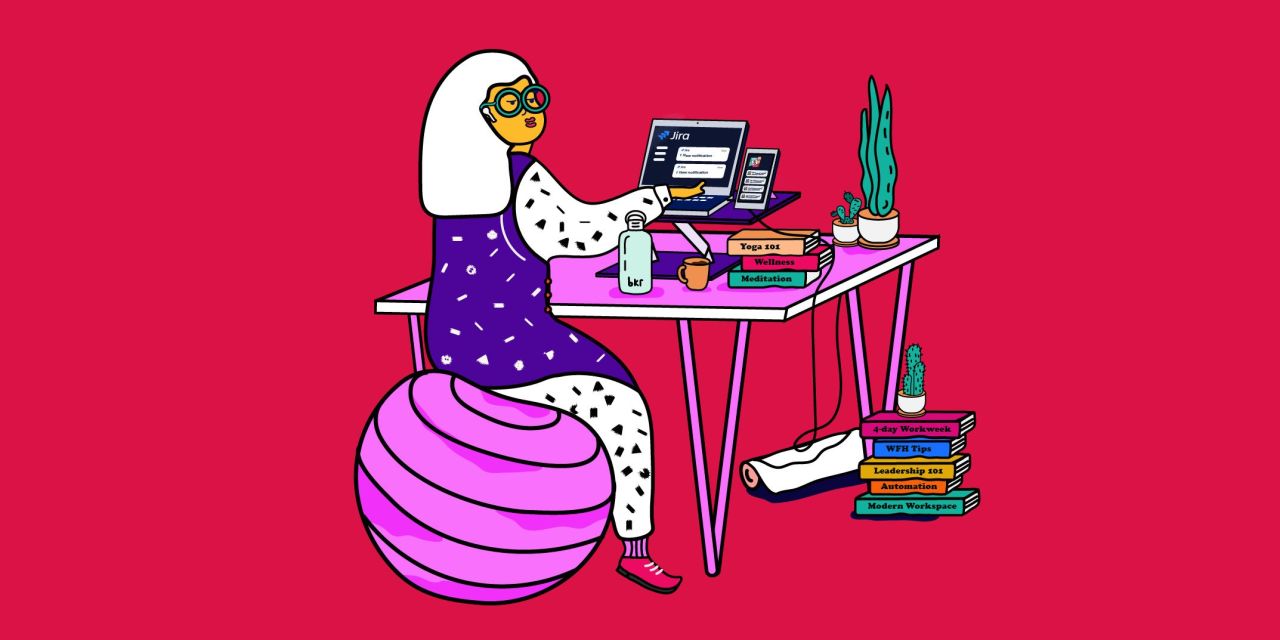 This article is part of the Future of Work briefing, a weekly email with stories, interviews, trends and links about how work, workplaces and workforces are changing. Sign up here.
We already understand that working from home has had an impact on our mental well-being, with one study estimating that nearly half of us suffer from remote work anxiety.
What has received far less attention is the effect WFH has had on our physical health.
The insurer Breeze found in its recent survey that not only have anxiety and depression become concerns among the workforce, but so have physical ailments like exhaustion, aches and pains, headaches, digestive problems and high blood pressure.
As has been documented, long-term sitting, such as at a desk — which plenty of us have been doing more of at home — can lead to such health concerns as obesity, high blood pressure and spiking blood sugar levels.
According to a report by the insurer Chubb, WFH can also lead to repetitive stress and ergonomic-related injuries, as we work longer hours, don't take breaks and fail to establish physically friendly workspaces.
We used to bike or walk to work, or at least walk around an office throughout the day — now we're hunkered down behind Slack and Zoom for hours at a time.
So advertising and tech firms are doing their part to push their people to get up and move.
To help its employees maintain their physical health while working, Pittsburgh-based advertising agency Brunner provides remote office support including upgrades to bigger computer monitors, stand-up desks and other equipment, according to president Scott Morgan. It offers reimbursements or stipends for gym memberships, yoga classes and massages. The company also works to avoid overextending team members — for example, by not scheduling meetings during the lunch hour or during school drop-offs and pick-ups.
"We know that our team members have lives outside of work, no matter whether they're working in the office, from home or in a hybrid situation, and we try to support every aspect of their well-being," said Morgan, whose agency has done work for The Home Depot and Sensodyne.
After many employees reported neck and back pain due to poor home office set-ups, the San Francisco ad tech company Quantcast also focused its attention on ergonomics, hosting webinars and sharing resources with its teams about how to avoid physical issues. It also provides a $250 stipend to employees to secure proper equipment for remote work.
"It's paramount that organizations prioritize physical well-being in addition to mental well-being to avoid further stress to employees," said Quantcast chief people and places officer Valerie Junger. That includes allowing employees time off to care for personal issues, including health concerns, and offering resources such as the apps Headspace and Ginger.io.
During our first few months of working from home, many of us embraced exercise routines and found ourselves heading outdoors more, but our attention to our physical wellness slowly fell by the wayside as the pandemic dragged on, observed Rob Simone, president of the New York agency Summer Friday, which serves clients like BNY Mellon and The Wall Street Journal. We also found ourselves looking at screens more, he noted, dealing with more stress, consuming more alcohol and turning to the comforts of food perhaps a little too much.
That's why Simone's agency implemented an individual wellness credit program, through which managers have the ability to use a reserved budget for individual employees who have a specific need or enrichment opportunity. In one case, this was used to equip a designer with a custom standing desk. In another, a physical therapist was enlisted to help an employee suffering from lower back pain.
"At first, some may not be as vocal about asking for help," Simone said. "But over time, this program will grow, and we can develop a close bond with employees who will not be afraid to ask for help — an aspect that we really encourage."
The shop also sponsors wellness challenges like step competitions, offers unlimited vacation days and has mandatory days off, which are coordinated with clients.
Milwaukee-based agency Hanson Dodge, whose recent work includes the Covid-19 vaccination campaign Healthy MKE and the rebranding of the Medical College of Wisconsin, said it will close its offices for three days, from October 20-22, for something it's calling "HDUnplugged," designed so its people can disconnect from work in order to relax, unwind and recharge their batteries.
"Over the last 20 months, our people have repeatedly shown the ability to adapt to frequent changes both at work and for many at home," said Kelly Klawonn, vp of talent and operations at Hanson Dodge. "We know it hasn't been easy. HDUnplugged is a much-needed collective break, away from the work cycle, to recharge in a positive way."
A holistic approach to employee health is also the goal of San Francisco-based creative agency Eleven, which has upgraded insurance benefits, instituted an annual stipend and offered subscriptions to apps like Calm and Bright all to bolster the physical as well as mental well-being of its people. "As agency leaders, it is our job to make sure self-care is a priority, not a luxury," said Heidi Taglio, head of talent at Eleven, which has done work for brands like Samsung and Casper.
Meanwhile, at New York City-based ad agency Organic, leaders are vigilant about one-on-one and group check-ins to actively listen to individual needs, acknowledge and address challenges, and celebrate wins, said Danielle Sherman, director of people and culture at the agency, whose accounts include National Instruments and El Pollo Loco. It also encourages its people to take time off to ensure they're rested and engaged. And if management notices staffers need a break, then it closes up shop early on Friday.
"Remote working has affected everyone differently, and to allow for individual experiences, our leadership purposefully and consistently leads with vulnerability, transparency and compassion," added Sherman.
3 Questions with Bonnie Dowling, expert associate partner, McKinsey & Company
People are leaving their jobs in droves, how should employers address this issue and avoid further talent migration?
Our research has shown that employees are mostly craving relational elements like recognition, appreciation, belonging, trust, whereas employers seem to either attribute attrition to factors outside of their control — poor health, seeking a better job, being poached by another company — or they respond transactionally so give a spot bonus for example. There is nothing wrong with offering financial incentives to express appreciation, but those are short-term fixes that are often unrelated to the root problem(s) causing employees to leave.

What's a better approach?
In reality, employees need their employers to help by providing not only a short-term solution — such as closing the office for a week to give everyone much-needed time to disconnect or grieve — but also a long-term solution that addresses their concerns and fosters a sense of belonging. So that would involve adapting working norms to make work more sustainable in a hybrid environment, training managers to connect with employees in a meaningful way even while virtual, aligning the benefit package with employee needs. If employers include a spot bonus as yet another way to say thank you, the employees will appreciate it significantly more. No one ever gets thanked enough or feels too appreciated.
What are the stakes if they don't act on it fast enough, in terms of competitive advantage?
The value proposition has shifted in the digital revolution as the pace of change continues to accelerate. The key differentiator for organizations today is talent. Yes, it is still possible for what you do or what you make to be a competitive advantage, but even those advantages are dependent on people. Most companies will derive their competitive advantage from the people they attract, hire, and retain. People have never been more important to a company's success and yet, with the Great Attrition and the risk of a serious labor shortage, people (especially talented ones) are increasingly in short supply. Not having access to the people you need when you need them? In today's environment, I can't imagine higher stakes or a greater risk to competitive advantage. Yet organizations have an opportunity to stem the tide of attrition and create something people run toward, not away from.
By the numbers
44% of New York companies have officially delayed their return-to-office plans until October and, in some cases, into 2022.
[Source of data: The Cleaning Coalition for America's white paper.]
1 in 10 people, out of 1,000 employees polled, said being on an unhealthy team (not based on trust and friendliness) lowers their confidence in leadership, while 1 in 5 Gen Z employees felt their unhealthy team impacted their confidence levels at work.
[Source of data: Skynova study.]

In September more than 60,000 jobs on Adzuna specifically required job seekers to have a COVID-19 vaccination, up from 50,000 in August.
[Source of data: Adzuna's database.]
What else we've covered
Four-day working weeks have grown considerably in popularity as businesses seek ways to provide more flexibility for employees and prevent talent departures. It's a concept that works in theory, but does it work in practice? We spoke to businesses who have implemented it, to see what they've learned so far.

To facilitate the new reality of work and the evolving workforce, companies are investing in a growing range of technologies and services. IDC predicts the largest area of investment this year will be in hardware, encompassing enterprise hardware, infrastructure as a service (IaaS), robotics and drones.

Although the benefits of remote working have now been well documented, that doesn't mean it isn't having a negative effect on some people's mental health. Some are finding the prospect of their colleagues returning to the office, while they remain remote, is causing anxiety levels to spike.

This newsletter is edited by Jessica Davies, managing editor, Future of Work.