Spaces
// May 10, 2021 ■ 9 min read
'It's taking a whole village to plan': Who is calling the shots on what the return to offices looks like?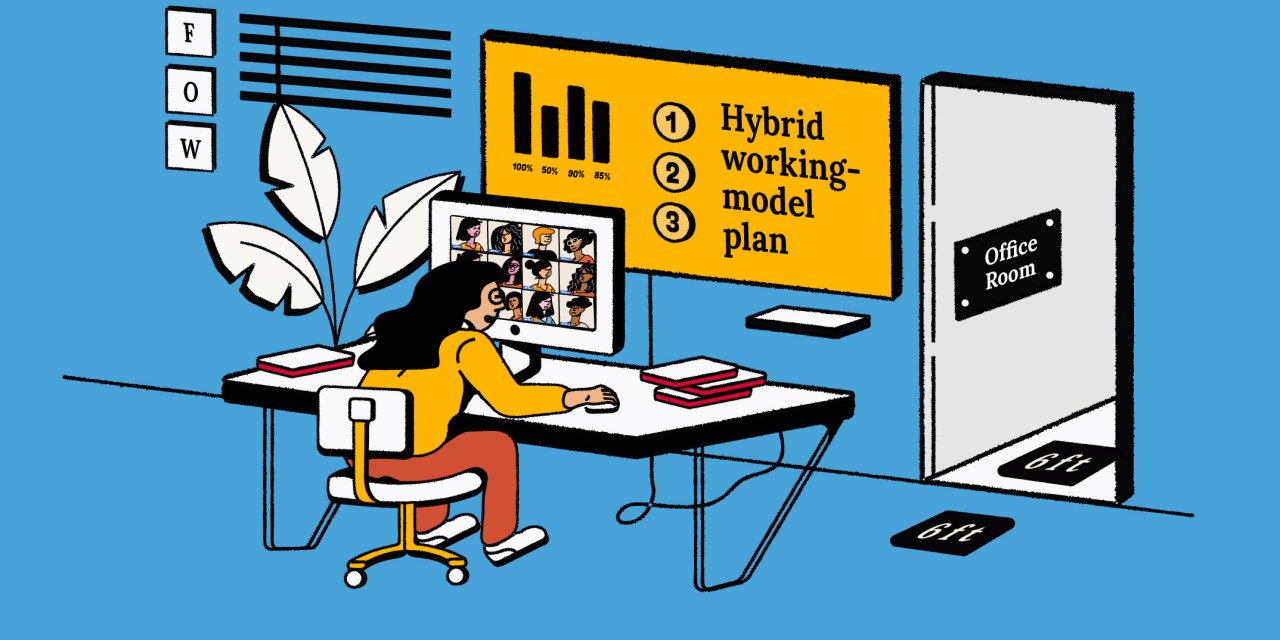 With the return to the office, company leaders have much to consider. What does "hybrid" look like exactly? What is the policy on employee vaccinations? But perhaps the first question to be settled is: Who is going to run all this?
The person in charge of directing the reopening varies from company to company, as it turns out. At many firms, especially smaller ones, the CEO is calling the shots. Others have given oversight to HR directors or chief people officers. And at other companies, especially larger ones, an entire task force has been formed to manage logistics.
No matter who's running the show, few companies have had to deal with such a major project where there are so many unknowns.
Kristi Woolsey, associate director and lead of Boston Consulting Group's Smart Environments Group, suggested that under the best scenario, everyone plays a part. CEOs ultimately decide the rules around hybrid and remote working and the reimagined office space, while HR manages job descriptions. Office managers will figure out what the physical workspace looks like, while IT has oversight for the technology that makes this new world happen.
"After more than a year of largely remote work, the transition back to the office is going to be a massive undertaking," she said. "We've never had to do this at this scale before, so leaders will need to be fluid in their policies and approach this as test and learn."
Woolsey predicts it will take most employees about 90 days to make the shift.
At the digital marketing agency WebSpero Solutions, a team of five from across the company – including the CEO, two HR managers and two senior members of staff – are leading the return, according to CEO Rahul Vij, who has developed a three-step plan for bringing employees back: communicating with them, to gauge their views on the return; providing them with mental health resources, to help assuage their anxieties about going back; and giving them time to adjust. "Returning to the office and leaving their flexible work hours is a little challenging for them," Vij said. "Although we have been reopening our office doors, employees have been asked to take their time and schedule their return when they are ready."
Those managing the return at companies are in the process of devising a variety of plans – with the commonality of keeping employees safe and helping them to feel secure, according to businesses spoken to for this article. When precisely offices are planning to swing open their doors also varies from firm to firm.
With the continued lifting of restrictions around the pandemic, IT company Netrix is reopening its office under firm safety guidelines and offering remote working as a flexible option, according to Don Penland, VP of corporate development, who is managing the reopening. Its plan calls for company leadership to return three days a week beginning May 1, the scheduling of office days by teams (Monday and Wednesday for sales and marketing, for example, and Tuesday and Thursday for engineering), and "incentivizing" all employees to get vaccinated.
Like other companies, the agency Madwell found itself moving into a whole new HQ mid-pandemic. Since it set up its new digs, its Culture and People team has run point on employees' return. They manage everything from hygiene and safety protocols to controlling capacity and ensuring staff are vaccinated, said Chris Sojka, cofounder and CCO.
Meanwhile, Sojka is working directly with the design team and the company's fabrication provider on work stations, while the CFO has teamed with the firm's production team, architect and general contractor to bring it all home. "It's taking a whole village to plan our return to our village," said Sojka, who is eyeing a mid-June reopening. "Our office was always part of our secret sauce and I'm excited to see it humming again."
While there's much conversation around the great return and many companies have set their target dates, others remain cautious.
"Our priority is keeping our team safe, so we are not in a rush to go back," said Jenny Dearborn, who, as chief people officer at Klaviyo, an email marketing and automation company based in Boston, is supervising its return. The company recently sent a 15-question survey to its employees, asking for their input. Dearborn and her team continue to keep a close eye on infection and hospitalization rates. Business goals, team efficacy and logistical considerations are also being taken into account. "We see our approach as the data-driven, unemotional way to proceed," she said.
Ronan Yemini, founder and CEO of the SaaS firm Eyedo, said his company plans to return to the office "in the next few months, at least on a hybrid basis at first." A task force is managing its return.
Meanwhile, Kweli Washington, COO at the analytics firm Piano, said that even though there's no timeline in place for a full return, many employees are already working hybrid schedules where it is safe to do so.
Steffen Schebesta, CEO of Sendinblue, a digital marketing platform, noted that with multiple offices across the world, a single return-to-the-office plan is simply not possible. That said, he does expect offices in North America to return "relatively soon."
"The general plan for the return to work is to prioritize the safety of all of our employees," he added. "With that being said, we'll proceed slowly and carefully."
3 Questions with Tasso Argyros, CEO of customer data platform ActionIQ
Now that vaccinations are accelerating in the U.S., what's your plan for a return to the office?
We're trying to make data accessible to people who aren't data specialists so we need a collaborative environment where people in different teams, from engineering to design, come together to create and evolve products. We need those diverse viewpoints and experiences from people to inform the whole process. It would be hard for us to say you can only be collaborative in the office twice a week because that's just not a great way to build products. Typically, we come together to brainstorm ideas and then go away and work through them. As you're working on those ideas, though, you usually realize there are more issues and so have to come back together and discuss. You either work through those issues through a process of iteration or it's back to the whiteboard. It's hard to consolidate that process in a fast-paced environment like ours where things are so unpredictable.
What's the policy for how often people will need to be in the office?
We're taking a more incremental approach to what the balance will look like. Ultimately, we are planning for people to be in the office at the same time together for at least a few days of the week. So it's not two days a week in the office for us, but it's definitely not five either. We're signing up for a new office on Madison Avenue that's 40,000 square feet so can accommodate the whole business. Like many companies, we found remote working great for some things but not so great for others. We lost a lot of those moments of serendipitous discussion because the bar for those quick, but sometimes vital, catch-up moments is so high when you have to arrange a Zoom meeting or find space in someone's calendar. So with the new office, we've tried to think through how we can encourage smaller, ad hoc meetings while also thinking through how we turn the workspace into one that people can use for socializing, whether that's through events we can run or having smaller spaces near desks that people can gather rather round for impromptu discussions.
Are you thinking about how those policies influence where people are able to live?
If people don't have to be in the office five days a week there's a chance they get comfortable with longer commutes if it means they can live less locally to the office, whether that's moving further into Brooklyn or even to New Jersey. We still want to be office-centric so we're not going to be a company that hires someone in Boston and then asks them to do one or two days in the office. Collaboration doesn't happen twice a week. It does, however, point to a wider issue about the supply and demand of great people who could potentially work here. There's a chance that hiring local talent to work in an office won't be as hard as some studies anticipate. Yes, there will be fewer people willing to work in an office but there will be fewer companies locally and willing to pay big salaries so there's potentially an opportunity for us. — Seb Joseph, senior news editor
By the numbers
91% of 233 U.K. government decision makers believe working from home will become an expected norm post-pandemic. Only 4% expect work to return to permanent office working in the future.
[Source of data: SAP Concur.]

56% of 1,000 U.K. adults said New Zealand's PM Jacinda Ardern has been the most effective leader to handle the pandemic, followed by Germany's Angela Merkel with 23% of votes.
[Source of data: The Hub Events.]

What else we've covered
While in hospital for a suspected miscarriage, Christine Wetzler said her employer sent her a text saying her pregnancy was causing "significant disruption." Two weeks later she was fired. The recent move by New Zealand to make miscarriage bereavement and recovery leave mandatory has prompted women to come forward to talk about the stigma of being open and honest about miscarriages and recovery time needed at work.

In the aftermath of the pandemic, a range of elite education institutions have created online offerings and slashed tuition fees. But they face a new challenge in the form of cohort courses created by online influencers, which are selling like hot cakes.

Pet adoption boomed last year as people realized their need for additional companionship during lockdowns. But now the return to the office is back on the horizon, many are getting anxious about being separated from their four-legged friends. In recognition of the benefits pets have on people's mental health, many employers have decided to create pet-friendly office policies, to help transition employees.