Spaces
// July 15, 2022 ■ 4 min read
L.A. co-working space Blackbird drives entrepreneurship among Black women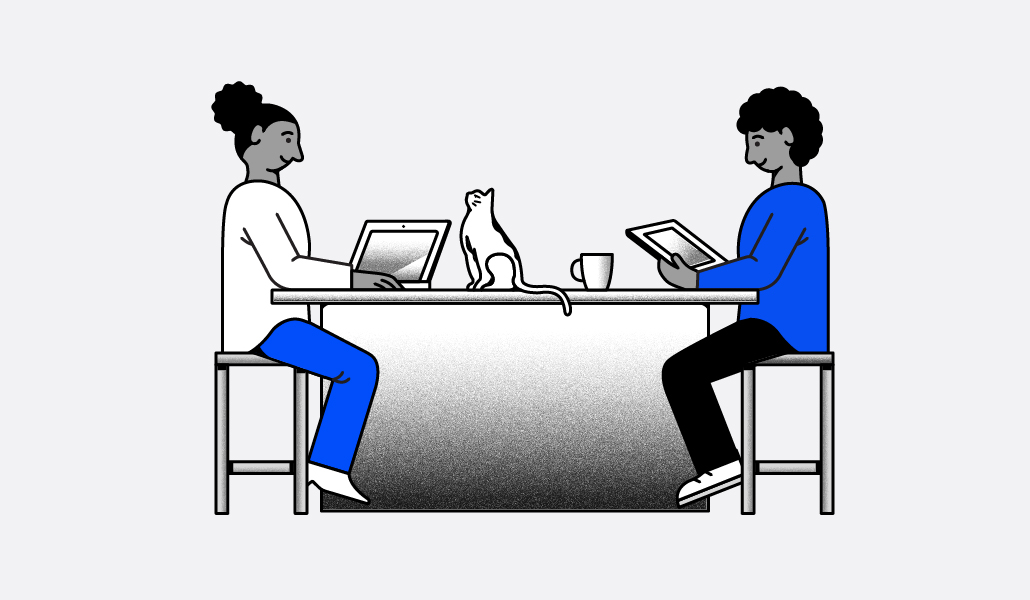 Ivy Liu
Four years ago, when Bridgid Coulter Cheadle was searching for a new location in the Los Angeles area from which to base her well-established interior design business, she was especially drawn to co-working spaces owned by women — "where there's the sense of, oh, I'm not the only one out here grinding," as she put it. 
But she quickly found that commodity was hard to come by. What's more, the landscape was particularly devoid of spaces designed by and for women of color.
"When I looked around, there weren't a lot of people that look like me," said Coulter Cheadle, who visited several coworking spaces in L.A., New York and San Francisco, where much of her business is centered, on the way to landing on the concept of Blackbird, the space she would end up starting in L.A.'s Culver City. "I felt so much benefit [from co-working spaces] and had the audacity to think, there should be one centered on us, so we can focus on the things that we need."
Blackbird is not just a place for people to gather and to work but an entire community created to support and advance women of color and their allies. The business has 400 members, some in-person, others virtual. Memberships are offered at several levels, ranging from $35 to $2,500 per month. And as for the name? The blackbird, as the company points out, represents knowledge, as it is marked by its intelligence and quick wit.
For Coulter Cheadle, a seasoned designer of commercial and residential real estate, the look and feel of Blackbird was not an afterthought. In bringing the space to life, she combined rich jewel tones, luxe textiles and an assortment of aspirational works by Black artists with an industrial vibe, lots of steel, exposed brick and glass. (A large neon sign at the entrance with the words "Black Owned" underscores the business's roots and purpose.)
"Black women are leading the way in post-pandemic entrepreneurship, but in order to not lead the way in business failure, Black women need resources, advice, networking and community." 
Coulter Cheadle envisioned Blackbird to be grounding and inclusive but also sophisticated and inviting, with features including an outdoor courtyard and a space for yoga. A podcast studio sits front and center — a placement that is highly intentional. As Coulter Cheadle notes, the podcast is the modern version of the village campfire around which stories have been shared down through history.
"The idea was, how do we walk in the space and feel that connection to both our ancestors and our present needs and the kind of grandness of our ideas," Coulter Cheadle said. "I get excited when people walk in and say, I feel home, I feel like this. I belong here."
The designer was also mindful of what working parents would need, so an area for nursing moms was established. Onsite vendors include a Black-owned L.A.-based coffee shop, Sip and Sonder. Curated menus by Quiana Jeffries (previously Floyd Mayweather's personal chef) and Leo Goodloe (an alum of Bravo's Chef Academy) are also offered.
An equal measure of intention informs Blackbird's programming. A recent gathering around Juneteenth featured a panel on women and entrepreneurship, sponsored by West Elm, as well as a conversation on the blockchain (with the irresistible title "Blockchain in the Membrane.")
The market for coworking spaces has kicked into overdrive in recent years, with more than 19,000 such businesses worldwide, catering to more than 3 million entrepreneurs, freelancers, and hybrid and remote workers. And a growing number of coworking spaces are being designed by and for Black women.
Pointing to such enterprises as Blackbird, Ethel's Club in New York and Wright Village in North Carolina, Teresa Barnhill, global director of DE&I at DXC Technology and former group director of strategy and insights at the ad agency VMLY&R, noted that "Black women are leading the way in post-pandemic entrepreneurship, but in order to not lead the way in business failure, Black women need resources, advice, networking and community."
She added, "It's places like these that provide resources to not only help these women's businesses thrive but also the cultural resonance, sisterhood, role models and personal connections that allow seeds of entrepreneurial encouragement to take root, grow and thrive."
While Black-owned businesses struggled greatly at the outset of the pandemic (their number dropped more than 40% between February and April 2020, the largest decline of any racial or ethnic group in the U.S.), they have surged by 30% against pre-pandemic levels, as The Guardian reported.
"For the work of BIPOC entrepreneurs, you're not just giving them a safe space [with concepts like Blackbird] but a space where they can flourish," said Jes Osrow, cofounder and COO of The Rise Journey, a consultancy focusing on the gap between DE&I and organizational development. "It's really important that more people are recognizing, especially post-pandemic, that community is vital."
With the global community in mind, Culver City may not be the final destination for Blackbird, as Coulter Cheadle imagines a string of outposts from Accra to Indianapolis, Paris and London, and all spots in between. It was her vision from day one, she related — a dream that's been made all the more a reality because of our newly nomadic, tech-enabled connections in the pandemic. ("I'm from Berkeley," she explained, "I want a better world.")
Global expansion is an ambitious goal, and Coulter Cheadle is quick to concede that. "I still don't know all the answers — I think the community is going to tell us what they need," she said, adding, "It is not easy. It's capital intensive. But it's so important."
Photography courtesy of Mahogany & Co.