Spaces
// November 21, 2021 ■ 8 min read
'The workplace is shifting from a container to a generator': The new age office is welcoming, flexible and prioritizes staff wellness and creativity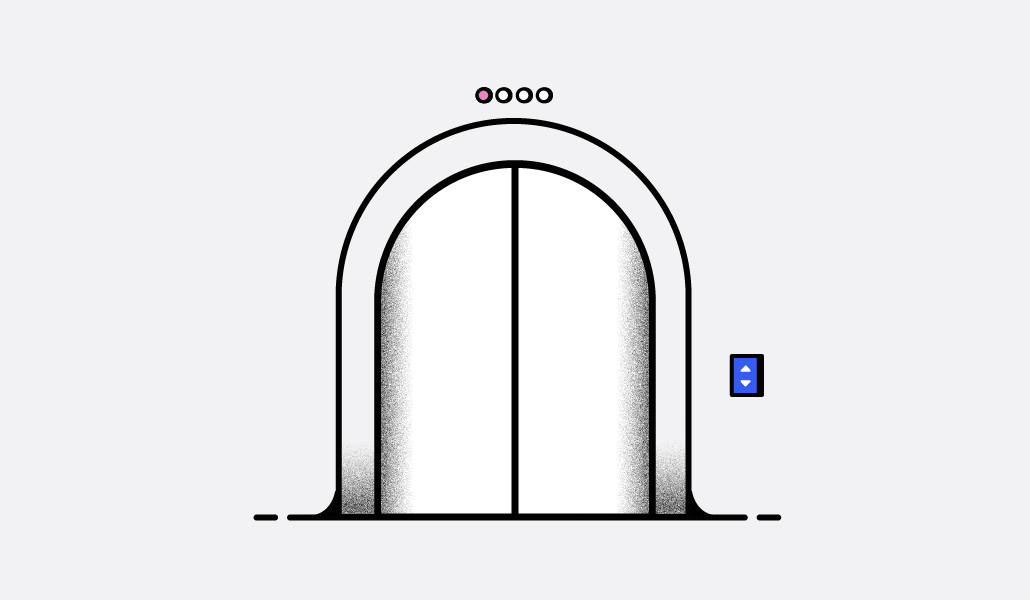 Welcome to the first edition of our WorkLife newsletter — our rebranded version of the Future of Work newsletter – exploring the transformation of work. After over a year of covering the changes to modern work and the lives of people through it, we've decided to make it Digiday Media's fourth media brand. We will still include our top stories, interviews and trends about how work, workplaces and workforces are changing here, so hope you enjoy. Sign up here.
The term hybrid might sound like an overused buzzword in today's media, but it will define the next decade of the workplace. Companies are recognizing the impact that the quality of workspaces — from design features like flexible and scalable spaces, to personal factors like privacy and wellness — have on employee happiness and productivity. These innovations are a potential asset for company success as the modern workplace becomes a place to develop your professional and personal life.

We spoke to a range of architecture and design experts to understand how the new age of the office is shaping up.
New generation, new culture
To Jaymie Gelino, COO of brand experience company Big Red Rooster, part of real estate group JLL, the workforce has become the consumer of the work environment. "People now have more choices on who they want to work for, where they want to work, and how often they want to visit a physical workplace," said Gelino. The next generation of workers expect more from their employers and the work environment, which is changing the very purpose of the office.
Offices are now being designed "with more purposely considered, high-performing spaces that support specific activities, diversity of people's preferences, and create landscapes of variety, as opposed to conducting activities at the same desk in the same environment," said Jordan Jones, strategy director at global interior architecture firm IA Interior Architects. "Organizations are creating dedicated roles to nurture and promote employee experience in the workplace through events and feedback, and to curate small experience moments to create the right atmosphere and sense of community." The workplace is shifting from a container to a generator, he added.
Naturally the first things to go will be assigned fixed desks, large areas of tight bench seating and the method of stacking as many workstations as possible into an open space. "We are seeing a major shift from 'me' to 'we' space," said Shawn Gehle, co-founder and principal of architecture and design studio OfficeUntitled. That means fewer desks, more lounge space and more meeting space. The need for communal space, spaces connected to the outdoors and spaces to build meaningful connections with co-workers is skyrocketing, according to Gehle. "The next decade will be defined by hybridity: a state of drawing on the virtues and benefits of both physical and digital space, in-person and virtual, the experienced and the newcomer," he added.
The next generation of workers expect more from their employers and the work environment, which is changing the very purpose of the office.
Instead of the traditional floorspace hierarchy — where executives and managers work floors above and separately to the workforce — the modern office has multiple meeting rooms and a dispersion of upper management offices throughout the floor plan. "The new generation worker wants direct access to their managers and leaders. They also want access to mentoring, and the ability to see and be seen has never been more important," said Matt Holst, chief real estate officer for hospitality and events services business Ease Hospitality.
The mind fills with ideas for making the workplace more inviting — from increased touchless and air-quality technology to access to outdoor green space — but where should organizations start when making the journey toward a new age office?
It starts from the moment you enter the workplace
For those designing and creating these new workplaces, new importance is settling on certain areas to ensure people feel welcome and comfortable as soon as they enter. For that reason, the lobby has become the scene setter for the entire office experience, according to design experts.
"Lobbies are more than a ceremonial threshold to pass though," said Holst. At Ease Hospitality's New York City office, the lobbies feature additional seating, music, interactive displays, artwork and coffee bars to create a welcoming foyer where people can meet visitors, conduct interviews and talk to coworkers. "The couches were chosen for their ability for you to sit and stay for a while," he added. The onsite café, fitness center, enhanced WIFI, and table games offer opportunities to fulfill any need without having to disrupt the flow of any workday by leaving.
The ability to see and be seen has never been more important.
And that seems to be the unique selling point of the modern office; you can fulfill your social life — chef-driven dining, local music, and pop-up shops — as well as your wellness routines, blurring the line between work and private life. But also ensuring the office replicates the comfort and flexible options a home-working environment may offer.
"Changes over the next decade will be physical, health, and cultural changes: access to daylight and ventilation, hoteling workspaces, video and content creation studios, chef dining experiences, variety of conference and huddle rooms, which leads to greater well-being, reduced health costs, reduced attrition, absenteeism and presentism," said Jon Pickard, co-founder and principal of architecture firm Pickard Chilton.
According to Pickard, these new office designs are creating more productive and happy employees, which is increasing revenue while minimizing turnover for a range of its clients that use them. These new workplaces are becoming centers for collaboration and human engagement that have the power to serve the health and wellbeing of its occupants and users.
Privacy and quiet space
The office of the future sounds like a party! However, acoustic considerations can heavily impact the daily routines of employees and can be the source of comfort or distraction depending on a person's preferred working style.
Phone-booth style one-person conference rooms are increasingly popular for individuals to fully engage in virtual calls without disrupting their colleagues in an open-office environment, according to Pickard. "Hoteling and plug-and-play virtual conference technology is essential for supporting a successful hybrid environment," he added.
Architecture and design experts agree that employees desire both open workspaces and enough dedicated breakout space to give people the quiet concentration area they need for head-down work. "The new age office is welcoming, highly flexible, adaptable, healthful, and offers a myriad of amenities and services to facilitate users' professional and personal lives," added Pickard.
3 Questions with Michelle Wax, founder of American Happiness Project, corporate wellness workshops firm
A record number of workers are quitting their jobs because they are unhappy, what advice would you give them?
Increasing internal happiness starts with the decision that you're in control of your happiness, not allowing your current job (or other people at that job) to dictate it for you. You always have the power to shift your perspective on the current situation to bring in more happiness to your life. Most of life is outside of our control, and you may not be able to control what your job entails or what other people at your job are doing but you do always have control over your mindset and your approach to it.
What should they consider before quitting their jobs, and what advice can you give someone who wants to determine what specifically is causing their stress and how to overcome it?
A few good questions to ask yourself are: Is moving jobs going to solve this problem or is it just a temporary fix or distraction from it? In an ideal world, what would I love to spend my days doing? And can I progress towards this ideal, while working my current job — or do I need to switch jobs entirely? A great exercise is to get clear on what's causing stress in your life to be able to overcome it is to conduct a stress audit on your life. Here's how: Grab a piece of paper and draw a line down the center of the page. On one side, write 'What's Creating Stress Currently?" on the other, write "What's Alleviating Stress Currently?" Start writing down everything you can think of on both sides, and get as specific as possible with it — content you're consuming, activities, tasks, people and thoughts you're having are all good to go through. Start to take note of what's in your control or not on the stress audit. How can you start to limit time/interaction with the things that are creating stress? How can you start to incorporate more of what's alleviating stress? If the stressful situation is outside of your control, how can you shift your perspective and mindset on it.
Many people will be still carrying trauma, grief or other stresses caused by the pandemic, what advice do you have for them and for their employers?
Experiencing a wide array of emotions is part of being a human being, and it's important to acknowledge them but know how to shift out of a more negative state back into how you'd like to be feeling as quickly as possible. We're often the hardest on ourselves, and I'd recommend you intentionally don't beat yourself up if you are having a hard time in some areas right now. Instead, begin to ask yourself, what meaning could I find in this situation? How can I start to improve it? Becoming action oriented can be powerful to move through any less than ideal emotional states.
By the numbers
When working remotely, 66% of 2,000 U.S. and U.K. office workers polled say they lack visibility of what colleagues are working on, creating blindspots and silos.
[Source of data: Qatalog survey.]

39% of 2,200 business travelers polled said they will never travel for work again.
[Source of data: MorningConsult's Business Travel report.]

A whopping 83% of 4,000 U.S. workers polled would prefer a four-day workweek. Millennials are most in favor (90%), while Gen Z is the least interested (76%).
[Source of data: GoodHire's A Generational Divide report.]
What else we've covered