Spaces
// April 18, 2022 ■ 9 min read
Why permanent desks are (mostly) gone, replaced by 'unassigned design'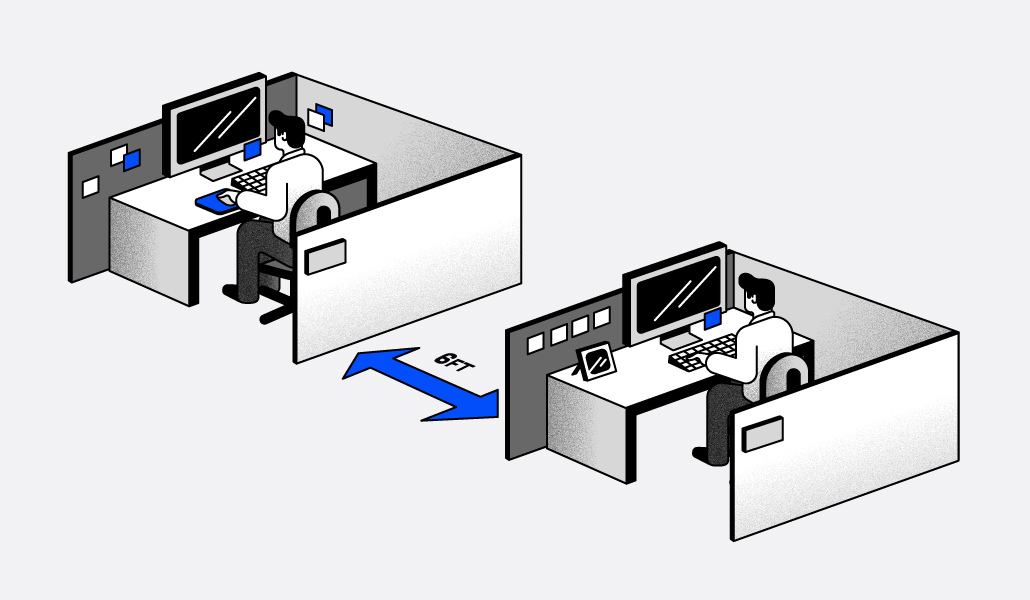 Ivy Liu
Remember when you had a permanent desk at the office personalized with photos, nicknacks and 12 pairs of pumps in a drawer?
That was so 2019.
With so many corporations opting for a hybrid scenario, many people do their focused, heads down work at home and go into the physical office to collaborate and bond with co-workers. To facilitate this type of in-person work, offices are getting a facelift.
Rows of individual computer stations are being ripped out in favor of agile, or adaptable spaces where employees can select the area they want to work based on the task they're doing. They're dubbed zones or neighborhoods and their makeup reflects the users needs: quiet focus zones, social spaces, collaborative spaces and individual workspaces.
"The focus here is not on the loss of personal space but on the gain of flexibility, mobility, and choice" said Michelle Beganskas, senior manager of workplace strategy at the workplace design firm Ted Moudis.
The pandemic jump-started a trend that was long overdue, says Ryan Anderson, vp of global research and insights at the workplace design company Herman Miller. The modern office often had more than 70% of its space allotted for desks "owned" by an individual. Collaborative spaces such as the cafe, conference rooms and project space were at a minimum.
"The reality is, most people's workdays were more highly varied before the pandemic than organizations realized," Anderson told WorkLife. "People worked from a wide variety of places and did a wide array of activities, but organizations hadn't moved on from traditional planning approaches and most offices were far too generic — a sea of desks and basic conference rooms — to effectively support work."
The people in your neighborhood
With the adaptable approach to planning, each department has a neighborhood. That's how Herman Miller recently redesigned its headquarters, known as the Design Lab, in Zeeland, Mich. An employee who works in marketing, for instance, may not have a desk of their own, but can find a desk within their neighborhood (using a desk-booking program in advance) along with access to huddle spaces, private rooms for focused work, booths for video calls, and a team table for socialization all within the team.
Other new additions to offices include more phone booths for private conversations, wellness spaces for meditation and exercise and rooms specifically set up with the technology to facilitate hybrid meetings.
It's something the digital operations platform PagerDuty considered when redesigning its San Francisco headquarters recently, particularly for large gatherings where employees join from across the country.
"We've already made the decision that town hall meetings will be led in a digital format, with leadership in a Zoom studio setting so everyone can have the best experience possible no matter where they are," said Nathan Manuel, senior director of workplace experience at PagerDuty.
Musical chairs
Unassigned workstations that can be used by anyone when in the office are gaining in popularity. Of 185 companies surveyed by commercial real estate firm CBRE, nearly two thirds said they intend to increase their use of shared seating.
"It allows companies to adapt to changes in office attendance, especially as more people start to come into the office," said Lenny Beaudoin, CBRE's executive managing director and global head of workplace and design.
Ted Moudis' Beganskas said some clients are increasing the footprint of those individual work stations, going from an average five feet wide to six feet to be cognizant of social distancing.
She added that clients are asking for smaller private offices for executives when they visit. In some cases managers at certain levels are given permanent flex offices that they share with two or three colleagues that they all use interchangeably as needed.
Lockers are back
Without a homebase to stash belongings, many employers are providing lockers. Some are incredibly high tech and come with smart technology-enabled locks, allowing employers to track usage. One of Beganskas' clients tracked usage and found it was low. When asked why, employees explained that the requirement to empty lockers daily was an unnecessary pain. The employer responded by changing the emptying requirement from daily to weekly and usage went up.
That's another in-office trend: Management is tracking usage of every aspect of back-to-office to refine office design and in-office protocol. PagerDuty installed technology from the occupancy-tracking company Density so they could better understand which spaces are being used and for how long. (They're quick to point out this isn't via cameras, rather software that can tell how long and how many people were in a space.) Herman Miller also has utilization software, so they can evolve spaces as they learn more about how people are using each zone.
Technology is playing a significant role in return-to-office since not everyone will be able to join in-person. Many offices added double-wide video monitors to accommodate everyone on a virtual call and interactive white boards. Beaudoin has seen an increase in the use of employee-experience apps, which allow employees to see who is in the office on a given day, reserve their seat and see what's happening around the office on the days that they'll be there.
And while in-person employees won't have their chair and monitor perfectly adjusted to their preferences, many offices now have adjustable desks and chairs that can be personalized on the spot.
3 Questions with Talia King, head of product of HR tech firm Connectr
Inclusion and belonging are critical for corporate culture, you've created an algorithm specifically to track that internally, called the Belonging Index. Explain what is and why it's important for organizations talent and recruitment strategies.
My background is in psychology and I use this understanding to ensure our platform is intuitive to how people really feel. We all know starting a new job can be a daunting process that involves learning about the social, cultural and relational aspects of a new workplace, as well as the activities and practices taking place. We've established belonging in both the recruitment phase and in ongoing employment is a crucial part of this process. Belonging to something is a relational phenomenon, in which people feel valued by being part of a group or an organization. It relates to a range of concepts and theories. A particularly relevant concept, is Perceived Organisational Membership. This reflects an individual's perceptions of their relationship with their employer. It has three underlying dimensions: need fulfilment, purpose, belonging.
This is a useful framework that enables us to understand how to foster and measure belonging in an organizational setting while ensuring we help people belong within their organization, realize their opportunities and ultimately stay in the workplace. It's invaluable for organizations to understand how happy their team is, as it enables problems to be solved before they turn into resignations.
How are you measuring this feeling of belonging among employees?
To understand how our users are feeling, we needed to provide a measurement of belonging. We created The Belonging Index, a self-reporting scale that users are prompted to complete when they first sign up to the platform, and at various intervals during their use of the platform. This gives us a sense of distance travelled and the insight into what behavior fuels this feeling of belonging. In order to reach statistical significance we need to gather a mass of these insights, but initial indications show that engaging with learning content and mentors have a positive impact on the feeling of belonging an individual has towards an organization. We are really excited for this data set to grow, which will enable us to provide our customers with the power of knowledge. Understanding how your employees are feeling is an essential step in being able to tackle employee retention.
What insights from the behavioural scientists you've worked with, would be useful for employers and their staff to know?
First, make the organizational values and practices distinctive: A key part of belonging is distinguishing those who are a part of a community from those who aren't, which results in boundaries. Think about how you might make your organization's values and practices really salient throughout the business to reinforce the boundaries of the organizational community. Having your branding through your offices, having skill shares that demonstrate employees living your values and leadership demonstrating the values are a few ways you could tackle this.
Second, support self-categorization through shared goals, histories and similarities: People classify themselves into social categories to create order and define themselves within the environment. Helping individuals understand what they share with other in-group members to help them self-categorize as part of the organizational community. Company meetings and socials are great ways to foster belonging, and of course mentoring programs really optimize this relationship building across the organization.
And third, assign responsibility and invite participation in the organization: Self-investment in organizational activities leads to feelings of commitment and solidarity with the group. Examples of giving employees responsibility could be having working groups tackling a specific focus area, or encouraging different voices to present in company meetings or lunch and learns. — Jessica Davies.
By the numbers
48% of 1,000 workers polled rate flexible working schedules as more important than salary, and 40% more than raises.
[Source of data: Skynova study.]

Only 11% of companies promote a culture of internal mobility, according to 600 HR professionals polled.
[Source of data: Josh Bersin Company research.]

53% of Brits believe that living in a major city is important to their career advancement, but only 15% would choose to continue living in a city if they had the same career prospects living elsewhere.
[Source of data: ClickUp report.]
What else we've covered
Volunteering can go far beyond creating that soft fuzzy feeling inside. It can bolster your relationship to work too. During the pandemic, people turned to volunteering to give themselves purpose.