Talent
// February 7, 2023 ■ 6 min read
What we're still getting wrong about hybrid-working etiquette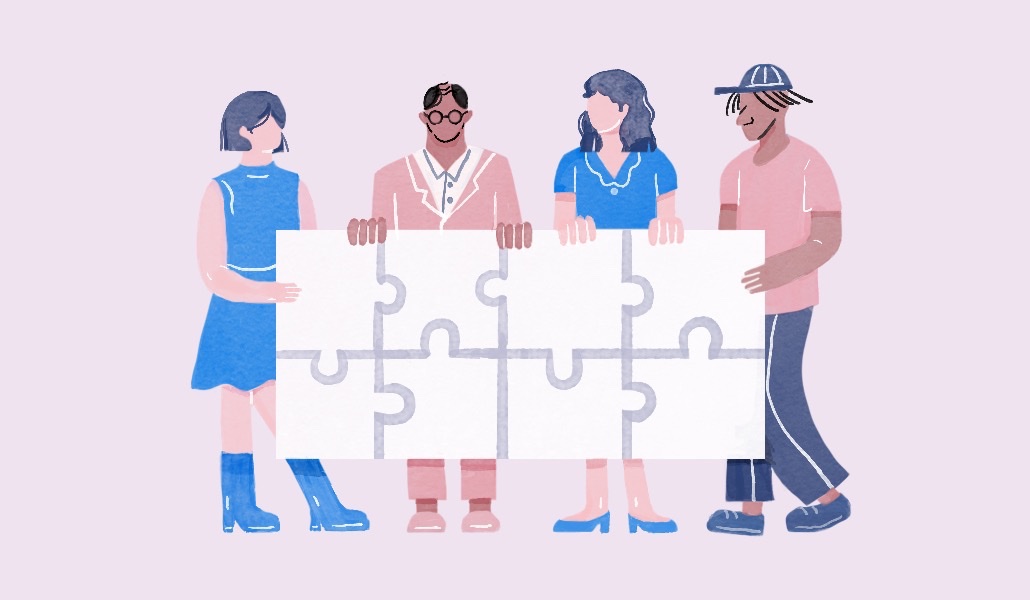 We're failing at hybrid-working etiquette.
By now we're all pretty used to hopping on a video call for a meeting. After all, it's been nearly three years since the pandemic when we were all thrust into remote working and video calls replaced in-person meetings. Yet, folks are multitasking during meetings, keeping their videos off or choosing the wrong spot to take a video call. Even in-office time is being affected by a lack of attention to detail: Leaders often send invites with wrong information about which office their teams should go to, causing chaos and disappointment on the day. It's far from smooth sailing.
All in all, workplace experts say that the lack of focus on hybrid etiquette has led employees to slack off and become more casual about the work experience entirely, which can in turn harm productivity.
WorkLife spoke with Liz Wyse, etiquette advisor at professional coaching company Debrett's, and other workplace experts about how to improve hybrid etiquette. While it might seem like common sense for some workers, there still isn't a universal understanding.
"It's useful to have it codified and spelled out," said Wyse. Debrett's worked with tech company Poly to identify preferred hybrid etiquette. "It's all new territory for everybody. If you're doing calls from home, it can change your attitude where you can feel overly relaxed or casual. You lose a certain amount of focus. But, you are still presenting yourself as a professional."
Jamie Hodari, CEO and founder of private office and suites company Industrious, compares it to the same discussions we've had around dining etiquette for hundreds of years. "There are still questions about that and people still debate certain points of it," he said. For example, when dining, we've debated whether or not it's okay to have your elbows on the table or what direction to pass the food in. At work, we're now debating whether or not everyone should have their video cameras on during a remote meeting. Hodari says it could be a while still until hybrid work etiquette is met with no debates.
We've broken out six of the most useful ways to improve hybrid working etiquette, below:
Think about how you're starting and ending a video call.
Starting or ending a video call can sometimes feel a bit awkward. Wyse explains that in order to make calls feel more friendly and inclusive, you can quickly unmute yourself to say hi or bye. If it's a hybrid setting with only a few people remotely joining a meeting, Caitlin Kamm, head of people growth at workplace platform Envoy, suggests the person running the meeting on-site greet the folks on video conference by name at the start of each meeting. For video calls that have a large number of people, starting with a "hello" to everyone would work fine.
"The one thing that gets awkward is people giving a big smile to say goodbye and then they all of a sudden go to a neutral face and they're shuffling around to end the call."
To soften the abrupt finality of pressing 'End call' by giving colleagues a wave goodbye works as well.
"The one key is that people time shutting off their video to whenever they say goodbye," said Hodari. "The one thing that gets awkward is people giving a big smile to say goodbye and then they all of a sudden go to a neutral face and they're shuffling around to end the call."
Avoid video motion sickness and find a good background.
Staying in a fixed position during video calls is important. Carrying your device while you answer the door or wander around the office during video calls risks giving your colleagues a bad dose of motion sickness.
Prior to a meeting, it is helpful to find a location that you know won't have any distractions or cause you to have to move during the meeting. If you're in the office and hopping on a video call, it's best to find a spot where there won't be background noise for the entire meeting.
"Work can end up being a more disruptive environment to have calls from than a nice quiet home office, especially if you have people moving around behind you," said Wyse. "Warn your colleagues that you're going to make a call."
Wyse suggests taking the time to evaluate your video background. While we might not all have a lot of options to pick from while at home, it helps to make it as simple as possible to avoid chaotic bookshelves, discarded clothing, empty take-away containers and distracting artwork. If you aren't able to do this, blurring the background is helpful.
With remote work, people are also working more from third places like coffee shops. Wyse says to reconsider going to a coffee shop on a heavy meeting day because of how distracting it can be during a video call.
No meeting multitasking.
"People think they are sneakier or more invisible than they are," said Hodari.
Multitasking during a meeting can be everything from doing other work assignments to eating lunch to being on your phone. Wyse suggests avoiding eating during a meeting because it could lead to someone being more focused on that rather than what you're saying.
"It's showing you're focused and concentrated on the call," said Wyse. "You're bordering on being rude if you're not focusing on the task at hand and you're taking the whole thing too lightly."
Meeting multitasking can lead to someone deciding to shut their camera off entirely in an effort to hide that multitasking. However, that leads to sacrificing showing that you are interested in what is being said. At the same time, the camera could be shut off for a million other reasons like if someone has kids sick at home, or distracting pets, or a spouse who shares the home office. Also if someone is joining a meeting while not at their desk, they might avoid putting on their camera. If the background will distract from what is being said on the call, then some experts say it's okay to go off camera.
Consider body language during video calls.
Adrianne Carter, body language expert working with sales enablement platform Showpad, says it's important to raise your camera to chin level, keep your body language approachable, smile, maintain eye contact and use hand gestures.
"It's about making people feel included and connected," said Carter. "As humans, we take much more from people's body language and facial expressions than we realize."
"As humans, we take much more from people's body language and facial expressions than we realize."
That might mean changing your desk setup and adding a pile of books so that your laptop is at eye level and also remembering to look at the camera instead of the screen while talking.
"I was on a call with a business owner who is very successful, but he was sitting slouched in the chair," said Carter. "There are a lot of things people can do that they're still not doing to maximize the impact they're having on screen."
If you're tuning in from the office with multiple people, use one computer.
We all hate hearing feedback from multiple laptops during a video call. That's why Hodari suggests that those working in an office that are all tuning into the same call coordinate to use one laptop. "You should just do that if you don't have a true AV system," said Hodari. "If you try to mute one computer and switch to another, we've seen people think it works, but it never does."
Kamm said those who are together in person, should remember that when the meeting ends, the conversation should end. "This creates an inclusive environment and makes sure everyone's voice is heard," she said.
Make sure you don't change locations at short notice for in-office days.
If you're not going into the office consistently five days a week, or there are no set in-office days for a hybrid schedule, it might be confusing for employees to know where and when to go. That's why Hodari says it's important for the employer to be explicit and direct with this information when deciding to gather people to go into the office.
"Don't change your mind at the last minute," said Hodari. "If you say you're going to be in a certain office, unless there is a real emergency, you shouldn't cancel on short notice."