Talent
// March 2, 2022 ■ 5 min read
WTF is jobfishing (and how to avoid it)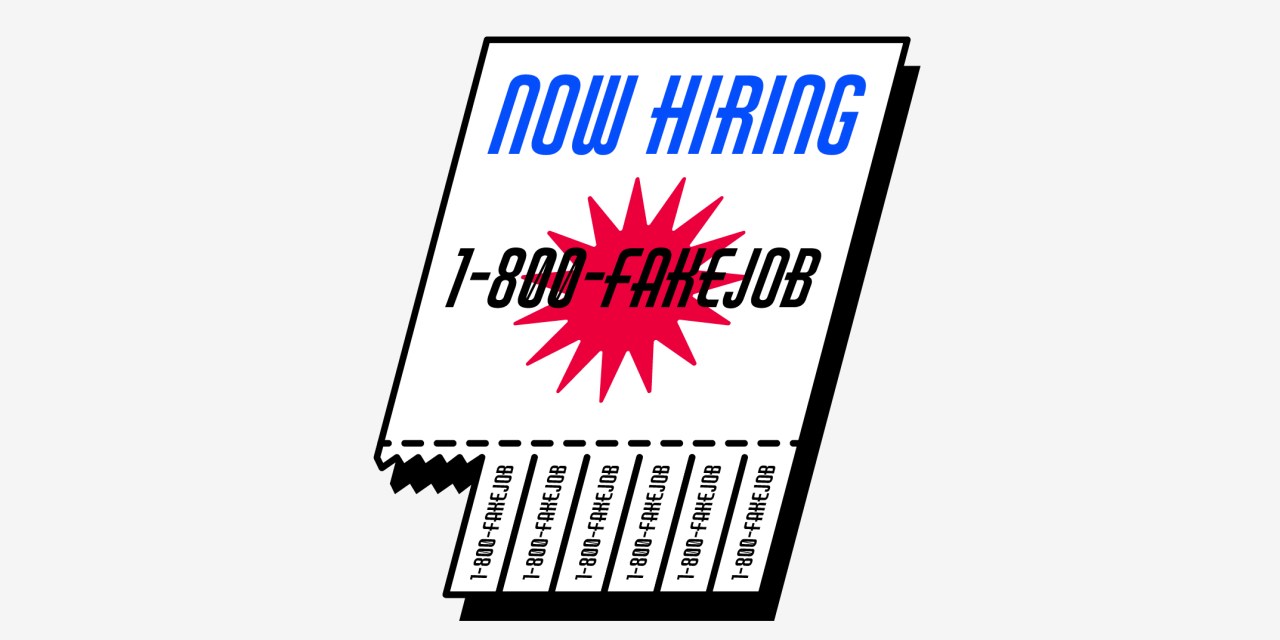 Online job scams are on the rise as scammers look to capitalize on the hot job market, increased demand for remote roles and video rather than in-person interviews. This ploy, in which fake companies tout themselves as places that can offer great flexibility and benefits to lure people in, has a name: jobfishing.
But what exactly is it, who does it affect, and how do we avoid falling for such scams. Here's what you need to know.
No, jobfishing has nothing to do with tackle and a rod and reel. So, what is it?
A play on the term catfishing, jobfishing is a scam in which unsuspecting victims answer employment ads and end up going to work, without pay and sometimes for many months, for a nonexistent company. The scam can also work the other way, where an employer is duped into hiring an underqualified candidate based on a specious video interview.
Why do you need to know about it?
Internet-based job scams have been around for some time but have become much more prevalent in the pandemic. "Unfortunately, even as the number of legitimate remote job opportunities has grown over the past two years, online job scams remain a serious and troubling part of the work-from-home job market," said Toni Frana, career coach and team lead at the job sites FlexJobs and Remote.co. "Job seekers need to be careful about where they're searching for jobs."
In one recent case that captured the public's attention, a yearlong BBC investigation exposed a fake design agency called "Madbird," purportedly based in London, that duped more than 50 people into taking jobs as designers, salespeople and managers. Some victims worked for the company six months before they learned it was bogus, while others ended up draining their savings and living on credit cards waiting for paychecks that would never arrive.
Why's it happening now?
The rise of remote work, the hot job market and the growing popularity of job interviews by way of video platforms have contributed to the rise in scams, according to experts. The Better Business Bureau (BBB) estimated that job scams claim 14 million victims a year, with $2 billion in direct losses, from unpaid work they did for fraudulent employers. The BBB's Institute for Marketplace Trust found that job scams were, in fact, the riskiest of all fraud tracked in 2018 and 2019, and that the problem only worsened with the onset of Covid-19 and the subsequent move to alternative work arrangements.
Aside from the shift to hybrid and remote work and advancements in tech, murky legal jurisdiction around cross-border fraud is another reason scams have become more worrisome — and, of course, the general chaos arising from coronavirus, observed Kimberly Silva, CEO of the people locator site FindPeopleFirst. "Opportunistic scammers are taking advantage of the pandemic to commit even more fraudulent activities," she said.
Who is most vulnerable?
As with most scams having to do with the internet, this is a global problem. In the U.S., losses reported to the FBI's Internet Crime Complaint Center about job scams rose 27% between 2018 and 2020, while complaints to the Canadian Anti-Fraud Centre nearly doubled in 2020 versus the year prior. In the U.K., a campaign from the Disclosure and Barring Service (DBS) warned those seeking employment to beware of questionable content in job listings, such as dubious email addresses or companies, poorly written copy and unrealistic salaries. The British government reported that in 2020, seasonal job scams jumped 88% versus the year prior.
Dylan Buckley, co-founder of the U.K. job site DirectlyApply, said his company has seen a steady increase of scams over the past year, explaining that cons often "use things such as job seekers' desire for greater flexibility, benefits and pay to lure people in. Not coincidentally, these are key factors in a large number of people looking for work and, thus, contributing to why scammers are using job posts."
Meanwhile, as noted, jobfishing can also go the other way, with job recruiters becoming the victim. Take the case of a candidate who did a video interview with a recruiter — only to have a complete stranger show up for the first day of work. As WorkLife recently reported, video interviews, while they have become the norm and may have their attributes, may not be the equivalent of a more intimate, revealing face-to-face interaction — and also are ripe for scams.
What's all this have to do with Amazon?
Some of the world's largest companies have been caught up in job scams. According to the BBB, the greatest number of victims believed they were being recruited by Amazon, followed by Walmart. For its part, Amazon has put the warning out to job seekers about fraudsters appropriating its name, stating that it takes the cons "very seriously" and directing anyone who is contacted by the company under suspicious circumstances to notify the retailer.
Buckley has this advice for companies on how to avoid scams: "Regularly search your company name on Google and job sites to make sure all job posts are legitimate. If you find a job posting that isn't legitimate using your company details, contact the job site immediately and ask them to remove it. Then, update your legitimate job postings to tell job seekers your company will never seek payment or banking details to gain an interview."
How do you know if you've been hooked by a job fisher?
As job fishers cast their nets ever wider, Frana offers these tell-tale signs a job posting might, in fact, be phony:
The listing sounds too good to be true, sporting language like "quick money," "unlimited earning potential" and "free work-from-home jobs."
There is a sense of urgency, where a recruiter pushes you to accept a job now. Any legitimate company won't push you into accepting a job offer immediately.
You're offered the job without a recruiter verifying your work experience or asking for references.
The job description is unusually vague or spends too much space explaining how easy a job is or how much money you'll make. It might also have grammatical errors, spelling mistakes, or lots of caps and punctuation (!!! WORK FROM HOME $$$).
When in doubt, Frana stresses, walk away. "If you feel like a job may be a scam," she advised, "it's not worth finding out the hard way."