Talent
// June 22, 2022 ■ 4 min read
'YOLO months': Some employers are offering work-abroad perks to keep employees happy and productive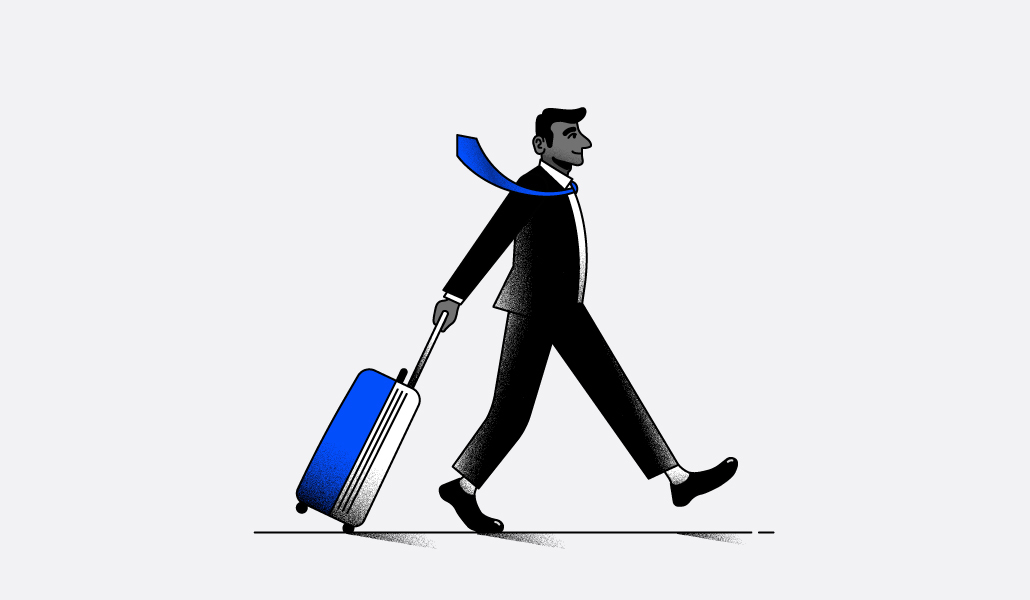 Could heading out for the other side of the world be a remedy for employee dissatisfaction and the Great Resignation?
According to a survey of nearly 1,500 employees of enterprise organizations in the U.S. and U.K. by the talent mobility platform Topia, 66% of workers see international experiences as critical to career growth and mobility, while fully three-quarters of employees said they would actually entertain moving abroad. As Topia also found, one-third of employees plan to change jobs this year — a clear signal that the Great Resignation is far from over and that companies continue to be under pressure to find inventive ways to attract and retain talent.
The onset of Covid-19 and various travel restrictions laid down by countries put the brakes on international travel, but only temporarily. Meanwhile, many of those who could leave their home countries over the past couple of years did so on an extended basis, leading to the rise of the "Covid expat."
As WFH policies and technology have made the workforce more mobile, many have taken the opportunity to experiment with new and different lifestyles, establish better work/life balance and perhaps even learn a new language by setting up shop abroad. Topia's survey found that the desire for global experiences has only accelerated as the threat of the pandemic wanes and as the world opens back up.
"The pandemic has caused many employees to rethink their careers, work priorities and long-term goals. Employees have realized they don't need to be in one office location to be successful, and they have proven to employers that their productivity levels do not decrease when working in distributed teams," said Jacky Cohen, chief people officer at Topia.
As a result of growing employee interest, more companies are making international experiences part of their benefits offerings. There's even an entire business devoted to it. The employee recognition platform Blueboard specializes in providing the employees of its clients with international experiences — everything from getaways to the Greek isles to meditation retreats in Morocco.
For some companies, like the marketing platform Conductor, giving employees the opportunity to work abroad is not an afterthought. Conductor implemented something for its employees dubbed "YOLO Months" as part of its hybrid work model, enabling employees to work two designated months out of each year from any location in the world they choose, as long as they maintain business hours aligned with those of the company's base in New York. The first YOLO Month was this past March, with the second slated for August.
Topia's survey found the key drivers of a positive employee experience include flexibility in working arrangements coupled with the opportunity for international opportunities. More than half (56%) of those polled said flexibility to work from anywhere was a critical factor in providing an exceptional employee experience. And nearly all (96%) of employees prioritize flexibility when seeking a new job.
"If companies don't take these employee needs and wishes into account, they risk losing their talented staff to other firms offering these perks, which many companies cannot afford after the impact of the Great Resignation," Cohen said.
So, what do companies looking to offer international experiences to employees need to know to make it happen? First, they must implement work policies that address employee logistics, define parameters, and help the company manage risk and compliance effectively, Cohen suggested. It is also important that employers have the proper technology in place to monitor where staff are working for health and safety and compliance purposes.
Keeping a close eye on employees' whereabouts will help minimize certain risks that come with remote work and international placements, including tax and immigration issues, Cohen noted. Topia's survey found that a large majority (94%) of employees are content with their bosses knowing their whereabouts as they work.
At the same time, employer confidence in knowing where their people are is in decline, as the Topia survey found. In 2021, 60% of HR professionals reported being confident about the location of employees; this year, that figure had fallen to 46%. "Such a significant drop in confidence shows that, with a mobile and distributed workforce, keeping track of employees is a growing challenge," Cohen said.
Paul Lewis, chief customer officer at the U.K.-based job listings platform Adzuna, has also observed that international assignments, along with the rise of the four-day work week, are among employee benefits that are growing in popularity. "Employers struggling to attract and keep staff are increasingly considering creative and innovative benefits and perks that are valuable to people and that can help them stand out as great companies to work for," he said.
That said, there are a number of factors employers should take into account when looking to extend such a benefit, Lewis stressed, including the political stability of countries where their people are located, the environmental impact of encouraging international travel for work, and the cost of living in certain destinations.
"It's common for employers to provide adjustments to pay to offset the increased expenses and make international experiences possible," Lewis said. "But it's critical for an organization to think it through holistically before announcing this new perk."