New C-suite roles emerge to meet modern workforce needs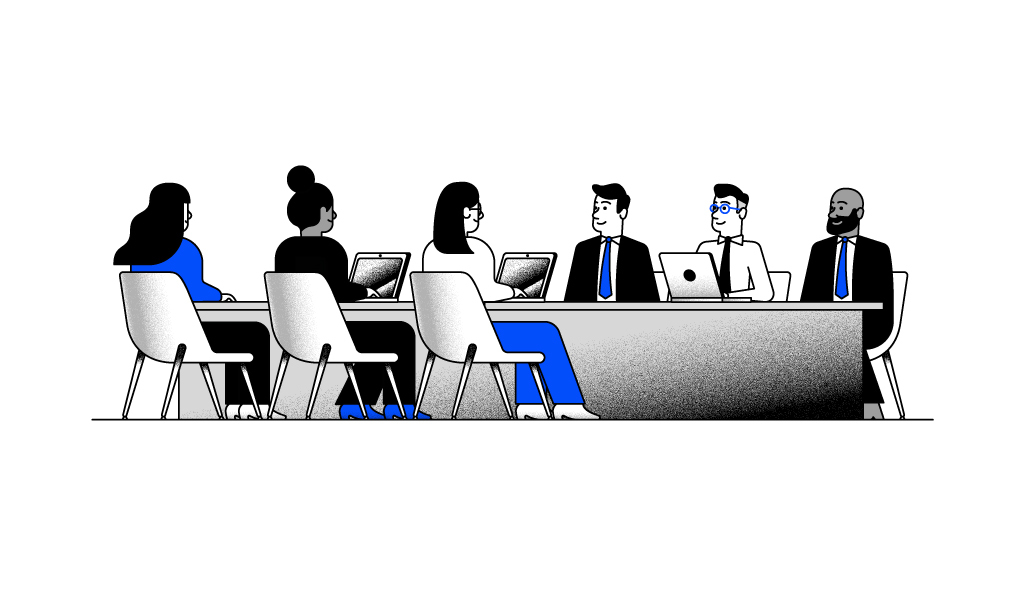 Ivy Liu
The C-suite is evolving — again.
Modern business pressures, like rapidly evolving technology and newly empowered workforces, are keeping senior leaders on their toes. We've already seen the emergence of chief trust officers, and a host of new chief roles are expected to burst into the C-suite, to meet these workforce challenges head-on. And nearly all C-suite executives are planning for it.
According to new research from futures consultancy The Future Laboratory, in collaboration with analytics firm Qlik, over 99% of C-suite execs believe they will hire new roles to keep up with changes over the next decade.
First in line: Chief metaverse officer
It's looking highly likely there will be more than one CMO in the C-suite at most companies before long. According to the research from The Future Laboratory, 85% of 1,209 C-level executives surveyed this year said chief metaverse officers will be a critical hire in the coming years.
This CMO will report to the CEO and be responsible for employee and customer experiences that straddle digital and virtual realms. The role will bring metaverse knowledge in-house — a critical capability given how new (therefore confusing and not widely understood) this tech is. The role of this new chief is to educate the rest of the workforce about what the metaverse is and how a company can take advantage of it.
Chief metaverse officers will have a technical understanding of enabling technologies and tools, focus on business and strategy, and will — importantly — be in sync with younger generations' more sophisticated grasp of new tech and how they interact with platforms like the metaverse.
Industries investing in chief metaverse officers so far include gaming, technology, fashion and design.
Spanish telecommunications corporation Telefónica hired a chief metaverse officer in March; Disney tapped a former theme park executive to head up its metaverse department in February; innovation and design consultancy Journey hired a chief metaverse officer last December; and in June, Publicis announced its own version of a chief metaverse officer — a virtual avatar, which is being used for educational purposes to guide employees and clients in the metaverse, but is also just a symbol to show the company is forward-looking.
Last month, Cathy Hackl told WorkLife's sibling Digiday her opinion on the new role, speaking from her own experience as the chief metaverse officer for Journey.
"Every company is going to find what feels more comfortable to them," Hackl told Digiday. "That being said, a couple decades ago, if you asked someone about a chief digital officer or chief content officer, they would have been like, 'we don't need that, that's ridiculous.' So I think things evolve, but someone within the org will have to manage some of the things that come with the metaverse."
On the other hand, Polygon Studios' metaverse lead Brian Trunzo told Digiday that once everyone better understands the metaverse, there will no longer be a need for the chief metaverse officer role.
"There's no chief internet officer," Trunzo told Digiday. "So I think metaverse will mirror that. It will reach a point where that's redundant. There will be entire business units working cross functionally on metaverse issues."
Balancing humans and AI: Chief automation officer
Another role tipped to have a prominent role in the future C-suite: chief automation officer.
A recent report from Forrester by principal analyst Leslie Joseph identified why companies need this position. A chief automation officer will oversee the implementation and management of automated working practices and machines across their business, from software technology to robots.
This chief would be responsible for automation-first strategies, which ensure automation is embedded where necessary across new products, processes and customer services or other areas of organizations' operations — right from the get-go. Their goal: to provide a holistic view of automation for the entire organization rather than on a project-by-project basis.
"Automation is becoming a lot more core to digital transformation, rather than four or five years ago when most people were looking at automation as let's save some money, let's cut some heads, cut some operational expenses," Joseph told WorkLife. "Whereas now, especially in the aftermath of the pandemic, one of the big trends I'm seeing is that the conversation shifted to address business continuity, and from there it became almost overnight a C-suite topic."
"If you have these high end roles and skilled people who are not easy to replace, then the fact you are bringing in automation to plug into these roles and help them…can itself be a reward."
Estimates from McKinsey & Company found that up to 375 million workers will need to adapt their roles to automation by 2030.
Joseph said that people are beginning to look at automation more intentionally and companies now have the capability to build an "automation fabric" across their entire value chain to connect everything from process architectures to organizational behaviors by stitching together a broad array of technology components.
At the same time, someone in the chief automation officer role would need to strike the right balance between machines and humans, in a continued effort to have a humanistic approach.
"Before the pandemic, the majority of talks people wanted me to give were focused on will robots take our jobs?," said Joseph. "It was a real fear in people's minds, then two years of the pandemic happened and…it's like let's get with the program. Where we are today is yes, automation is coming, it's inevitable. You can either get really dystopian about it, or you can say look, if it is coming, as a society and organizations, let's strike that balance and rethink work from the ground up."
For example, ITC Infotech, a global technology services and solutions provider, created an "intelligent digital workforce to amplify human potential." The company offers personal digital bots to every employee to enable employees to no longer have to complete repetitive tasks and functions.
"Now that we have all these technologies available, we can imagine an automated body whose job can be kind of robotic…but we create a job persona that lego blocks its way into the real physical human persona, and supplements them so they are able to improve their quality of life and work-life balance, because they were also looking at this as a retention tool," said Joseph.
"If you have these high-end roles and skilled people who are not easy to replace, then the fact you are bringing in automation to plug into these roles and help them, make their lives better, make their jobs more enjoyable, take some drudgery or improve their decision making, can itself be a reward," he added.
Other emerging senior executive roles
The Future Laboratory said other C-suite roles are predicted to emerge by 2030, including a chief collaboration officer, who will be in charge of eliminating departmental silos.
A head of betterment is also in the cards. They will be tasked with identifying areas for employee development and learning, and opportunities for ongoing improvement of processes and operations. This person doesn't necessarily have to be in the C-suite, but it is a senior-level executive role.
"Each of the roles we're talking about are all issues that we agree upon as a society and as businesses usually, but it's all about who is responsible for that transformation," said Adam Steel, strategic foresight editor at The Future Laboratory, who reported on five future job roles for the C-suite. "Generally the benefit of the C-suite is more often than not, you kind of sit across different verticals, and as a result of that, you can break down silos and you can align people in different teams."
Human resources software company Gusto's platform data shows the number of fully remote workers at small and mid-sized businesses nationwide has increased by 240% since 2021. That means there are also new roles that have already emerged, like head of remote experiences and head of employee success to help navigate that shift.
In a time where technology keeps evolving and we now have the metaverse, Steel said it's especially important that the C-suite has identified roles to respond to new needs while also ensuring that the workplace is humanized.
"These roles are created by balancing business and employee needs," said Liberty Planck, Gusto's head of remote experience. "As workforces become increasingly distributed, creating equitable experiences for employees, no matter if or how often they choose to come into a physical office, is more important than ever."
"As a society, we've had an opportunity to reconsider the purpose of work, why we work and what we want from the world, and that's being reflected in the C-suite."
Reconsidering the purpose of work
"There's more pressure than ever for companies to do good," said Steel. "The age of making big mission statements and not backing them up is kind of dead. I think we're increasingly savvy about these marketing tactics and we want to actually see real action and change. It's not enough to be speaking about certain values, but you need to actually be implementing them."
While employers need to stay up to date with tech, they're also considering how to be empathetic in a changing world. Being empathetic in a leadership role doesn't just apply to a CEO, but to all C-suite and senior-level executive roles.
"It's a response to this post-pandemic paradigm of business that we have," said Steel. "It's all about empathy. It's the C-suite becoming more empathetic. That's both for employees, for society and for the planet too. Traditionally, the C-suite used to be all about optimization."
Steel has observed C-suites in different organizations embrace a new mindset alongside their traditional laser focus on optimization, performance and profit: the rethinking of company purpose.
A CEO has historically delegated and directed agendas, driven profitability and managed a company's structure and strategy. Management consultancy McKinsey & Company outlined how the CEO agenda would change in 2022 in a recent report, which stated it's time for CEOs to deliver a holistic impact. Now, CEOs are balancing profit and societal impact as the a new generation of employees enters the workforce — all of whom care much more than their predecessors about working for companies that prioritize sustainable choices.
A Gartner survey found that the four key issues for the C-suite in 2022 and into 2023 are people, purpose, prices and productivity. "As a society, we've had an opportunity to reconsider the purpose of work, why we work and what we want from the world, and that's being reflected in the C-suite," said Steel.
And it looks like empathy in leadership is no post-Covid-19 fad.
All senior executives have had to improve their soft skills, in an effort to be more empathetic toward employees. Accounting firm EY's 2021 "Empathy in Business" survey revealed that 54% of workers said they had left previous jobs because their boss was not sympathetic to their struggles at work or in their personal life.
Meanwhile, a June 2022 report from Businessolver found that about 70% of employees believe that empathetic organizations drive higher employee motivation and 82% of employees say their managers are empathetic. Not such a soft skill after all, perhaps.