Spaces
// July 15, 2022 ■ 6 min read
Why activity-based working is the future of hybrid offices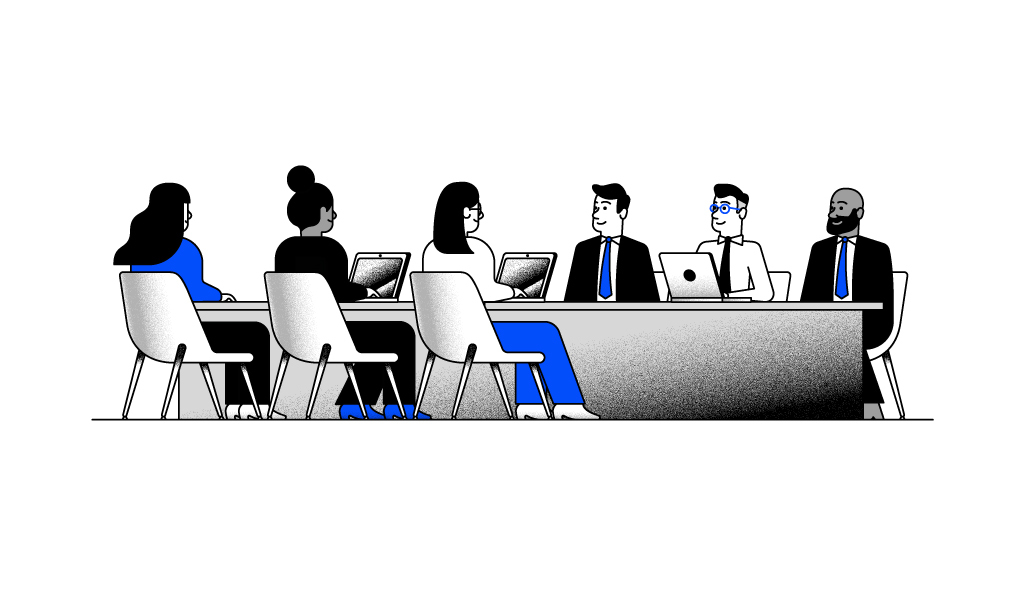 Ivy Liu
To crack what the future of workspaces should be, more companies are experimenting with a design concept that first took off in Europe: activity-based working layouts.
One of the most recent examples is LinkedIn, which last week took the wrapper off its new flagship office in Silicon Valley, which has over 75 different seating types across its six floors. Employees can grab a seat at a table to collaborate with their peers, work outside to have some time in nature or head to a quiet room to focus. The office's layout was redesigned in response to the pandemic and the now-commonplace expectation — that all employees won't be in the building at the same time anymore.
The company, therefore, ditched the traditional concept of one desk per employee in favor of a myriad of different, nontraditional seating setups that cater to the many ways people may choose to work while in the office.
Like most workplace trends, activity-based design layouts existed long before the pandemic, but have been accelerated as a result of it. Real estate company CBRE continues to evolve its workplace-design program, Workplace 360, which it originally kicked off in 2011. And in London, management consultancy Advanced Workplace Associates has been helping companies build activity-based design layouts, where employees can choose their seats based on the type of work they're doing, for decades.
Lenny Beaudoin, executive managing director and global head of Workplace & Design at CBRE, explained that this change in office design originated in Europe. "We knew of this ahead of the curve and there was a leader in our Los Angeles office who wanted to get to the future faster," said Beaudoin.
That's when part of the CBRE team traveled from Los Angeles to Amsterdam, to see what an activity-based working office looks like in motion. What did they find? A boost in office productivity and more collaboration.
"We saw the possibilities and signed up to drive that change," said Beaudoin. "In making that decision, we went even further to say let's shape it to create an extraordinary network of spaces."
Now, 85% of CBRE's global offices operate using the Workplace 360 model, using new amenities contemporary to what's happening today, such as better technology to reserve rooms and to track occupancy, with remote work as an option.
Days of one-to-one seating are over
Take a look inside an office that prioritizes activity-based working and you may find it looks familiar to a college campus library. There might be quiet rooms, couches to relax on with your laptop, a conference area with glass walls, and a wide variety of seats to choose from, including standing desks, a cocoon nook, or countertops where employees can look outside. One big theme: there's no assigned seating — a change that businesses have embraced for some time with "desk hoteling."
"The idea is that you're really able to choose your own adventure in terms of the furniture settings."
"Everybody is recognizing that hybrid is here to stay," said Kelly Dubisar, principal, design director of Gensler's Northwest Regional Design Experience Leader, who recently helped redesign LinkedIn's Omaha, Nebraska campus. "Some form of flexible working is key to retaining talent and moving forward towards the future. For most companies, the days of what we call one-to-one seating are officially gone."
Instead, firms are moving towards "neighborhoods" of seating.
Using the neighborhood office model, instead of being assigned a desk, a team is assigned a collective space, where individuals can choose where they sit. Within each neighborhood, there is what Dubisar describes as a "gradient of work points" depending on the type of work an employee is doing that day.
"The idea is that you're really able to choose your own adventure in terms of the furniture settings," said Dubisar.
Every office might approach this a little differently depending on their needs. Advanced Workplace Associates' model involves each team having a designated anchor point for teammates to head to when they're in the office. On days when there are fewer employees in the office, a company could consolidate the number of floors that people can access, to create a sense of connection and a better workplace atmosphere.
"What you're able to do is work out what different tasks people perform and then you can look at the aggregate position on those and then create a different sort of space," said Andrew Mawson, founder of Advanced Workplace Associates. "You end up with a menu palette of different spaces. The idea is you become mobile and you learn to use different spaces for different tasks."
Rather than mandated days for in-office collaboration, this creates a more fluid working model, where an employee can use the spaces designed to cultivate collaborative teamwork, and then more private spots if they need to spend some hours doing more focused work.
Wellness-centric design
At the Omaha, Nebraska LinkedIn office, which will open two redesigned floors in the coming weeks, employee wellness was central to the design.
"We added a lot of spaces that really responded to employee wellness and well-being," said Dubisar. "We talked a lot about mental health and the way that everybody reacts, learns and focuses differently. Can we provide a spectrum of spaces that give people more autonomy in how they chose to do those things?"
At LinkedIn, that meant things like more outdoor workplaces and tech-free respite rooms where employees could take a break and control settings like light and temperature.
"When we've got people in the office, we want to provide space that enables the sort of things that only the office and connection can bring."
"It used to be easy with a one-size-fits-all approach," said Dubisar. "It was cheaper, faster, easy to implement because you only had to worry about one thing. This makes employers' jobs more complicated because it's showing they not only really care about their employees, but they're interested in ways to pull out the best work while they're in the office and realizing that variety is what makes that happen."
Some employees may be hesitant about no longer having a dedicated desk where they can keep personal items, like pictures of their loved ones. But designers are working on ways to allow people to bring items from home that they'd like to keep in the office. For example, LinkedIn's Omaha, Nebraska location has shared spaces with shelving at the entry point of neighborhoods where employees can display their favorite plants, pictures of their families or other trinkets that represent themselves.
"It's become less of 'I need this picture of something on my desk' to 'let's contribute to a larger group, cultural activity,'" said Dubisar. "Let's make sure we're providing spaces that allow employees to kind of curate and style it to what makes sense for themselves in their teams."
Making offices desirable again
CBRE's Beaudoin is adamant that activity-based workplace designs bolster office attendance. "People looked at the workplace and saw it was not a materially better place [than home], so they were skeptical about returning," said Beaudoin.
Before the pandemic, people didn't have the agency to decide whether they'd go to the workplace. Now, with the option of remote working, a company has to invest in making an office a desirable place to work — and worth the commute.
"When we've got people in the office, we want to provide space that enables the sort of things that only the office and connection can bring," said Mawson. "The essence of this idea is that we give people the right combination of spaces that help them to be as effective as they possibly can, supported by fantastic digital technology, good bandwidths, and encourage them to make the right choices."