Spaces
// August 12, 2022 ■ 4 min read
Five surprising (and strange) work innovations of the pandemic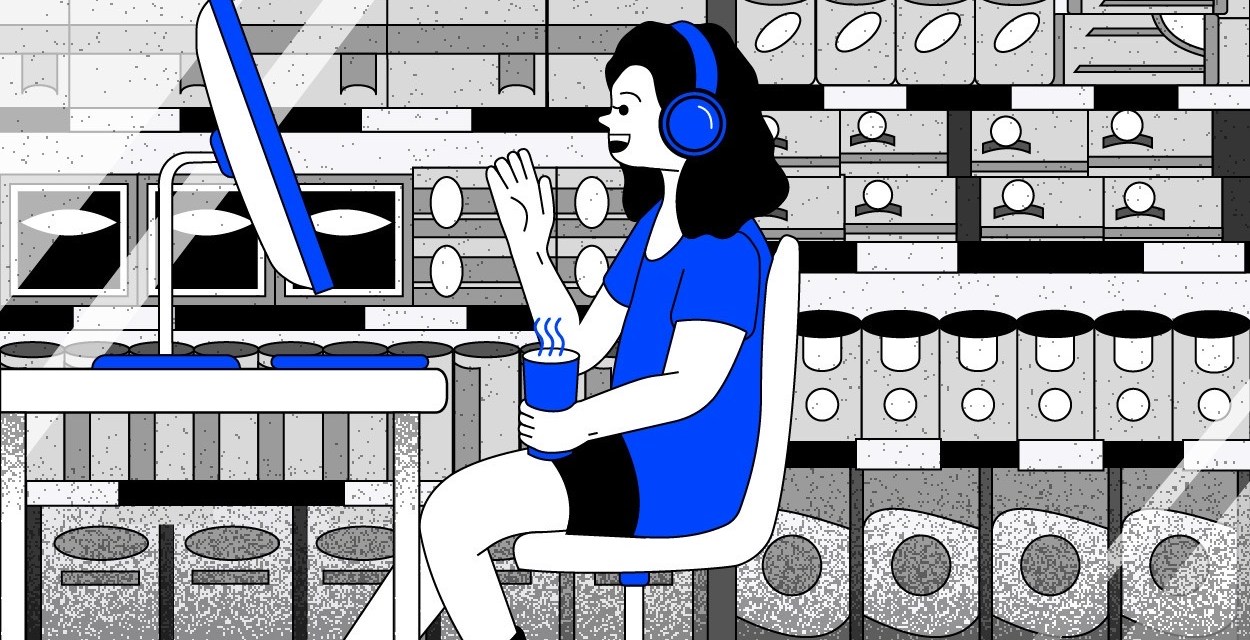 From the nightly cocktail hour to wearing a protective mask while driving alone, uneven personal grooming habits and leaving the Christmas tree up all year, we humans took to doing some pretty unconventional (and downright wacky) things in the thick of the pandemic.
It goes without saying that our work routines — like wearing pajamas past lunchtime and staring at our own faces on a computer screen all day — have also trended toward the peculiar.
With life, including work life, returning to normal, we thought it might be time to take inventory of some of the most interesting work innovations we've come across — from the sensible (the rise of "the third space") to the strange (business meetings in supermarkets) to the X-rated (read on).
The bookstore as the new breakroom
It used to be that when we needed time away from our desks, we hit the breakroom. Now you might find us wandering the aisles of the self-help section. It is being dubbed "the third space" — not work, not home, but that place we seek out as a respite from both.
"More and more people have started looking for a third space, a place to feel authentically themselves, to slow down, create and fill their souls," as the website Stylecaster recently reported. It's a destination we escape to "as a cure to overwhelm," and one that is accessible and affordable, as the site put it. Some examples include bookstores, a public park and the corner café — just in case your job won't allow for you to stray too far from a Wifi connection.
Meeting in the cereal aisle
We gotta admit, at first we thought this one was from The Onion. The British store chain Tesco, in partnership with the flex office firm Regus, this past spring piloted a 3,800-square-foot workspace inside a supermarket in New Malden, U.K., with accommodations for 12 private desks, 30 co-working spaces and a meeting room, as The Guardian reported.
Not exactly putting a desk in the dairy aisle, rather it was conceived as a way to utilize floor space in Tesco locations where CDs, DVDs and other mostly obsolete goods were once sold. Louise Goodland, head of strategic partnerships at the retailer, told the Guardian it was pleased "to offer customers the chance to work more flexibly from their local Tesco." And a bonus: you can pick up some eggs and a bag of dog food before heading home for the day.
Legal beagles take over London firm
In going to extremes to attract and retain top talent, British law firms have also, apparently, gone to the dogs. The Telegraph reported in June that Slaughter and May, one of London's most conservative institutions, is letting lawyers bring their pooches to work on a trial basis, following the lead of a handful of other firms. Managing partner Deborah Finkler told the publisher she was a longtime advocate of allowing pets in the office, commenting, "The benefits of all animals, and especially dogs, to mental health, morale and alleviating stress are widely recognized."
The city's leading firms have raised salaries and increased benefits to keep employees happy. Time will tell whether this policy grows to include, say, emotional-support pigs, or whether some lawyers might object.
Service with an edge, at 30,000 feet
A million or so years ago, there were very strict rules about the appearance of flight attendants. But as The Wall Street Journal reported in June, now your drink may come served with a side of ink, as Virgin Atlantic Airways began allowing flight attendants to reveal their tattoos while on the clock. (They used to have to cover them up.) Estelle Hollingsworth, the carrier's chief people officer, told the paper the policy was instituted to reflect its views on inclusion and diversity, commenting, "We want everyone to be themselves and know that they belong."
It follows more relaxed rules about in-flight staffs' personal appearance by carriers like United Airlines, Aer Lingus and Japan Airlines. Score a point for freedom of expression. Now if only they'd give us passengers back our leg room so we don't have to sit on our feet.
Overburdened at work? Give yourself a hand
Consider yourself warned: this is absolutely a NSFW (not-safe-for-work) workplace innovation. If you can call it that. Let's say your line of work happens to be making adult films. There's no question it can be a hard job. What to do to relieve all that stress? Why, practicing that activity for which, it has been said, no one need look his best. We'll let The Mirror take it from here: "Porn director Erika Lust has been praised for letting her staff take half an hour masturbation breaks during their workday." (The filmmaker also posted a documentary to YouTube in which people from a variety of backgrounds talk about taking a break for that most private of activities.)
Since instituting the policy, which the paper reported in June, Lust has seen a rise in productivity and a decline in aggression among employees. And you thought workplace benefits were going away.