Spaces
// June 23, 2023 ■ 5 min read
Employees flock to outdoor offices for the summer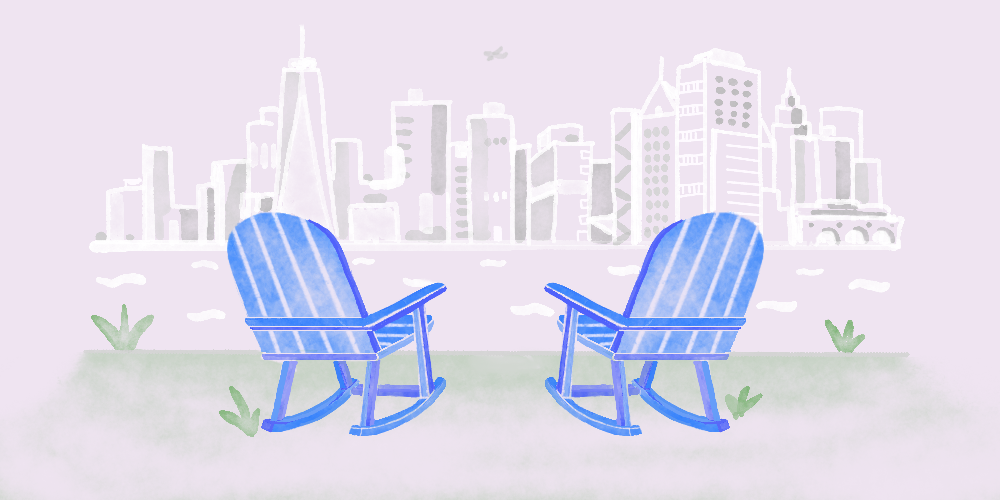 As we welcome the summer season, workers are plotting ways to work outside and benefit from the fresh air and sunshine, before it gets too hot to do so.
For some people that means setting up their home office in the garden, while others are nabbing rooftops and WiFi-enabled decks in coworking spaces.
Meanwhile, companies have begun to understand just how much working outside can actually be a productivity booster for workers, rather than a distraction. Research has shown that exposure to natural environments can stimulate the brain and increase cognitive function. This means that taking your work outside can help you generate new ideas and solve problems more effectively. Plus, the fresh air and change of scenery can help reduce mental fatigue and increase energy levels, allowing you to stay focused and alert for longer periods of time.
That's why Mike Piispanen, COO of data quality and email deliverability solutions company Validity, takes all of his one-on-ones with his boss on Validity's 5,000-square-foot rooftop deck at its Boston headquarters.
"I was coming from working out of my basement at home that had one little window," said Piispanen. "I had no reference of the time of day and was jealous of being on Zoom calls with people sitting by the pool, out on a patio, or on their lanai on a beautiful sunny day and I'm stuck in the basement."
That's why when the company's lease was up he began to look for a new space for the company, and at the top of the list was natural light and easy access to outside.
"When we visited this space, the landlords said they would support us having an outdoor space," said Piispanen.
They built it out with high top tables, cafe tables, sofas, and Adirondack chairs that overlook the Boston skyline, harbor and airport. Employees take advantage of it by having their coffee and reading their morning emails out there, having company-wide lunches outside on Wednesdays, and taking calls when they need fresh air.
"It's invigorating," said Piispanen. "I think back to the time when I was a little kid and in the spring the teacher would say let's have class outside today and it would be the best day ever. It gives you the boost you need."
"I think back to the time when I was a little kid and in the spring the teacher would say let's have class outside today and it would be the best day ever. It gives you the boost you need."
Leaders at coworking company Industrious have also noticed that workers are increasingly seeking outdoor spaces to work. The company has ensured it can cater to the demand, offering coworking spaces that include covered decks with WiFi, outlets, athletic spaces, room for lunch, and more.
"It's something that we prioritize in our design," said Evan Fain, general manager of new ventures and strategic partnerships at Industrious. "In a post-Covid universe, we've seen outdoor spaces explode in terms of value."
WeWork does the same by offering outdoor spaces at around 200 locations across its portfolio.
"Our outdoor spaces are regularly used for heads-down work and client meetings, but also for company offsites, exercise classes, movie screenings, and more," said Ebbie Wisecarver, global head of design and development at WeWork.
These spaces usually have a diversity of seating arrangements, greenery, and access to fast WiFi and power outlets. Wisecarver said working outside is a win-win for both employers and employees. "Research shows that access to outdoor green space in the office leads to significantly higher levels of productivity, as fresh air boosts cognitive functions and natural light reduces eyestrain and headaches," said Wisecarver. "The benefits extend to employers too. As more companies ask their people to return to the office, outdoor spaces can help foster the flexible, welcoming, and inspiring work environments that employees are looking for."
Industrious has taken it a step further than just office design and has led a number of other outdoor-related initiatives. For example, in 2018 it partnered with retailer L.L Bean to set up a temporary office in parks throughout the country, including New York, Boston, Philadelphia and Wisconsin.
"Once you're out there, you feel this moment of relief, of excitement, of connection with nature, that is really hard to replicate in the city."
This summer, they are partnering with the Lower Manhattan Cultural Council to offer company retreats at The Arts Center at Governors Island. It allows for teams of up to 50 members to come to the island, which is an 8-minute ferry ride away from New York City, to have a day of programming designed to support workplace goals and inspire creativity. The best part is the 172-acre island is home to nature walks and views of the New York Harbor. It's an escape from the hustle and bustle of the city, despite it being so close.
"They can work and gather there for a day, do leadership meetings, do workshops, or just work and be around one another," said Fain. "They can tap into all the incredible things that are happening on Governors Island. There's nature walks, artist workshops, happy hours at the Oyster Studio."
A company participating in this retreat would likely split its time between being inside and outside.
"It's not that all the work is necessarily going to happen indoors," said Fain. "When you have all 50 people together, you might need to be inside for a portion of the day, but so much of it is being able to say 'hey, let's go for a walk and do our one-on-one outside around Governors Island. Let's take the four person team and overlook the harbor.' That's very much part of the vision."
While it's a brand new initiative, it's one that Fain says has already gained interest.
"In and around New York City, it's really impactful," said Fain. "Once you're out there, you feel this moment of relief, of excitement, of connection with nature, that is really hard to replicate in the city."