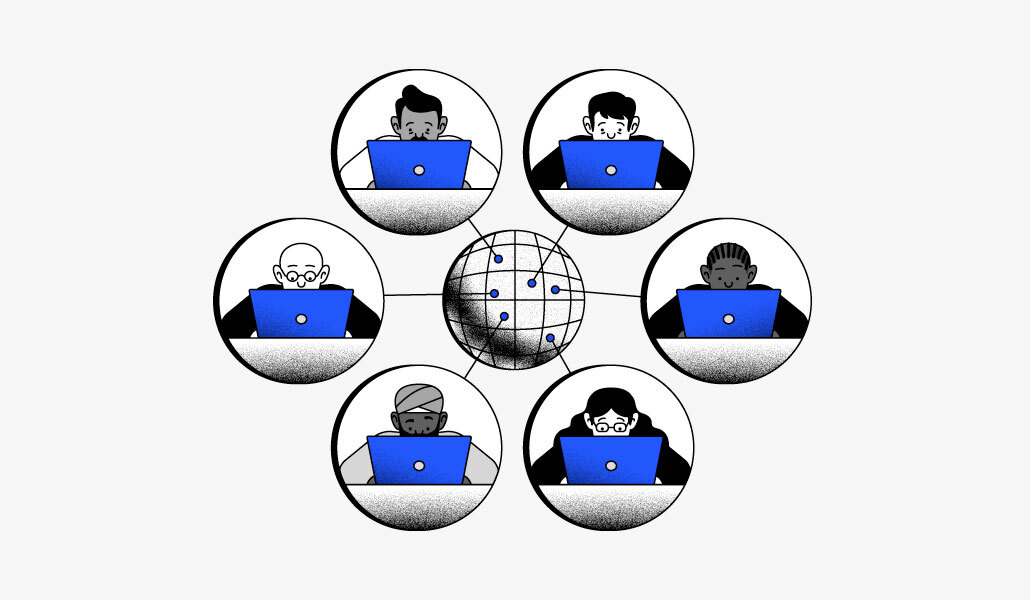 Ivy Liu
Pandemic-induced lockdowns forced many industries to dial up their digital capabilities rapidly. However, thanks to the marvels of technology, we learned that communication and collaboration were possible without being physically present with colleagues, even if "you're on mute" was an all-too-familiar refrain.
But now that most businesses are firming up their post-pandemic strategies, with numerous organizations around the globe opting for a hybrid-working model, how can leaders strike the right balance between in-office and remote work?
In a digital-first, post-pandemic world, the physical office is no longer the key place that people connect, it could be argued. Could the answer be a futuristic-sounding digital headquarters with no proximity bias, where communication is transparent and the culture thrives? What many are referring to as a digital HQ?
What exactly is a digital HQ?
With hybrid working here to stay for the foreseeable future, simply offering a physical headquarters is no longer enough. Organizations need what's essentially a digital hub for their people to not just communicate, but to collaborate, socialize, access company policies, work on projects, and even communicate with clients — a digital headquarters to accompany the physical one. And in some cases, even replacing it.
Naturally, that starts with the tech. There are various companies that offer a digital HQ capability, with workplace messaging company Slack one of the more well-known. Slack's definition of a digital HQ is one that "removes the limits of physical walls, giving people the flexibility to do their best work where, when and how they prefer." It can facilitate asynchronous working and automate common tasks with apps and workflows.
"It's a hub for connecting teams, tools, customers and partners on a digital platform that's fast, flexible and inclusive for a work-from-anywhere world," said Chris Mills, Slack's head of customer success in EMEA.
A digital HQ should, in theory, help break down communication silos, that can arise in physical offices where internal politics can often be a nightmare. Mills believes having one should even "strengthen relationships" between coworkers and management. It's not there to replace any physical interaction, merely to better coordinate it.
So a digital HQ is essentially a tool like Slack?
Yes and no. There's more to it than that. Slack can facilitate it, but how effective it becomes as an HQ depends on how a company leverages it. There are even some companies that are adding a metaverse layer to their version of an HQ. For instance, management consultancy Accenture has built a virtual campus in the metaverse called the Nth Floor, where employees can enjoy a more immersive experience for learning and networking. It regards this as a component of its digital HQ.
"This year, 150,000 new hires will work in Accenture's metaverse on their first days," said Jon Ayres, Accenture U.K.'s managing director for talent and organization. He predicted that companies will "experiment with new technology so employees can collaborate more effectively."
Mobile games and apps developer Gismart has shifted to a remote and digital-first model — partly because a large portion of the team was based in Ukraine, and needed to escape when Russia invaded in late February. "The company decided to enable full geographical flexibility to all employees, in perpetuity," said Lana Meisak, the company's chief business development and marketing officer.
Gismart retained its existing offices and physical HQ, yet allowed all staff to choose remote working if they wanted. "That enables them to move anywhere in the world, working from home or one of the available corporate hub facilities," she added.
In time, Meisak believes having a strong digital HQ will be necessary for retaining and hiring talent. "Companies will need to, at the very least, consider this as an option to be competitive in the marketplace in the long run," she said. "Nowadays, it is important to have less emphasis on the physical HQ and more on flexibility and freedom to travel and live anywhere."
What are the proven benefits of using a digital HQ?
Salesforce has tapped Slack (which it acquired last year) to help it create a wider digital HQ that combines data from across its business, automation of projects and insights in one central, a digital hub for employees to access and connect through. "Slack is our tool for agility and automation, and through this, we've created a digital HQ that is completely transforming the way we work," said Zahra Bahrololoumi, CEO in the U.K. and Ireland.
"Taking this approach has allowed teams to problem-solve in real-time and easily leverage expertise from across the business with collaborative technology and readily accessible tools."
Salesforce's Bahrololoumi pointed to time savings the company has made since reducing its reliance on email. She claimed the number of emails Salesforce teams now send has dropped by 42%. Instead, they rely more on the instant-messaging and other real-time ways to communicate. "In turn, we have seen individual and team productivity increase by 16% and 13%, respectively," she added.
She added that the digital HQ approach has allowed Salesforce teams to "create a real-time case swarming model" and solve customer problems 26% faster. Further, Slack data indicates that customers are closing deals 15% quicker and increasing revenue by 26%.
Will digital HQs ever replace physical HQs?
Highly unlikely, but like all things, it will depend on the company's objectives. A range of companies are cultivating their digital HQs, from HSBC to BT and Deliveroo. Some may go all-in on a digital HQ, others may use a mix of both. But for now, the digital HQ is designed to enhance the physical one. In theory, the combination of HQs improves the employee experience and all-important company culture. "The digital HQ doesn't mean the physical office will disappear," said Mills. "It just means how we use it will evolve with it becoming more focused on social connections."
Salesforce's Bahrololoumi is bullish on the future of digital HQs, and that they will in time supersede physical ones in importance for businesses. "A work-from-anywhere world requires technology that keeps employees connected, regardless of location. A digital HQ is now the center of your company; it's the technology underpinning your company in terms of operation, output, and culture," she added.
An earlier version of this article said the number of emails Salesforce teams now send has dropped by 46%, but the company has since revised this figure to 42%, after publication of this article.
3 Questions with Vicki Salemi, career expert at recruitment firm Monster
Monster.com recently conducted a survey about toxicity in the workplace. What are the highlights of the results?

More than three-quarters of workers — 70% — said they would quit their job if they felt their workplace was toxic. Most alarming is that four out of five workers feel their current workplace is toxic.
The word toxic gets thrown around a lot when describing a less-than-ideal workplace. Are people using the term correctly?

You may feel like it's toxic, and you may work alongside a coworker who doesn't. What's most important is what you think. This is your situation, your career and your job, not theirs. It's really important for the person to evaluate the situation based on their personal experience.

Why does it seem like there's a greater focus now on having a happy, content workforce?
For such a long time, job seekers felt like employers had the upper hand. So if they weren't happy there may not have been as many opportunities. The pandemic and the move to remote work has opened the door for more opportunities because they don't have to relocate for work. In the past, people tolerated a toxic workplace, even though they really wanted to leave. Or maybe they did eventually leave, but it took longer than they anticipated or wanted. — Tara Weiss.
By the numbers
33% of 1,967 job candidates, across multiple industries, polled in April have turned down a job because it didn't offer flexible or remote options.
[Source of data: Criteria The Candidate Success report.]

The average new hire is currently only building a network within their company about half — 50% — of the size of those with longer tenure — significantly less than before, according to a poll of 1,300 workers in the U.S. and Europe.
[Source of data: Time is Ltd report.]
Quote of the week
"Ignoring, or worse, dismissing these preferences means becoming a less desirable employer for people who are prioritizing remote or hybrid jobs and it means losing out on talent with unique, rare, or complex skills when they currently have the upper hand in today's job market."
What else we've covered
What we're reading
With a recession potentially on the horizon, layoffs and cost-cutting is now threatening to unwind critical diversity progress advertising and marketing agencies have made in recent years [Toolkits.]
Most Londoners won't return to the office on a full-time basis [The Telegraph.]
How AI is being used to help with talent and skills shortages [VentureBeat.]