Talent
// June 20, 2022 ■ 8 min read
Remote workers still need to meet in person, so these employers are taking their staff on vacation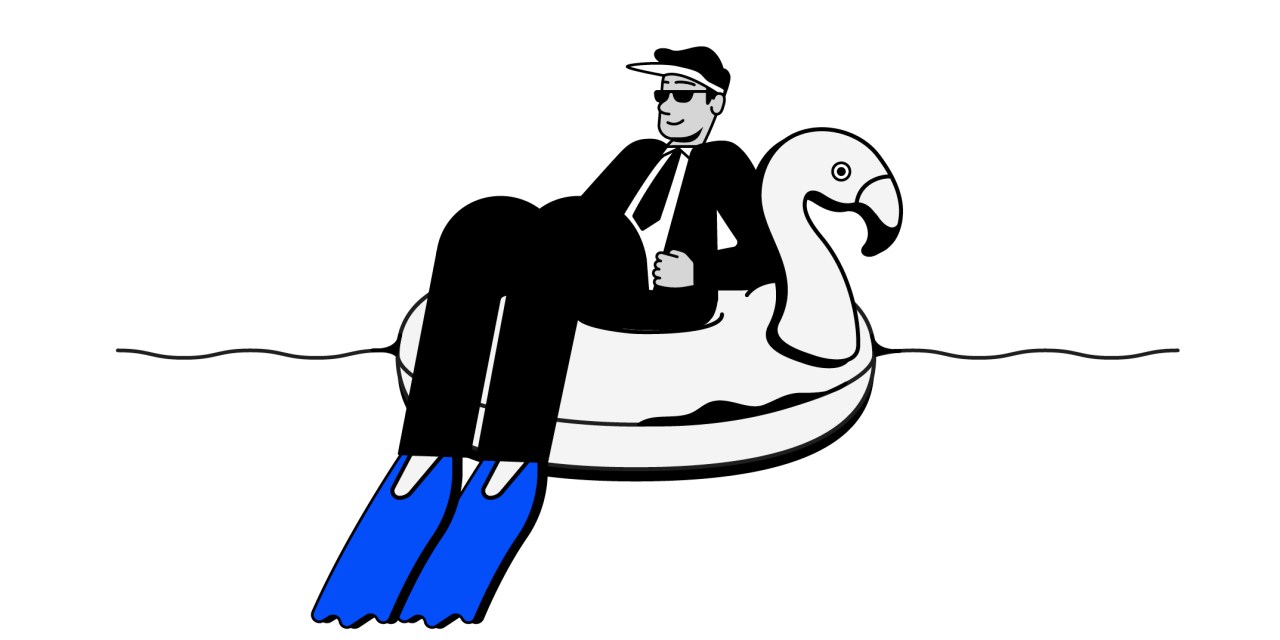 As if working from home in pjs wasn't enough of a benefit of remote and hybrid work, employers are sweetening the deal.
Employers take staff on vacation to ensure remote workers meet in-person
Many virtual-first companies are getting creative in how they gather the troops. Among them are trips to the Caribbean, a retreat designed in the spirit of the festival Coachella and a multiple-day getaway at a boutique hotel that's close to hiking trails. They all mix work and play, with the goal of introducing co-workers for the first time, strategizing, planning and bonding.
Many say it's a byproduct of hiring nationally — even globally — in such a tight job market, where employers are having trouble finding local employees with specific skill sets. Bringing people together is more important than ever, they say, since so many new hires were brought on remotely over the last two years.
"You have a few minutes to chat before a Zoom meeting starts to get to know someone, but it's not the same as being in-person," said Kimberly Harris, director of people operations at Poll Everywhere, the San Francisco-based live audience engagement and feedback platform.
About 40% of Poll Everywhere's 60-person staff was remote before the pandemic. In fact it's had a contingent of remote employees for all of its 14 years. But after surveying staff during the pandemic there was strong sentiment to remain totally remote. So they're shutting their downtown office, offering annual home office improvement stipends and holding a retreat in October, the first since January 2020.
Harris didn't want to spoil the surprise by sharing the location with WorkLife since it hasn't yet been revealed to the staff. But she said it won't be in California, they haven't traveled there together as a staff before and while it's in a city, it's very close to nature with "beautiful scenery."
"We went out for drinks and dinner and toured the city. But one of the most interesting things to me was watching people relearn how to work in an office again."
They'll stay in a boutique hotel that doesn't feel corporate and the itinerary is a mix of social activities (about 60%) and work meetings (40%).
"That's pretty intentional," Harris said. "There are so many things we want to build in to create opportunities for people who have literally never met each other in person."
Scaling up by hiring nationally
Teampay, a purchasing and approval tool for employees and managers, went from being a completely in-office company to a virtual one during the pandemic. The New York City-based employer struggled to grow since it wasn't finding skilled talent locally. It decided to hire the right people no matter where they were based, and grew from 30 to 100 employees in two years.
That meant only 30% of employees were within commuting distance to the office. Sure, they fly teams in for meetings and strategy sessions about once a quarter, but CEO Andrew Hoag experimented last quarter with a new idea. He was going to Mexico City for a change of scenery and opened the trip up to his staff. They offered $1,000 for travel and lodging expenses, secured a WeWork and invited the staff to join.
About 25% of the company (15 people) went. It was self-organized — employees chose where to stay, whether in hotels or Airbnbs, and many added a few more days at the end of the week-long work trip as a vacation.
The beauty of this excursion, said COO Peter Nesbitt, was the interaction across teams and simply working together in the same office. 
"We went out for drinks and dinner and toured the city," Nesbitt told WorkLife. "But one of the most interesting things to me was watching people relearn how to work in an office again."
They decided to make this a quarterly thing; 15 people recently returned from Panama City, Panama. The third quarter's trip is to Montreal.
An added benefit: These trips are a recruiting and retention tool. Nessbitt said "a couple" recent job candidates mentioned hearing about the excursions and said they believe it's an indication of the company's commitment to its culture and values.
Like Teampay, Chief, the membership organization for women who are vp level and above, started hiring away from its New York City headquarters over the past two years.
Chief will hold Chiefchella (think Coachella for the business set) in the fall with a two-night offsite for its 215-person staff. The location is still being finalized, but the plan is to fly everyone to New York City and take a bus within four hours for three days of team bonding. Part of the retreat is an awards ceremony for the employees that best embodied Chief's values, which were introduced to the company about a year ago.
"There will be a business component, but that's not the prime motivator for this," said Kendra Mitchell, Chief's head of people. "We haven't all been together in over two years. And we're a fast-growing startup so our team was only a fraction of the size that it was today. This is really about getting the team together and having those in person experiences."
3 Questions with Dr. David Rock, neuroscientist and CEO of NeuroLeadership Institute
Your company advises Fortune 100 companies. What do you make of some of the leadership strategies emerging around the return to office?
There are obviously some companies who are hell-bent on bringing as many people back in the office as they can — and finding it's much harder than they expected. And there's good reason for that when you understand the brain impact around this issue… it might give you pause from trying this strategy. The one silver lining psychologically during the pandemic has been people's increased feeling of control – not just over our work life, but also our diet, exercise pattern, time spent in a car, how much time we waste, how many germs we get exposed to, we had more control over these parts of our lives.
And the feeling of control sends a very strong reward response in the brain. But feeling like control has been taken away from you is an even stronger threat response. So we have had this sense of control and autonomy, which offsets the threat responses in the brain that come from low certainty.
With the unstable economic situation, what's the likelihood that employers, worried about productivity, will demand employees return to the office?
Right, the outside world is really uncertain. If we're able to still give people some feeling of control, then it's ok, but if you now take that autonomy away from people and say – you're coming into the office no matter what – you're going to get quite a strong threat response in people just by dropping that autonomy. Add to that the fact a good number of people say they're much more productive at home, and you're essentially putting a lot more pressure on people who are already feeling under a lot of pressure. You're taking hours away that they're going to now have to spend commuting, for example. And as employers saying – ok so you're going to lose 10 hours a week [commuting] but I still expect the same results.
What about those that have created a middle ground with hybrid setups? Is that likely to have an effect on people's psychology and stress levels?
Research prior to the pandemic showed that going open plan is a good way of reducing creativity and collaboration. It's just so distracting that people put headphones on and now they really don't interact. Open plan spaces where you can hear all the conversations going on, it's very hard to focus. And that's likely to reduce productivity and collaboration. Ironically, the thing with an open plan space and hot-desking is, you don't know who you're sitting near, you don't know where you're working – you have no control. I work and live in a couple of places now. And when I arrive, the first thing I do is reset everything so that I can focus and it takes the time to settle into the new rhythms. If you're doing that constantly, you've got a lot of lost time. — Jessica Davies.
By the numbers
More than 2 in 5 employed Americans (900 were polled) said their motivation to do their job is heavily impacted by the distraction of current global events like the war in Ukraine and climate change.
[Source of data: Blueboard report.]

66% of 600 Gen Zers polled who are working from the office full time, said they wish they were hybrid (46%) or fully remote (20%).
[Source of data: Robin report.]
Quote of the week
"There's a real cost efficiency upside to not having to grow your real estate footprint in line with the headcount. The question becomes, how many times do we need to meet together as a full team? You really want to think about those fixed costs, especially in the context of a potential recession."
What else we've covered
What we're reading
Real estate billionaire Stephen Ross predicts that if a recession hits the U.S., companies will see a flood of employees returning to the office [Bloomberg.]
Working with the global architecture firm Gensler, NI is currently testing out different prototype office designs ahead of a grand renovation of its headquarters [Fast Company.]
In the financial services industry, women are still promoted at lower rates than men at every step of the leadership ladder, and these differences are exacerbated for Black, Asian and Latina women [MIT Sloan Management Review.]